Lufthansa: too bullish on LCC threat? Jul/Aug 2003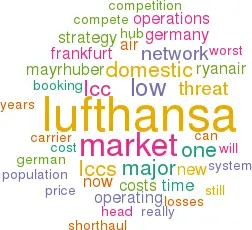 In June Jurgen Weber handed over control of Lufthansa to the new CEO Wolfgang Mayrhuber. Weber had successfully transformed Germany's old flag–carrier dinosaur into one of Europe's foremost European network carriers and left his successor with a company that has one of the best balance sheets in the industry (at the end of 2002 the Group had net debt of about €1.75bn against equity of €4bn, by far the best ratio among the Euro–majors).
However, in May, Lufthansa announced its first quarter results, one of its worst ever — net losses of €356m against losses of €186m in the prior year period; revenues down by 4.6% to €3.7bn; and operating losses of €415m compared with an operating profit in the same period last year of €12m. And now Lufthansa may be facing a major threat — the insurgence of the LCCs in its home market.
In a recent report Andrew Lobbenberg of ABN AMRO graphically represented the flag carrier's reactions to the LCC threat in four segments. He saw only BA and Aer Lingus — incidentally the ones who have had the longest and worst exposure to the LCCs so far — as "genuine reformers": those who are really attacking their short–haul unit costs and marketing strategies to allow them to compete and survive against the LCC threat. (British Airways' strategy is highlighted in the March issue of Aviation Strategy).
Those described as carrying on in "peaceful coexistence" — Air France and Iberia — were defined as doing something to lower their costs but not unduly worried by incursion by LCCs on the basis that they were happy to concentrate on their metiers of network operation. Air France has in any case had fairly tough low price competition in its domestic market provided by the TGV.
It has also sewn up the domestic market through its regional acquisitions and is resisting easyJet's Paris hub plans by retaining 53% of the slots at Orly following Air Lib's demise, while easyJet has been allocated a mere 4%. Iberia, based in Europe's major short–haul leisure destination has always had to face low cost opposition from the charters, and has largely conceded this large segment of the market to them and now to the LCCs.
The bull in the china shop is the carrier that reacts very strongly to the introduction of LCC competition, but is doing nothing effective about it. Here we find Lufthansa.
When Ryanair started its operations into Frankfurt Hahn two years ago, Lufthansa resorted to legal action to stop the carrier from calling Hahn a Frankfurt airport, gaining a court injunction against it. At the same time it started a short term experiment of head–to head competition into London Stansted.
Both actions failed miserably: there is nothing more welcome to a new entrant than to have widespread publicity generated by its major incumbent competitor showing how low its prices can be.
Recently, Lufthansa countered this criticism and seems to be putting itself on the lines of peaceful coexistence. Mayrhuber has stated that Lufthansa will remain focused on its network hub operations and saw no reason to compete head to head with the start–ups.
"We have looked," he said, " at low cost operations but we still believe we should not go there…. it is simply an analytical response about where we should spend our money."
Mayrhuber commented that Germany is not a low fares' market — and besides that, through Germanwings, operating nine A319/320s, it had an effective weapon for the LCC market in Germany.
Fundamentally, the German domestic market is indeed unique in Europe. The German federal system is an extension of the mediaeval city state structure that in fact was only unified in the 19th Century — and the population distribution throughout the lä$1 still follow this ancient system of loyalties.
There are indeed areas of major population — with the highest density in the north west — but generally speaking there is a large number of moderate population centres. As a result the domestic air route structure is decentralised.
Almost because Lufthansa is concentrating on its position as a network hub operator, it has to concentrate its short–haul services into and out of its hubs at Frankfurt and Munich. Any services between cities outside these are in effect disconnected from its main operation and will be treated as part of its regional operations. This in itself gives rise to the opportunity for LCCs to enter the market.
And they have: Hapag–Lloyd Express in Koln, Germania Express in Berlin and the redefined DBA at Munich.
The big question — and Lufthansa's threat — is not whether there are domestic competitors in this segment. It is rather whether the Anglo–Irish LCCs can effectively import their own low employment costs (which is one of their major operating benefits) into Germany, which suffers from some of the higher indirect costs of employment in Europe. In that sense Lufthansa is right: Germany is not a low cost market. In another it is not: the airline industry is one where foreign competitors can upset domestic competitive positions.
Lufthansa appears to have not really worked out how to compete with the likes of Ryanair. One of the major elements of the LCC model is pricing transparency, the simplicity of the pricing model and the ease of internet booking. BA has made enormous progress with its new booking engine, but Lufthansa still provides the old system — "tell me when you want to go and where to and I will try to sell you the highest price ticket".
As a snapshot example, an attempt to get a flight from Frankfurt to Rome on Ryanair and Lufthansa respectively for a week ahead gave €80 return on Ryanair and over €1,000 on Lufthansa — while searching through other out–of–house booking engines gave a price of €400 for the same flight on Lufthansa.
Outlook
Lufthansa is in a strong financial state at the worst time of the cycle. Its expansionist strategy up to now has worked well in its favour — but it is now time (as BA did three years ago) to start evaluating what its future strategy really should be. Mayrhuber is in charge of a new project — "Future development of continental traffic" — which is designed, as the company puts it, "to safeguard and further improve the competitiveness of the network carrier Lufthansa in the German and European traffic region in a changed market environment". It takes time to turn super–tanker — this project is expected to last two years.
EUROPEAN LCC CAPACITY & FIRST QUARTER 2003 FARE CHANGES
EUROPEAN LCC CAPACITY &
FIRST QUARTER 2003 FARE CHANGES
Share of
Change in
Change in
European LCC
European
European full
capacity
leisure fares
Economy fares
UK
36%
-10%
-4%
Germany
19%
-4%
-20%
Spain
11%
-9%
1%
Italy
8%
-5%
-2%
France
5%
-7%
2%
Ireland
4%
-23%
-27%
Belgium
3%
-8%
-4%
Netherlands
4%
5%
1%
Norway
3%
-6%
-4%
Switzerland
2%
6%
-5%