Alitalia's innovative recapitalisation Jul/Aug 2002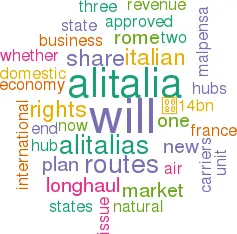 Alitalia has produced net losses totalling €1.2bn over the past three years, but by the end of July will have been recapitalised to the tune of €1.4bn in a transaction heavily involving the Italian state but sanctioned by the European Commission.
In June the EC formally approved the payment of the final €129m of state aid out of a total of €1.4bn approved on the "one time, last time" principle. More significantly, a further €1.4bn of funding for Alitalia will come from a rights issue, half in the form of new shares issued at their nominal value, €0.37, and half in the form of convertible bonds also priced at €0.37, bearing an interest rate of 2.9% pa and maturing in 2005–07. Shareholders were granted the right to subscribe to one new share and one convertible bond for each share held.
The largest shareholder in Alitalia is the Ministry of Economy and Finance, which owns 62% of the carrier (no other entity owns more than 2%). Unsurprisingly, the Ministry announced that it was going to take up all its rights. This means that the Italian state's share remains at 62% and that Alitalia receives about €870m from the state (assuming that the rights issues proceeds as planned). The official plan is to reduce the state's shareholding to 30% by the end of the year, which appears ambitious.
For the other 38%, however, there is a commercial and international interest. The three lead managers for this issue — Bank Imi, Merrill Lynch and CSFB — agreed to fully underwrite these rights. This is the main element that persuaded the EC that the Italian state's participation in the rights issue conformed to EC rules in that the government was acting just as an investor in a market economy.
However, it is clear that Alitalia's Euro–major rivals are very sceptical. In a recent letter to the Transport Commissioner Loyola de Palacio, British Airways KLM, bmi, Lufthansa and SAS have questioned whether this capital injection should have been allowed. The EC seems to be dismissive of this complaint, which would leave as the only option that of action at the European Court of Justice.
The EC was clearly impressed by the strategic plan on which the recapitalisation was based, noting that it had been "favourably analysed by the private financial entities guaranteeing the operation". Elements of the Alitalia's strategic plan are summarised below.
Rationalisation of non-core activities
Alitalia is to focus on its core business — air transport;
Leisure and other business are to be sold — Eurofly (the charter subsidiary), Italiatour (its tour operator), various property interests, etc.;
Joint ventures are to be evaluated for Ground Handling and Maintenance; and
Areas for possible outsourcing include Revenue Accounting, IT, Call Centre, etc.
This is now a standard strategy for reforming flag–carriers but the prices obtainable in today's market for the spin–offs will be poor.
Point-to-point and natural hubbing
Alitalia is to concentrate on "high quality" point to- point traffic; and
Its hub policy becomes " Natural hubs for natural flows" — in effect this means reverting to a dual hub system at Rome Fiumicino and Milan Malpensa with both hubs serving intercontinental, international and domestic destinations depending on where the demand is, whereas Alitalia's previous network strategy has been to concentrate all on building up Malpensa while de–hubbing Rome.
Malpensa, despite its enormous capital investment, still has many logistical problems, and Milan Linate remains the preferred airport for many travellers. Following the shift of Alitalia's long–haul hub operation from Rome, the vacuum was quickly filled by other long–haul operators,probably undermining Alitalia's overall long–haul viability.
Network rationalisation
Domestic: eliminate unprofitable feeder routes and maintain dominance of Fiumicino–Linate;
International: reduce capacity on Middle East/North Africa routes, and focus on Italy–France routes.
Intercontinental: Operate profitable trunk routes only and eliminate destinations like San Francisco, Beijing, Los Angeles, Rio de Janeiro.
This is a long overdue rationalisation of the network. Unit revenue (€/ASK) improvements of 11.5% for the first quarter of 2002 against 2001 are claimed already. But whether Alitalia has come to terms with the concept that its main long–haul role may be in feeding Air France at Paris CDG is another matter.
On the domestic and intra–European routes, there is no sign of a coherent response to the threat of the low–cost carriers, with Ryanair establishing a 33% share of the UK–Italy market and now expanding at Rome Ciampino, while easyJet's purchase of Go brings it into the Italian market for the first time.
SkyTeam Alliance
The aim is for free–flow code–sharing on all transatlantic flights this summer, with a common Alitalia/Air France marketing effort and coordination of schedules with Delta; and
A full joint venture is planned on the Italy–France bundle, targeting 50/50 capacity and a 50/50 split of operating profit by 2004.
The EC approved the SkyTeam alliance in principle at the end of last year but has now raised specific concerns about concentration on Paris–Milan, Paris–Rome and Paris–Venice. The EC's view is that Alitalia and Air France will control the "quasi–totality of traffic of these routes and … the pooling of forces between the two carriers will also make it difficult for third parties to enter".
The solution, as in previous consolidation cases (Lufthansa/SAS on Frankfurt–Copenhagen and Lufthansa/Austrian on Frankfurt–Vienna), will be for the two carriers to reserve slots at peak times at their respective hubs for new entrants in sufficient numbers to comfort the EC.
Fleet restructuring
Long haul: Replacement of 747s with 777s and 767s, while MD11s are phased out; the number of aircraft families will decrease from four to two .
Short and medium haul: 10 new A319s to be added up to 2004, while MD80s are phased out; introduction of Regional Jets.
Homogenisation of the fleet is finally being addressed, and Alitalia is pursuing the BA policy on widebody downsizing. Whether this produces the needed unit costs savings will depend mostly on labour contract negotiations, while hoped–for unit revenue increases, as a result of changing increasing the proportion of business seats relative to economy seats will be very difficult in today's market.
Labour cost reduction
A combination of "solidarity contracts", wage freezes, elimination of some benefits, early retirement incentives; and
Employee stock ownership through the distribution of warrants — employees will receive a share of warrants proportional to their contribution to the labour cost reduction over the period 2002–3. The traditions of the Italian public sector represent the most intractable problem for Alitalia, and one that will continue to undermine its competitiveness.
The agreements whereby the unions will monitor and participate in the turnaround plan seem horrendously bureaucratic, with three levels of committees, secretariats, government- appointed outside experts and so on.