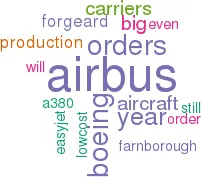 The traditional jousting between Airbus and Boeing was a bit muted at the Farnborough International Airshow, but it was still there.
Boeing said it was renouncing the old game of announcing orders at the show, then proceeded to tell the world that KLM had bought some more 777s. Its executives off–the–record repeated past public assertions by head salesman Toby Bright that Airbus was building white–tails among the 300–and–some aircraft in its production schedule for 2003. Airbus chief executive Noel Forgeard denied the charge, claiming that only three aircraft had been cancelled since the beginning of this year, and that Airbus had swept 100 orders out of future plans after September 11, on the grounds that they would not materialise.
The dog that failed to bark was the biggest potential order the industry will see for a long time. Even as Farnborough opened, both Boeing and Airbus were still locked in negotiations with easyJet. The airline is understood to want to order 120 aircraft with another 120 options. Boeing is offering 737–700s with 149 seats; Airbus counters with A319s, equipped with 156, which probably require some alterations such as over–wing exits.
The fact that easyJet is taking over Go, which was in exclusive negotiation with Airbus; that Ray Webster, CEO of easyJet, has talked about limits to economies of scale from a single–manufacturer fleet, and that negotiations have dragged on so long suggest this is the closest Airbus has ever come to winning a big order for single–aisle aircraft from a low–cost carrier.
Even If Airbus loses out, Forgeard can console himself with his internal forecasts showing that big traditional carriers will still dominate orders; after the Ryanair binge this year, Airbus sees low–cost carriers slipping back, accounting for only 13% of orders between 2006 and 2012.
The contrast between Boeing and Airbus is that the former has had to slash back production from a peak in the cycle, going down from over 500 units last year to 380 this year and 275–300 in 2003. In the process it has cut 30,000 jobs. Airbus, on the other hand, has merely had to rein in its planned ramp–up of production from 300 to over 450, and has kept job losses to a few thousand, cutting overtime and some contract workers instead. The upshot could be that Airbus will outstrip Boeing on production and deliveries, the measure that matters, next year — an historic moment, reflecting that Airbus really has caught up with Boeing.
Even so, Forgeard is prepared to acknowledge that Boeing is winning more orders in today's market, where demand has halved to around 400- 450 orders, in his view this year. This is largely a reflection of the low–cost carriers being the only ones to place big orders. Nevertheless he hopes to land a couple of big orders for the A380, both from Asian carriers, one of which is thought to be ANA. JAL, the biggest operator of 747s, is not expected to plump for the A380 until it faces the prospect of more Asian carriers using it in competition with its Boeings.
Sonic boom fades
Boeing's proposed Sonic Cruiser appeared to be slipping. Sir Richard Branson, founder of Virgin Atlantic, seemed to be an enthusiast, when the aircraft first appeared as a paper concept last year. At Farnborough he turned against it, claiming that Airbus had got it right for the future, with its double–decker A380 rather than the Sonic Cruiser. He cited crowded air–ports, lack of slots and so on to justify his fickleness.
The fact that he was sharing a platform with Forgeard to celebrate Virgin's purchase of the A340–600, the world's longest plane, might have had something to do with it.
Taking a leaf out of Renault's car ads, the message was size matters. But then, as the sleepless say in Seattle, it's not how big it is, it's what you do with it.