Ryanair, just too good a negotiator Jul/Aug 2001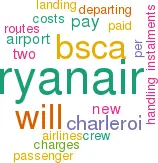 At the core of Ryanair's strategy is its airport policy. Ryanair has discovered two vital bits of information: first, that despite received wisdom there is excess airport capacity in Europe and ,second, that secondary airports are willing to pay airlines to come to them.
An important insight into Ryanair therefore emerges from the agreement reached with Brussels South Charleroi Airport (BSCA) whereby Ryanair will establish its first continental European hub there and will commit to the airport for at least 15 years.
The deal has caused another aviation controversy in Belgium, this time over the extent of the incentives Ryanair managed to achieve.
According to a leaked "master agreement" between the two parties, Ryanair will pay extremely low landing and handling charges to BSCA, that are strictly based on the number of departing passengers. In addition, BSCA will pay Ryanair's expenses for local crew hiring and training, and crew hotel and subsistence costs during the establishment and development of the airline's base at BSCA. Moreover, BSCA will pay Ryanair to promote the airline's new routes out of Charleroi.
Landing and handling charges will each start at €1 per departing passenger in 2001, creep up to €1.13 in 2006 and culminate at €1.30 in 2010.
Hotel and subsistence costs during the start–up phase totalling €250,000 will be paid to Ryanair in monthly instalments of around €20,000.
The hiring and training of pilots and cabin crew for the new routes to be operated from Charleroi is costed at € 768,000, to be paid to Ryanair in four quarterly instalments.
For each new route opened from BSCA, Ryanair will receive a one–time incentive of €160,000, up to three routes for each aircraft based at Charleroi (i.e., 12 payments). The money will be paid in two instalments over two seasons.
Marketing financial support given by BSCA to promote Ryanair services from Charleroi will be channelled through a joint venture. BSCA will pay Ryanair up to €4 per departing passenger. This payment is meant to reflect a 50/50 sharing with Ryanair of the costs of marketing the new services. In the table below we have conservatively assumed €2 per passenger, in effect negating the landing and handling charges.
BSCA also commits to providing Ryanair with office space free of charge and hangar space at minimal cost.
There is, however, a long–term commitment for Ryanair, and it will be forced to repay the incentives if it pulls out or downsizes within the 15–year period. On the other hand, BSCA seems to be willing to compensate Ryanair if other, unspecified things go wrong with the Charleroi operation: "The Walloon Region and/or BSCA undertake to indemnify Ryanair against any losses (including loss of profits) incurred as a result of such reasonable expectations not being met, unless the exercise by the Walloon Region and/or BSCA of their regulatory powers shall have been dictated by EU, ICAO or other international law requirements".
Finally, as if just to prove what a tough negotiator it is, Ryanair has had a clause inserted to the effect that it can claim for €4,000 of office equipment expenditure. That might be regarded as pushing things too far.
ELEMENTS OF THE BSCA AGREEMENT
ELEMENTS OF THE BSCA AGREEMENT
(Euros)
Ryanair's payments to BSCA
Assumptions
Landing fees
1,000,000
Annual pax
1,000,000
Handling fees
1,000,000
New routes
12
Total
2,000,000
BSCA's payments to Ryanair
Unit fees or costs
Marketing fees
2,000,000
Landing fees/pax
1.00
Hotel costs
250,000
Handling fees/pax
1.00
New route payment
1,920,000
Marketing contribution/pax
2.00
Recruitment payment
768,000
Hotel costs/year
250,000
Office costs
250,000
Payment/new route
160,000
Hangar costs
250,000
Recruitment/training (one off)
768,000
Total
5,438,000
Office costs( est)
250,000
Hangar (est)
250,000
Net benefit
3,438,000