Will Europe really rationalise? Jul/Aug 2001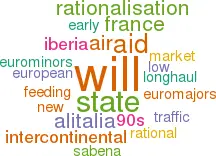 Observers of the European aviation scene might be experiencing a sense of déjà vu — a deepening recession, flag–carriers in trouble, appeals for state aid, national interest arguments, EC enquiries. Yet there are important differences between the situation today and the crisis of the early 90s.
Back then, flummoxed by a combination of liberalisation and a severe market downturn, a large majority of the European scheduled airline industry supported, explicitly or implicitly, the need for state aid for failing flag–carriers. Only BA and KLM strongly opposed the concept. However, there were two different groups of state aid supplicants:
The continental Euro–majors — Air France, Iberia, Alitalia — which needed large injections of state funds, they claimed, to implement the turn–around plans that would enable them to compete with the threat from the US mega–carriers. (Lufthansa, itself in dire financial straits in the early 90s, kept a low profile on the issue and was helped out by its government with its pension fund problem.)
The Euro–minors from Europe's small and/or peripheral countries — Sabena, Olympic, TAP, Aer Lingus — whose political owners found it inconceivable that their states could live without a flag–carrier with intercontinental reach.
But today Lufthansa and Air France have overtaken BA and KLM in terms of financial results; Iberia is majority privatised and under strong management; Alitalia is still a problem but is part–privatised and about to join SkyTeam. So, in contrast to the early 90s, there is no lobby at the moment from the airline establishment for new state aid.
Indeed, BA's recent letter to Competition Commissioner Monti, in which it strongly opposed any assistance for Sabena and argued that any such intervention would postpone the overdue rationalisation of the industry, probably reflects the view of all the Euromajors.
What in practice does European rationalisation imply? At the most basic level, it means that the Euro–minors will have to find themselves a genuine niche or disappear. The catastrophe of the SAir Qualiflyer strategy has finally proved that it impossible to create an artificial market base in order to compete with the Euromajors.
What was not addressed in the last round of state aid and associated turn–around plans was the question of the Euro–minors' long–haul operations. Generally these are very loss–making for a combination of reasons — low yields associated with VFR or leisure traffic, seasonality, often expensive new A340s,no economies of scale, expensive and excessive crews, low brand awareness abroad, little distribution power, etc.. They are just not a commercial proposition.
Yet national political pressure against rationalisation of these routes will be intense. Olympic, if it pulls off the long–hauls as part of its restructuring and sale to an investor, will be accused of abandoning Onassis's dream and betraying the Greek Diaspora in New York and Melbourne; Sabena's unions will bewail the fact that it will be reduced to the status of feeding an intercontinental partner at Brussels (American Airlines?); Portuguese politicians will emphasise the need to maintain links to the former colonies; the Irish will raise the spectre of being taken over by the British.
The table above summarises the scale of the long–haul rationalisation challenge. About 31% of the AEA traffic on the North Atlantic is carried by airlines other than the big four. Some of these carriers, in order to survive, will have to downsize into intra- Europe specialists feeding intercontinental passengers to the Majors at their hubs. Others like SAS and Finnair may have found a niche in point–to–point operations which can generate yield premiums; Iberia should have a competitive advantage in the South Atlantic market.
The situation of Swissair and Alitalia is more complicated. Swissair has to concentrate on rebuilding its brand, which is a lot more difficult than losing it, and coolly assess whether there is sufficient Swissbased, high yield traffic for it to continue as an independent operator.
Alitalia appears to be thinking previously unthinkable thoughts about its long–haul operation (see "Could AZ live as AF's junior partner?", May 2001). It will create a joint venture company with Air France, which will coordinate and manage all flights behind and beyond France and Italy. In other words, Alitalia must be considering streamlining its own disparate and loss–making long–hauls and feeding its passengers to Air France's mostly profitable intercontinental flights at the CDG hub.
A stern EC?
To facilitate this rationalisation the EC will have to stake a firm line on further state aid, either direct or circuitous. EC officials are looking stern but the politics are convoluted.
It is unclear if "one time, last time" is legally enforceable. Does it mean that any second round of state aid will be automatically refused, regardless of the merits of the case and despite the precedents set by Air France and Iberia in the mid 90s?
The "rational investor criterion" sounds fine in principle but is nebulous in practice. Equating a rational investment decision with one made by a private sector company — as Sabena will attempt to argue — is dubious. Who now regards the investment decisions made by SAir's former management as being rational?
STRUCTURE OF THE EUROPEAN LONG-HAULS
STRUCTURE OF THE EUROPEAN LONG-HAULS
N. Atlantic
Other long-hauls
Pax (m)
Share
Pax (m)
Share
BA
7078
30%
Air France
5541
22%
Lufthansa
3295
14%
BA
5371
21%
Air France
2829
12%
Lufthansa
4441
18%
KLM
2759
12%
KLM
3295
13%
Euro-majors
15961
69%
Euro-majors
18648
75%
Swissair
1587
7%
Iberia
1594
6%
Alitalia
1341
6%
Swissair
1526
6%
Aer Lingus
905
4%
Alitalia
1229
5%
Sabena
902
4%
TAP
583
2%
Iberia
873
4%
SAS
444
2%
SAS
683
3%
Austrian
339
1%
Austrian
309
1%
Finnair
257
1%
Olympic
260
1%
Sabena
225
1%
Finnair
208
1%
Olympic
138
1%
TAP
184
1%
Others
6335
25%
Others
7252
31%
Total
23213
100%
Total
24983
100%
Source: AEA Note: Data refers to 1999