American: response to threat of UAL/US Airways August 2000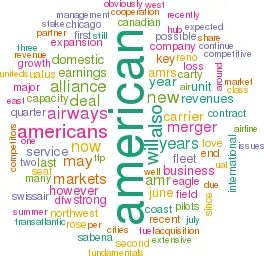 American's earnings look likely to continue to surge this year and in 2001 as the carrier is well–hedged for fuel and is enjoying strong fundamentals in all of its geographic regions. Longer–term outlook is further enhanced by a new FFP alliance with America Online (AOL) and the prospect of improved labour relations following the recent tentative deal with the pilots.
However, apart from the AOL deal, the successful integration of Business Express and an immunised alliance with Swissair and Sabena, little else has gone right strategically for American in recent years. The setbacks have included a bitter pilot dispute following the purchase of Reno Air, loss of Canadian as a potential Pacific partner, loss of a management role at Aerolineas Argentinas and the stalling of the transatlantic alliance with BA. On top of all that, the carrier faces new competitive pressures at its main hubs and many key domestic markets.
Therefore American already had a lot on its plate when UAL revealed its plans to buy US Airways. Since the proposal would threaten American's competitive position on the East Coast and accentuate existing weaknesses elsewhere in its network, there is considerable pressure to respond with a merger proposal that would mitigate those effects.
AMR is now widely expected to announce some kind of a merger with Northwest before the end of the summer, but it is by no means certain. The two have remained wide apart on price, reflecting AMR's reluctance to offer a large premium. Its leadership has repeatedly stressed that any deal would have to make financial sense. But these issues will, of course, be weighed against the risk of domestic network erosion and adverse implications for international alliances.
But AMR is now in a better position to tackle the unusually complex issues involved and make the right decisions. First, the successful spin–off of Sabre in mid- March meant that the company can now focus all attention on the airline business. Second, any merger negotiations will benefit from peace on the labour front if American's pilots ratify the tentative agreement reached in late July to extend the current contract by a year.
Strong fundamentals
This year American has really stood out among the US major carriers in terms of its strong earnings growth. It reported the best year–over–year improvements in profit margins for both the March and June quarters, even though the actual margins are not among the highest in the industry.
In the latest period, AMR's operating income surged by 25%, while net earnings before special items rose by 32% to $285m, accounting for 5.7% of revenues. The company is now expected to see its earnings increase from last year's $3.45 per diluted share (excluding special items) to $4.70 in 2000 and $5.15 in 2001.
The results reflect a recovery from the effects of the early 1999 pilot dispute, which led to extensive service disruptions and reduced last year's earnings by an estimated $225m. In addition to a strong US economy and a favourable domestic pricing environment, American has been fortunate to experience healthy fundamentals also in all of its international regions.
The carrier has performed particularly well in the transatlantic market, where unit revenues rose by 15% in the June quarter despite 6.4% capacity expansion. This was possible because BA has been cutting capacity in the UK–US market, which accounts for 60% of American's total European revenues. Also, American has eliminated or reduced service in less profitable markets in favour of new services to capital cities like Paris and Rome.
Latin American routes have also improved as economic recovery has gathered pace in many parts of the region. American's unit revenues there rose by a healthy 7.5% in the June quarter.
American's domestic unit revenues surged by 13% in the June quarter and the carrier claims to have attained a domestic revenue premium over competitors. However, United actually reported slightly higher unit revenue growth. Around three percentage points of American's unit revenue improvement was attributed to the "More Room Throughout Coach" initiative, which began in February and entails taking out 6.5% of the total seats to increase coach class legroom.
Overall unit revenues rose by 12.5%, yield by 7% and the load factor by 4.4 points to a record 75.9% in the June quarter. Systemwide capacity declined by 0.8% and domestic capacity by 2.7% (of which around 2.5 points was attributed to the seat removals).
Another reason why American's profits have surged is that it has been well hedged for fuel. Nevertheless, unit costs rose by 10% to 10.24 cents per ASM. Excluding the seat initiative and the fuel price hike, unit costs were up by around 3.5%.
American is well–positioned to continue to post strong profit growth, first, because it remains well hedged for fuel. It has hedged 70% of its requirements for the second half of this year at just under $20 per barrel and 30% of next year's needs at around $21 per barrel.
Also, short term fundamentals look good. American has continued to report strong forward bookings in both domestic and international markets and is likely to gain from United's evidently worsening labour–related service problems. American estimates that in the second quarter it derived $10–15m additional revenues due to United's flight cancellations.
Capacity will continue to decline in the third and fourth quarters as the additions from the delivery of new aircraft will be more than offset by the coach class seat removals. As the conversion of the narrowbody fleet nears completion, American is hoping for some market share gains. Conversion of the widebody fleet will begin this autumn and is due to be completed by mid–2001. Separately, American is also expanding business class seat pitch on certain international and transcontinental flights, mainly to keep up with competitors' standards.
In one of the most notable recent Internet strategy initiatives, American is linking its FFP with AOL through a three–year exclusive agreement. According to Salomon Smith Barney, the deal could generate $300- 400m in annual incremental revenues in three years' time. The alliance is expected to be launched later this summer.
This and other possible innovative distribution alternatives are easier for AMR to implement now that Sabre is an entirely separate entity, and they should more than make up for the loss of Sabre's earnings. However, without Sabre's stable profit stream, AMR's future earnings may be somewhat more volatile.
Financial flexibility
AMR has one of the industry's strongest balance sheets, with $2.6bn cash reserves and a debt–to–capitalisation ratio of just 64% at the end of June. Also, according to chairman/ CEO Don Carty, by the end of the year the company will have an unencumbered aircraft fleet worth in excess of $9bn and is "in excellent shape to pursue any alternative".
Carty, who spoke at a recent Merrill Lynch conference, put it even more explicitly: "If we were to go buy virtually any airline in the US except for Delta, our debt–to–capitalisation would still be under 80%".
But a ratio approaching 80% may not in the end be judged acceptable by the company. The Sabre transaction, which boosted AMR's cash reserves by $560m, made the balance sheet more leveraged. It also led to the temporary suspension of AMR's aggressive share repurchase programme, which has seen $2.6bn worth of buybacks over the past three years.
In a conference call to announce AMR's second quarter earnings, CFO Tom Horton acknowledged the need to manage the balance sheet carefully at present. However, in addition to pursuing strategic investment opportunities, the company remains committed to returning cash to shareholders and expects to "revisit" the subject late this year.
Benefits of the pilot deal
American and its pilots reached a tentative deal on July 21 to extend the union's contract for one year past August 2001, when the current contract becomes amendable. The deal includes a 3% pay rise and wiping out the $45.5m "sickout" fine imposed on the union by a federal judge last year. In return, the union will provide almost $1m for an employee scholarship fund and charity projects and has made concessions about the use of regional jets.
This significant breakthrough came after some ten months of efforts to rebuild a working relationship and develop ways to resolve past and future disputes. Many company officials have held the view that last year's dispute was not about Reno but related to a whole host of other issues going back for five or six years. When entering the latest round of talks, the two sides had agreed that there would be no harm or foul if the contract extension could not be settled.
The pilots agreed to lift most restrictions on the use of small regional jets, in return for exclusive rights to fly future 50–plus seat RJs, which American Eagle does not yet operate but has on order. Eagle's fleet size would be tied to American's, but it could increase at an accelerating rate, from 40% to 56% of American's fleet size, as the latter expands. This would provide significant growth opportunities as Eagle's fleet is currently limited to 67 RJs of 45 seats or more.
If the deal is ratified (an early September vote is expected), American will gain a welcome respite on the labour front for any merger negotiations. This could also be a turning point for improved labour relations in the longer term.
However, apart from obtaining the pilots' blessing for a code–share relationship with Horizon Air, the talks did not cover any merger issues (which for an American/Northwest combine would be difficult because there is no commonality in terms of representation). And American still has to secure a new contract with its flight attendants, who rejected a tentative deal last year.
Domestic challenges
A UAL/US Airways merger would be a major blow for American because, in the first place, it would mean losing US Airways as an FFP and marketing partner. Although the two have not code–shared, the mere linking up of their FFPs is believed to have produced substantial revenue benefits. The deal has given American access to US Airways' captive high–yield customer base in key East Coast business markets.
However, AMR's top management was neither surprised at UAL's announcement, nor does it express any regrets about not trying to outbid UAL for US Airways. This is because the issue first surfaced five years ago, when UAL considered bidding for US Airways, and has been on the table on and off for both UAL and AMR ever since. As AMR has never wanted to buy US Airways, it has sought alternatives. As Don Carty explained recently, five years ago AMR decided to "take some steps to reduce our exposure, because we didn't like being exposed to an acquisition that we viewed and have consistently viewed as largely defensive".
Carty was referring to a major effort undertaken to strengthen East Coast operations in the key cities of Boston and New York with numerous new services, extensive facility improvements, the acquisition of New England–based commuter carrier Business Express and substantial RJ expansion by Eagle. Since 1995 AMR has added 400–plus new daily departures and service to 40 new destinations from Boston and New York.
While this is impressive, it obviously pales in comparison with US Airways' extensive presence along the East Coast. A merger with Northwest would do little to help American in that respect.
But there may be alternatives. American says that the most valuable part of Business Express, which has now been fully integrated into Eagle, were the new slots and facilities acquired. Consequently, the "do nothing" option just may be possible for American if enough "unique assets" are stripped from the UAL/US Airways transaction.
But UAL/US Airways could also jeopardise American's position in important markets like the West Coast and Chicago where it already faces many challenges. American has been relatively weak in the West since closing its San Jose hub in 1993, but United's build–up there has made it desirable to try to get back in. This led to the Reno Air acquisition and a code–share pact with Alaska and Horizon.
This summer American has been restructuring its West Coast operations. It has discontinued many leisure–oriented routes out of Reno and Las Vegas in favour of boosting service in key California business markets out of Los Angeles and San Jose. Since this represents a major shift away from Reno Air's markets, it is hard to see what the acquisition has done to help American in the West.
The phasing out of slot controls at Chicago O'Hare by July 2002 will give both United and American some good growth opportunities. The initial phase, implemented on May 1, increased American's domes–tic slots there by 21% and United's by 15%, which they can benefit from until they come up against gate constraints. However, in a recent report, Salomon Smith Barney analyst Brian Harris argued that in the long run American is likely to lose out to United, because the number one hub carrier typically wins at two–carrier hubs.
In another recent report, Harris argued that American is at a competitive disadvantage generally because, given its large overall size, it is not dominant enough in markets that really matter. It is only the second or third largest carrier in key cities like Chicago, LaGuardia, Boston and Los Angeles. This reflects its relatively high percentage of non hub flying — 19.3% last year, compared to the industry average of 11.5%.
A UAL/US Airways combine would obviously weaken American's position in all of those key cities. A merger with Northwest would help in that American would gain two more hubs in the Midwest (Detroit and Minneapolis) and make up for the loss of Canadian as Northwest has a very strong Pacific presence.
All is not well at DFW either because of Legend's debut at nearby Dallas Love Field. After years of fighting in the courts to prevent Legend from introducing long haul service from Love Field, American conceded defeat and dropped all legal actions in July. It is now focusing on mounting the most effective competitive response. Following Legend's start–up in April, American began 56–seat executive class Fokker 100 service from Love Field to Chicago O'Hare and Los Angeles in May, and LaGuardia will follow at the end of August.
Analysts now believe that the Love Field RJ expansion will negatively affect DFW business traffic and yields. But CFO Tom Horton explains that because much larger numbers of American's premium–fare passengers live close to Love Field than DFW, the carrier had to do something about it. However, beyond the three routes already operated or planned, traffic apparently gets pretty thin, so that may be the extent of American's Love Field expansion.
American still faces a DoJ antitrust lawsuit, filed in May 1999, alleging that it attempted to drive out small new competitors from DFW with large capacity additions and fare–cutting. This was the first–ever and so far the only such lawsuit filed by the DoJ against an airline, and American intends to "defend it vigorously".
American Eagle is playing an increasingly vital role in AMR's success, because of its rapid regional jet expansion in key markets. Eagle had 71 ERJ–135s/145s in its fleet at the end of June, having added 17 this year with 12 more to come. At DFW, its largest hub, it is currently building a satellite terminal for RJ expansion. Chicago O'Hare will be an all–RJ operation by year–end, and now that most restrictions on smaller RJ numbers have been lifted, Eagle could prove instrumental in helping American retain market share in that important hub.
International setbacks
AMR has recently had much bad luck with strategic investments both north of the border and in South America. First, in December 1999 it had to sell its 25% stake in Canadian and lost a potentially valuable partner, when Canadian was acquired by Air Canada and switched to the Star alliance. Next, in January it lost its management role at Aerolineas Argentinas, in which it still holds an 8.5% stake, amid allegations that it had mismanaged the airline.
Of the two, the loss of Canadian was a bigger blow as American had hoped to build Pacific service through Canadian's routes. The deal did ensure continuation of North American code–sharing and FFP cooperation for ten years and permitted AMR to continue supplying management services.
As regards Aerolineas, American will now have to decide whether or not to contribute to a proposed $650m rescue plan due to be discussed at a mid–September board meeting. The plan, which proposes laying off 30% of the workers plus 20% pay cuts, is fiercely opposed by the workers.
There is speculation that American will refuse to contribute, which would mean its stake falling to less than 1% and a possible loss of board representation. Its main concern is probably defensive — retaining the lowest possible stake necessary to prevent other major US carriers getting in.
But the biggest disappointment has been the stalling of the transatlantic alliance with BA, which was announced way back in June 1996 but got tied in US–UK aeropolitical red tape. The alliance could not secure antitrust immunity in the US in the absence of an open skies ASA, which has made cooperation possible only on a very superficial level.
The relationship has stalled also because of BA's financial problems, which have prompted the UK carrier to put more emphasis on European partnerships. And there is speculation that, because American would be the biggest loser from a UAL/US Airways merger, it may now be less attractive as a partner to BA.
This and BA's merger talks will KLM, which has a lucrative and well–developed alliance with Northwest, have obviously put pressure on American to seriously consider linking up with Northwest. Northwest's extensive Asian services and rights are also a strong attraction.
In the meantime, American has continued to develop cooperation with other European carriers, including Swissair, Sabena, Finnair, Aer Lingus, Iberia and Turkish and TAP, and is rumoured to have also talked to Alitalia. Significantly, it has secured antitrust immunity in the US for its alliance with Swissair and Sabena, effective August 6.
American has also continued to actively develop cooperation with LanChile, which recently joined oneworld, and has signed a code–share agreement with old–established member Cathay Pacific.
Don Carty said recently that he believed American lost out to competitors on the transatlantic last year due to the alliance delays, but that things are now looking up because of the immunised partnership with Swissair and Sabena and because the US and the UK "may be on the verge of a breakthrough".
But what about the impact of the American/Swissair/Sabena alliance on oneworld? Carty said that this summer the critical element for American was to get access to more markets. Although the issue would need to be reconciled in the longer term, "these alliances as brands do not have much marketing pull yet". In any case, all oneworld members would welcome Swissair into the alliance (though getting both KLM and Sabena to join would require "homework").
With so much going on in Europe, American is obviously waiting for the dust to settle a little. The picture may also become clearer once the next round of US–UK talks gets under way in September. The way in which international combinations could alter the US merger dynamics is clearly a factor being carefully considered.
AMERICAN FLEET PLANS
AMERICAN FLEET PLANS
In fleet
On order Options
Remarks
727-200
66
Stage 3
737-800
34
74
400
Delivery 2000-04
757-200
92
20
3
Delivery 2001-02
757-200EM
10
767-200
8
767-200ERM
22
767-300ERM
49
777-200ER
20
23
Delivery 2000-01
A300-600
35
DC-10
10
F100
75
MD-11
9
MD-82
237
MD-83
36
MD-87
4
MD-90
5
TOTAL
712
117
403
AMERICAN EAGLE FLEET PLANS
Emb 135
17
78
115
Delivery 2000-05
Emb 145
50
Saab 340
138
ATR 42
37
ATR 72
37
CRJ-700
25
25
TOTAL
279
103
140
AMR CORP. BALANCE SHEET ($m, March 31, 2000)
AMR CORP. BALANCE SHEET
($m, March 31, 2000)
AMR CORP. BALANCE SHEET
($m, March 31, 2000)
Current assets
4,999
Current
Flight equipment, etc.
14,810
liabilities
6,279
Capital leases
Long term debt
4,183
and other assets
3,603
Shareholders funds
12,950
Total assets
23,412
Capitalisation
23,412