Merger and investment opportunities August 2000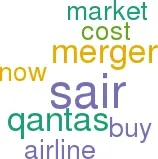 Should BA buy into SAir?
With the KLM talks dragging on, the idea of the SAir Group as an alternative merger target for BA has been floated. BA will certainly be keeping all its options open, and SAir has got some important attractions, now that Bob Ayling's departure has also removed a suspected personality clash with Philippe Bruggisser.
A link–up with SAir would help re–establish BA's relations with American, which has an immunised code–share agreement with Swissair and Sabena. Brussels has now the potential to be as efficient a hub as Schiphol for Atlantic/intra–European connecting traffic, and Swissair's business–orientated traffic base fits in perfectly with the market sector on which BA is focusing all its efforts.
Because BA/American/SAir would have a smaller transatlantic market share than BA/KLM/Northwest/American there would probably be less regulatory opposition to the deal. But the fundamental problem remains: the US authorities are not going to countenance a merged European entity with some of its transatlantic operation under open skies agreements and the rest under a restrictive bilateral.
SAir might take the opportunity of a merger with BA to split into a core airline which could be absorbed into BA and an aviation services group which would include all the minority investments that SAir has made. Through such a break–up SAir would probably enhance its value by getting rid of the conglomerate stigma that has depressed its share price.
It is not clear if SAir, like KLM, is now willing to accept a minority role in a merged airline. But Swissair does have the unique experience of having completed, apparently successfully, a transborder merger with its integration of Sabena.
Should Qantas buy into MAS?
Reports from Kuala Lumpur suggest that Qantas may be about to buy 30%, or possibly 45%, of MAS. The logic behind such a move from Qantas' perspective is to establish another Europe–Southeast Asia/Australia operation at Kuala Lumpur, giving Qantas/BA three strong hub positions in that regions (KL, Singapore and Bangkok). However, as Kevin O'Connor, Deutsche Bank analyst in Hong Kong, point outs, Qantas would be putting its money into a technically bankrupt company. MAS's adjusted shareholders' funds current show a negative value of RM525m (US$138m), and a return to profitability is not expected before 2002.
"Strategic" investments in airlines lacking effective local management and in which fundamental cost and revenue issues have not been addressed almost always end in tears — viz. Iberia in Aerolineas, Alitalia in Malev, BA in Air Liberte, etc.. MAS's case is further complicated by the ongoing debt restructuring of its 29% shareholder, Naluri, an aviation holding company.
A model for the turn–around of beleaguered Asian airlines like MAS, Garuda and Air India may, slightly surprisingly, be tobacco magnate Lucio Tan's transformation of PAL from a relatively high cost, typically state–bureaucratic carrier with global pretensions to a streamlined, lower cost airline focused on its core market — in this case, the Filipino diaspora.