US industry beats expectations with 2Q 1999 results August 1999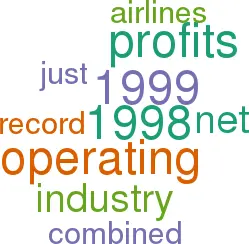 The US industry slightly surprised Wall St. analysts with better–than–expected second–quarter 1999 results, as fears that capacity increases would hit profits badly proved to be untrue. Even though combined 2Q 1999 ASKs increased by 4.5% compared with 2Q 1998, industry RPKs rose by 3.3%, resulting in just a 0.9% fall in year on- year load factor to 73.0%.
Second–quarter combined operating profits for the nine major airlines totalled $2,630m — just 5.3% down on the record $2,778m combined operating profit in 2Q 1998. But net profits for the nine airlines in 2Q 1999 totalled a record $2,069m — beating the 2Q 1998 figure by a substantial 25.2%. The gap between US industry unit revenue and cost has now widened to 0.78 cents per ASK, just behind the record 0.86 cent gap of 2Q 1998.
Delta posted its highest–ever quarterly operating and net income figures, while Northwest returned to profitability for the first time since 2Q 1998 (also see pages 11–15).
Particularly strong figures were posted by Southwest, which for the first time topped the quarter- billion dollar mark for quarterly operating profits.
The only airlines to report a drop in both operating and net profits in 2Q 1999 compared with 2Q 1998 were TWA (which is still posting net losses), Continental (where salary costs rose by 19% in the quarter) and American (which partly blamed "air traffic control and weather disruptions").