Shake-out due in European low-cost sector August 1999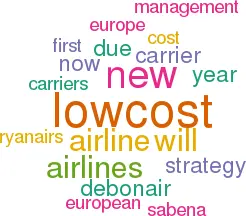 A shake–out among the European new entrants is imminent. Various stock–markets are sending very clear signals about the viability of some of the new breed of low–cost airlines.
The graph below, which indexes stock prices to the middle of last year, when all new airline stocks were strong, shows a precipitous decline in the fortunes of Debonair and AB Airlines. Indeed, AB's continuing operation has looked particularly shaky in recent months and it has only been able to keep going through slot sales and a last–minute fund–raising exercise. Debonair has been consistently loss–making, and investors' confidence has been further eroded by the carrier's inability to meet even short–term forecasts.
These two airlines have failed to put together coherent, workable strategies. In Debonair's case the original strategy just seemed too complicated for a low–cost carrier — it involved linking a series of mini–hubs throughout Europe, which had the benefit of maximising utilisation but the serious flaw of low load factors. Nor was Debonair ever a clearly differentiated low–cost carrier — it operates from London Luton, clearly a leisure–orientated airport, but offered frills that associated it with a business–type product. Fleet policy too appears erratic, originally opting for the four–engined BAe 146, which is not an obvious choice for low–cost operations, and now adding 737–300s (and at one point having been a putative launch customer for the 717).
Debonair is now changing direction, concentrating on wet–leasing to Lufthansa CityLine and Swissair Express. This is also the official new strategy of AB Airlines. It is actually quite difficult to discern what the old strategy was. Based at Gatwick, AB set out to promote itself as a "First for Value" airline that would form lots of alliances with established carriers at a slot–constrained airport. Its flotation last year was to fund the purchase of six 737–700s, but it was apparent that management had to firm up plans as to the routes the aircraft, still officially due for delivery from 2000 on, were to be deployed on.
Perhaps more surprising is the poor performance of Virgin Express. Here the low cost carrier is suffering through its association with a high–cost Major. Or, to be fair to Sabena, which has undertaken a significant turnaround, VE's problem has been an association with difficult airline unions in a high labour cost country. The one thing a new entrant cannot afford is labour strife, but this is exactly what happened when management tried to relocate its headquarters from Brussels to Shannon in Ireland.
Richard Branson's intervention, and the imminent return of CEO Jim Swigart to the US, has calmed the situation, but the future for VE looks uncertain. In particular, will it continue to operate for Sabena on key routes like Brussels–Heathrow when Sabena starts to take delivery of its new A320s? Sabena/Swissair has become concerned about brand dilution, and has ruthlessly divorced its long–haul, low–cost associate, CityBird.
Stansted–based Go has, of course, even closer links with a Euro–major, being 100% owned by BA. Up to now the BA link has been seen as being the low–cost carrier's big advantage, especially in terms of cost of capital. Its first results are due to be published in August, and Stelios Haji–Ianniou is offering a prize to the person who guesses most accurately how much of the start–up capital has been used.
Nevertheless, Go appears to be expanding smoothly and has gained widespread brand recognition. And in a recent interview, CEO Barbara Cassini hinted at a possible IPO for the airline. Reducing BA's stake reduces the ability of the parent (or its unions) to curtail Go's development.
EasyJet is likely to come to the market at some point as well in order to fund its rapid expansion. Six 737–300s will be delivered this year, and the first of its 15 737–700s are due in July 2000. As well as switching some operations from Luton to Gatwick and potentially Stansted, it is building up secondary points at Geneva and Liverpool.
EasyJet's single biggest asset is its chairman Haji–Ianniou, whose flamboyance and vision has driven the airline up to now. But when it comes to an IPO he will be faced with a new challenge — the financial community tends to be suspicious of larger than life characters, and will have to be convinced that the airline will be run as much for the benefit of the new shareholders as for the chairman/owner.
In contrast to the other quoted low–cost airlines, Ryanair's stock has continued to surge ahead on the back of an extremely good profit record. It seems to be genuinely establishing itself as the Southwest of Europe.
Ryanair's formula for success is based on consistent growth and consistent management. It has evolved its image from being regarded as an Irish regional to being the leading European low–cost carrier. However, its pricing policy is not simplistic and on certain flights it charges fares equivalent to those of its full–service competitors. Ryanair's strategy of operating to secondary airports at or close to a major destination has generally paid off; customer resistance seems to have been minimised by offering good ground connections.
Finally, it is worth remembering the potential of the low–cost market in Europe. As the table on page 7 indicates, only about 3% of the intra–European scheduled or semi–scheduled capacity this year will be provided by such airlines.
EUROPEAN GROWTH PLANS
EUROPEAN GROWTH PLANS

| | % ASK change | Forceast |
| --- | --- | --- |
| | forecast | % share |
| | for full | of total |
| | year 99/98 | ASK 99 |
| British Airways | 5% | 9.5% |
| Lufthansa | 9% | 8.5% |
| Air France | 9% | 8.5% |
| Iberia | 7% | 7.9% |
| Alitalia | 4% | 7.3% |
| SAS | 10% | 7.0% |
| Condor | 10% | 4.0% |
| LTU | -3% | 3.3% |
| Hapag-Lloyd | 40% | 3.0% |
| Finnair | 13% | 2.8% |
| Sabena | 15% | 2.7% |
| Swissair | 21% | 2.6% |
| KLM | 6% | 2.5% |
| TAP | 0% | 2.1% |
| Braathens | 36% | 2.1% |
| Olympic | 4% | 1.8% |
| British Midland | 11% | 1.5% |
| Ryanair | 29% | 1.3% |
| Meridiana | 14% | 1.2% |
| Aer Lingus | 15% | 1.2% |
| easyjet | 90% | 1.1% |
| Crossair | 31% | 1.0% |
| KLM uk | 2% | 1.0% |
| Spanair | 15% | 1.0% |
| Austrian Airlines | -3% | 0.9% |
| Air Liberte | 1% | 0.8% |
| Go | 435% | 0.8% |
| Deutsche BA | 3% | 0.6% |
| Eurowings | 13% | 0.5% |
| Other | 9% | 11.3% |
| TOTAL | 10% | 100.0% |