WestJet: how to fend off an incumbent August 1999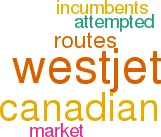 Meanwhile, north of the border WestJet, the small–scale Canadian version of Southwest, has just completed a successful IPO on the Toronto exchange, and continues to pose major problems for the incumbents.
Based at Calgary, WestJet employs all the classic low–cost strategies and tactics — point–to–point service, mostly direct sales, friendly service, and (in contrast to JetBlue) a fleet of cheap 737–200s. Founded in 1996. WestJet served 11 western Canadian destinations in 1998, carried 1.6m passengers and generated revenues of C$125.9m (US$86m) and net profits of C$6.5m (US$4.5m).
Despite its small size, WestJet has been remarkably successful in fending off a concerted attack on its routes from Canadian,which, having attempted to match WestJet 's services for eight months in 1998, was forced to withdraw and announce a "realignment" of its western network. The WestJet influence is behind the recent moves by Canadian and Air Canada to "rationalise" the market between them. In addition, Air Canada has been in talks with WestJet, and an alliance between those two airlines is a possibility.
Why have the incumbents, particularly Canadian, been unable to deal with this newcomer?
There would appear to be two critical elements — firstly WestJet has operating costs that are very much lower than the incumbents; secondly, on the routes that it entered it has managed to stimulate overall traffic growth of up to 150% (see table, left).
WESTJET'S STIMULATION EFFECT

| | 1997 | Change |
| --- | --- | --- |
| | pax. | on 1995 |
| Top five routes | (000s) | (pre-Westjet) |
| Calgary-Victoria | 161.7 | 156% |
| Kelowna-Victoria | 191.9 | 118% |
| Edmonton-Vancouver | 437.9 | 80% |
| Calgary-Vancouver | 674.0 | 60% |
| Calgary-Edmonton | 374.6 | 38% |
WestJet's advertising strategy has concentrated on educating the market generally about low–fare travel. When Canadian attempted to compete it had to advertise low fares on specific routes, which reinforced WestJet's message but undermined the economics of its own full–cost operations. Canadian ended up carrying new passengers at yields on which it could not possibly break even.
Canadian attempted to protect its yield by offering double and treble frequent flier miles but the impact was negligible in this market because the customers were infrequent fliers and highly price–conscious. To complete the cycle, when Canadian withdrew from the WestJet routes it in effect handed over the traffic volumes it had helped generate to the new entrant.