US industry records its best-ever quarter August 1998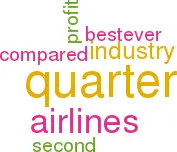 Boom times continue for the US industry following a record second quarter of the year, with eight out of the nine main airlines reporting an increase in operating profit compared with the same quarter in 1997.
The exception was Northwest, which was particularly hit by the Asian downturn and the dispute with its unions (now tentatively resolved).
In fact six airlines — American, America West, Delta, Continental, Southwest and US Airways — reported the best quarterly net income figures in their history and a seventh (United) reported its best–ever second quarter. Not surprisingly the result was the industry's best–ever quarter, with combined operating profit for the nine airlines in April–June 1998 totalling $2,777m, compared with $2,402 in 2Q 1997. Combined net profit was $1,652m in 2Q 1998, compared with $1,418m a year earlier. Revenue rose 4.5% in the quarter.
Overall ASK growth was 1.9% in the quarter, and with industry RPK up 4.4%, load factor rose 1.8 points in 2Q98 to 73.9%.
The gap between industry revenue and cost per ASK opened up in the second quarter (see chart, above), as it did at all individual airlines apart from Northwest (see below).
The quarter encouraged three airlines to announce further stock repurchasing. Delta will buy back another $750m of stock over the next 18 months, American is repurchasing an extra $500m, and Southwest another $25m. Airlines clearly believe that better–than–expected cash flows can be utilised best by handing them directly back to shareholders, rather than using them for suitable investment opportunities.