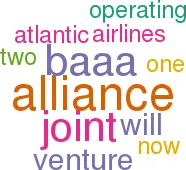 Now that the European Commission has made a (sort–of) final decision on 267 slot give–ups and other concessions, the BA/AA alliance can now go ahead — although more delays are inevitable as competitors react to the EC decision and the US DoT considers the alliance. The tortuous investigation has distracted attention from the strategy that lies behind the alliance, but this will now come to the fore as the two airlines have to prove the benefits of the venture as opposed to expounding the benefits of seamless travel, etc.
The first thing to note is that BA is much more exposed to the downside of the alliance (more competition in a newly deregulated market) than AA. Atlantic operations accounted for 54% of BA's operating profit in 1997 but only 15% of AA's. And it is difficult to see how this profit total will be boosted in the short term by the alliance: BA and AA are operating at close to 80% load factors across the Atlantic and any joint attempt to push up yield would surely provoke a regulatory response.
But, unlike the Star alliance, which is a wide–ranging and slightly bureaucratic operation, BA/AA gives the impression that it could evolve into a focussed transnational entity, perhaps eventually culminating in a full–blown merger (after all, a clause in the Continental/Northwest agreement indicates that this alliance will end up as one airline). Whether BA's artistic tailfins will be used to project the internationalist message is another issue.
In the meantime though, strategic lessons might be learnt from the just–announced joint venture between BT and AT&T in the telecoms sector. Their aim is to combine all the cross–border assets of the two companies in a joint venture while the core companies retain their own regional power bases.
One could envisage the Atlantic eventually becoming a BA/AA joint venture — with presumably BA having the majority stake — in which the two airlines would pool their aircraft, sales offices, etc. The other six regional operations clearly fall into the core competencies of one or other of the airlines. The power of BA/AA would then lie in the alliance's ability to route passengers between the various regions in its network, and in locking in passengers to its joint loyalty scheme. But, as corporations get larger, so service quality tends to get stressed, and management's ability to react to consumer demands becomes blunted.
So far there has been little if any evidence for economies of scale in alliances, but such is the potential scale of BA/AA, a 1% reduction in their joint operating costs would equate to a bottom line benefit of about $300m a year.
GEOGRAPHIC BREAKDOWN OF BA/AA PROFITS
GEOGRAPHIC BREAKDOWN OF BA/AA PROFITS
$m
Revenue
Op. profit
Revenue Op. profit
AA
BA
AA
BA
Combined
US domestic
10,613
—
862
—
10,613
862
Intra-Europe
—
5,207
—
10
5,207
10
Atlantic
1,979
4,978
219
590
6,957
809
Pacific
332
—
58
—
332
58
US-Latin America
2,670
—
309
—
2,670
309
Europe-Asia/Pacific
—
2,004
—
237
2,004
237
Africa/Middle East
—
1,811
—
254
1,811
254
Total
15,594
14,000
1,447
1,090
29,594
2,537
Notes: BA results are pre-exceptional charge. American year = calendar year. BA year = year to March 31. Figures may not add up to totals due to rounding.