Low cost subsidiaries --
Repeating past errors? April 2017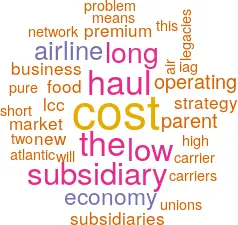 The emergence of long-haul low cost, in the initial form of Norwegian Air Shuttle operating across the Atlantic and into Asia, potentially poses a serious challenge to established European, US and Asian network carriers. Yet it is not at all clear that the incumbents see Norwegian — whose North Atlantic market share is less than 2% — and other new entrants, like WOW and Westjet — as really viable, as a major threat in the long term.
Barriers to entry remain high, notably the requirement for feed at high cost hub airports, the unit cost advantage achieved through high utilisation of widebody aircraft and the ability to offer heavily discounted Economy seats "cross-subsidised" by Premium traffic.
Nevertheless, there is a growing suspicion that the Legacies could be repeating the mistakes they made in the 90s and 00s — hugely underestimating the impact of a new low cost business model on their established business — when the expansion of Ryanair, easyJet, Wizz, etc in effect undermined their network models, forcing them into painful cost cutting and route rationalisation.
One of the unsuccessful strategies that is being re-enacted today is the establishment of lower cost subsidiaries, but this time for the long haul sector. The short haul versions in Europe were unprofitable and generally could not be made to work as part of the parent airline group: BA managed to sell off Go to 3i, the investment fund, and hence to easyJet, while KLM offloaded Buzz to Ryanair, purchases which were soon deeply regretted by the two LCCs.
In the US, Delta's experiment with Song and United's with Ted were eventually abandoned.
Vueling is admittedly a successful short haul LCC within IAG, though this is largely because of its distinct brand as the de facto flag-carrier of Catalonia. Aer Lingus could conceivably play a role as a lower cost long haul carrier within IAG, but it appears that it is being integrated (mostly) into the antitrust-immunised Atlantic JV, which means that its pricing and capacity has to be tightly coordinated with BA and American, with the three carriers operating as a virtually merged entity.
Instead IAG has opted to set up Level as a long haul low cost subsidiary based at Barcelona and initially operating two A330s. Lufthansa's low cost subsidiary Eurowings has six A330s for long haul operation, while Air France's Boost proposes A340s and later A350s based at Paris CDG.
A fundamental problem with low cost subsidiaries is strategic ambiguity: what exactly is their purpose?
Conflicting aims
Management at the parent company have to resolve a number of conflicting aims:
The low cost subsidiary is a means of taking on unions with the aim of ultimately reducing costs at the mainline airline, through the introduction of A/B type wage scales. This is why pilot unions can be so vociferously opposed to low cost subsidiaries, with Air France unions for instance. demanding that Boost's pilots be on the same contracts as mainstream employees. The result, as all the Legacies know, is protracted strikes.
The subsidiary is an attempt to block off expansion of pure LCC entrants or even put them out of business. This is never, of course, an explicit aim, and in today's litigious world it is a dangerous strategy.
The subsidiary is designed as a niche market operator. This strategy is meant to ensure that the subsidiary does not cannibalise the parent. The problem is finding suitable niches: pure leisure destinations are the usual choice, but then the subsidiary is operating in essence as a charter carrier, in a highly price sensitive market and one in which a Legacy airline has no real competitive advantage.
Finally, there is the possibility of using a low cost subsidiary to transition the parent airline to a more efficient operation, through allowing the subsidiary and the parent to compete for routes; the closest to this radical strategy is Qantas/ Jetstar.
Meanwhile, BA appears to be coming up with a variation on the parent/subsidiary airline strategy — creating two different airlines on the same long haul aircraft. The proposition seems to be to duplicate its new short haul Economy product on long haul — most visibly this means paying for food and drinks (but not just airline food but Marks & Spencer airline food) and increasing seating density (from 2018 BA's Gatwick-based 777s will be reconfigured to 332 seats from 280, which will equalise, BA claims, the operating cost per Economy seat between itself and Norwegian's 787s). By contrast the Premium classes are being upgraded with more seating capacity, gourmet food, refurbished lounges, etc).
The outcome will be a sharper differentiation between long haul Economy and Premium, which is vitally important to BA and the other European Legacies (see IATA's bubble chart). The problem is that the Legacy carrier ends up with an Economy product that to passengers is indistinguishable from that of a new entrant LCC, while total unit seat costs remain way above those of a pure LCC.
Then the Premium class is exposed: most attention so far has focused on long-haul LCCs winning Economy passengers but there is also growing competition for a segment of the Business market — those travellers from SMEs, for example, whose companies cannot negotiate corporate discounts with the network carriers.