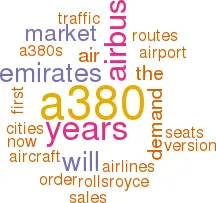 It is ten years since the first flight of the A380. So far it has won only 317 orders, less than a third of the 1,200 Airbus originally projected for its first 20 years. So what can Airbus do to revive sales: should it invest in a re-engined version for better fuel economy, or try to squeeze out better numbers by less ambitious performance improvement packages? The aircraft is certified to carry 853 passengers, but the standard version now is being offered with 544 seats, and most operators put in only 525 seats, preferring to market the comfort of superior roomy, quiet cabins, especially in economy. Seats are being sacrificed for cocktail bars, just like in early 747s.
There is no doubt the aircraft is generally popular with its passengers, but no new airline order has appeared for two years. Last year the only order came from Amedeo, a leasing company, whose sole lessee is Emirates. In December 2014 an Airbus executive's careless remark to journalists gave the (false) impression the manufacturer was contemplating stopping production in a few years. But now there are signs of life, reviving hope for the aircraft's prospects.
The most significant is the campaign by Emirates, by far the biggest buyer and operator, to persuade Airbus and Rolls-Royce to come out with a re-engined and upgraded version in a few years. Emirates CEO Tim Clark suggests he would buy up to 200 extra A380s, were it to get updated engines.
Numbers are being crunched in Toulouse and Derby to justify spending an additional $2 billion on developing a plane whose sales have stalled. It will take cool nerves and a long view to justify the investment. But the decision, announced in April, by Emirates to put Rolls-Royce engines for the first time on its latest order batch of A380s could be interpreted as a step towards an A380 neo.(Orders for 30 announced at the Paris air show, another 30 later at the Dubai air show?).
But there are also strong voices both in Airbus and Rolls-Royce which say that there is no business case unless other airlines commit to a new version.
Tim Clark criticises other carriers for not making the best use of the A380. Emirates builds up traffic on a route enabling the airline to move up from serving it with A330s and 777s to the A380. Higher density versions serve destinations in India. Across the board Emirates says its A380 load factors are more than 75-80%.
The map below traces the current pattern of A380 schedules. Unsurprisingly, the Middle East hubs, essentially Dubai at present, dominate the picture accounting for 48% of total A380 departures. The other concentrations are around the Euro-hubs, especially Heathrow, and SIA's Changi hub. They account for 18% and 15% of departures respectively.
The Middle East market depends on uncongested airports and 24 hour operations, enabling a huge number of connecting flows to be channeled through the hubs. The European market depends on congested airports, with traffic being consolidated in to ever-larger aircraft. However, there are limits: to fill A380s, except on certain routes and timings, requires feeder flights which do not alleviate congestion at the airport, and the demand for frequency on high volume but business-orientated routes means the use of smaller gauge aircraft.
North American airlines continue to focus on 777 and now 787 types equipment for their long-haul routes, and the chances of Airbus making a break-through into this market are remote.
Airbus still argues for demand for 1,500 super-widebodies over the next 20 years, convinced that airport congestion will eventually haul up sales, assuming that, as the manufacturers' forecasts contend, air traffic continues to double every 15 years. A recent analysis by the United Nations suggests by 2030 about 9% of the world's population will be living in 41 "mega cities" of more than 10m inhabitants. That is double the share in 36 such cities at the turn of the century. By definition these cities will be the richest spots on earth, generating demand for long-haul air travel connecting them, while their geographic sprawl will limit airport expansion. The argument is that demand for scarce take-off and landing slots will eventually force airlines to buy A380 types.
But, as Airbus chief executive Fabrice Bregier ruefully remarked recently, the A380 may have been launched ten years too early. Although the A380 has sold only a handful in China, which is set to be the world's largest aviation market by about 2030, the ultimate fate of the A380 could lie in Chinese hands.
A380 Order Book May 2015
| | | | |
| --- | --- | --- | --- |
| | Orders | Delivered | Backlog |
| Air Austral | 2 | | 2 |
| Air France | 12 | 10 | 2 |
| Amedeo | 20 | | 20 |
| Asiana | 6 | 2 | 4 |
| BA | 12 | 9 | 3 |
| China Southern | 5 | 5 | 0 |
| Emirates | 140 | 59 | 81 |
| Etihad | 10 | 1 | 9 |
| Korean | 10 | 10 | 0 |
| Lufthansa | 14 | 13 | 1 |
| MAS | 6 | 6 | 0 |
| Qantas | 20 | 12 | 8 |
| Qatar | 10 | 4 | 6 |
| SIA | 24 | 19 | 5 |
| Thai | 6 | 6 | 0 |
| Transaero | 4 | | 4 |
| Virgin Atlantic | 6 | | 6 |
| Undisclosed | 10 | | 10 |
| Total | 317 | 156 | 161 |