UK GDP and UK airport trends April 2014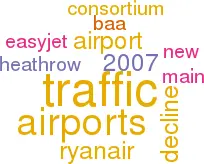 From the early 90s through to 2007 one traffic trend seemed crystal clear — UK to continental Europe leisure traffic consistently grew at 1.5 times UK GDP. Then the recession hit and UK residents visits abroad plummeted by nearly 20%, and, despite the economic recovery which started last year, there is little chance that growth will return to the former trendline.
This is bad news for the infrastructure funds that invested and traded in UK regional airports over the past two decades as they were liberated from local authority ownership. To varying degrees the long term revenue projections for these airports relied on a continuation of the pre-2007 traffic pattern. It was not simply a collapse in demand; there was also a supply-side adjustment as the LCCs, mainly Ryanair and easyJet, decided to relocate capacity to continental European bases, in part to get away from APD (Air Passenger Duty).
The six charts opposite summarise what has happened to total traffic at the main airports in the UK regions. A brief commentary:
Scottish airports as a group have seen a relatively modest traffic decline. Edinburgh, sold by BAA to the Global Infrastructure Partners (GIP)-led consortium in 2010, has performed strongly in recent years while Glasgow, still part of the BAA (or Heathrow Airport Holdings as it has tellingly rebranded itself) has languished.
Northern Irish airports have experienced the severest decline, partly because the local economy is closely tied to that of the Irish Republic and its financial disaster, partly because Ryanair quit Belfast City after a disagreement about runway extension.
The north of England was particularly hard hit by the recession. Liverpool was in addition undermined by a change in strategy at its much larger rival Manchester, which suddenly decided actively to seek LCC business after years of concentrating on charters and hoping that it could create a northern hub once Heathrow was full. Newcastle suffered as both easyJet and Ryanair pulled back though Leeds Bradford has found some additional LCC business to supplement its core Jet2.com traffic.
East Midlands, Birmingham and Cardiff have all been affected by the demise of bmi and bmibaby. Bristol has dominated South West traffic to the extent that Cardiff has been renationalised by the Welsh authorities.
The scale on the London region chart is of a completely different order to the other regions but here too the non-hub airports have been in decline. Stansted, Ryanair's main base, has seen traffic decline by 25% since 2007, though a deal between the new owners, the Manchester Airport Group-led consortium, and Ryanair promises to restore strong growth, as does a new easyJet agreement at Luton and, perhaps, a new Flybe contract at London City. Gatwick, forcibly sold by BAA in 2009 to a GIP-led consortium, marginally bypassed its 2007 traffic throughput last year.
Finally, since 2007 Heathrow, an airport apparently operating to maximum capacity, has grown its passengers by 4.3m, while the 15 other main, uncongested UK airports have lost 10.2m.