Lion Air: 1,000 aircraft dream or delusion? April 2014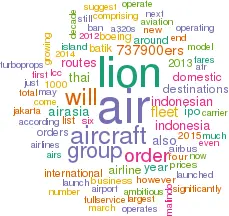 Lion Air should have astounded the aviation industry by placing huge orders in 2012 and 2013, and stating a target of a fleet of 1,000 aircraft over the next decade. Actually, it was largely ignored, but should Lion Air be taken seriously?
Lion Air was launched in 2000 by brothers Rusdi and Kusnan Kirana, and though it gradually grew through the 2000s it was just another Asian LCC that trailed well behind the giant AirAsia.
However, Lion Air's profile changed significantly in 2012 when it placed an astounding order for 201 737-MAX 9s and 29 737-900ERs in February of that year, worth some $22.4bn at list prices — which was the largest ever order for Boeing aircraft in the manufacturer's history. That was followed in March 2013 by an order for 234 Airbus aircraft, comprising 60 A320-200s, 109 A320neos and 65 A321 neos and worth $24bn at list prices. Sources suggest Lion Air may have got around a 50% discount on the Airbus list prices, and a similarly deep discount is likely on the Boeing order, so a total commitment of say $23bn.
The total Lion Air order book now stands at 538 jet aircraft (see table to the right), comprising 304 Boeing and 234 Airbus aircraft. 737 MAX 9s and 737-900ERs form the bulk of the Boeing order book, but there are also five 787s on order — though unconfirmed reports suggest that Lion Air will soon be cancelling that particular order. Of the Airbuses, 60 A320-200s will start being delivered later this year, but further ahead Lion Air has 174 new generation A320 family aircraft on order.
Lion Air still has a handful of older 737 models, which are being phased out, but Lion Air will take delivery of 34 aircraft throughout 2014 and the total 500+ aircraft on order will be delivered over the next decade. However, Lion Air wants a fleet of at least 1,000 aircraft, and further orders for 737s and potentially A320s are expected in 2015. While that's a prospect that no doubt has the manufacturers excited, the question has to be asked as to whether the Lion Air group can realistically achieve such an ambitious plan?
A growing group
In March this year Rudy Lumingke — previously general manager sales and marketing — was promoted to CEO of Lion Air to replace Rusdi Kirana, and that airline remains the core of the group, operating 97 aircraft from its home base at Jakarta, with other hubs at Batam, Surabaya, Bali, Ambon, Makassar and Manado in Indonesia.
Lion Air is now the largest domestic airline in Indonesia, accounting for some 50% of the market according to one analyst, and taking advantage of a robust Indonesian economy that is the largest in Southeast Asia and which has recorded GDP growth of around 6% over the last four years, partly due to increased consumption from a growing middle class.
The Lion Air Group also owns Jakarta-based Wings Air, which brings in feed from Indonesia's extensive island network with a fleet of 30 turboprops and MD-80s. Wings Air has 33 ATR-500s and -600s on outstanding order, and the Lion Air Group is apparently also interested in acquiring up to 100 Indonesian Aerospace N219 19-seat turboprops, which would enable it to service much smaller airport that are dotted around the Indonesian islands. The N219 is under development and the first models may roll off the production line in 2016.
Completing the group structure is Batik Air, a full-service subsidiary that began operations in May 2013 and which is also based at Jakarta airport. It currently operates six 737-900ERs to 10 domestic Indonesian destinations, but will increase the fleet to 16 by the end of 2014, with the new aircraft comprising four 737-800s (arriving in the second-half of the year) and six A320s, the first of which will arrive in July. These aircraft will come from the outstanding group orders for Airbus and Boeing aircraft, and Batik also plans to add between 20 to 30 aircraft in 2015 as well.
These new additions will enable Batik Air to add 12 more domestic destinations by the end of the year, while a first international route — to Singapore — is also scheduled to launch before the end of 2014, before routes to Kuala Lumpur, Hong Kong and various Chinese cities are added in 2015. The 737-900ERs operate with a configuration of 169 economy and 12 business seats, and the airline follows a standard full-service business model.
Batik Air says its load factors are currently in the 90s, and that it has lots of scope for expansion In Indonesia, given that it is archipelago of more than 17,000 islands and is — according to the airline — vastly underserved. Whether routes to many of those island will produce premium traffic feed is open to debate.
Affiliate stakes
Malindo started operations in March 2013 as a so-called hybrid carrier that challenges both MAS and AirAsia, with a product that includes business class, meals, large seats and touch-screen entertainment system — but offered at low fares on a fleet of six 737-900ERs and six ATR 72s.
According to Chandran Rama Muthy, chief executive of Malindo Air, there is a niche market in between premium and low-cost carriers, but the reality is that few other airlines that have tried to operate as a hybrid have made the business model a success. However, Malindo Air insists it can keep fares low thanks to cheap aircraft provided from the Lion Air Group.
Thai Lion Air is an LCC based at Bangkok that was launched in December 2013. The carrier operates four 737-900ERs (in an all-economy 189-seat configuration) and a single ATR 72-600 to five domestic and three international destinations (in Indonesia and Malaysia). Thai did have ambitions to increase its fleet by around 10 737-900ERs each year and gradually extend its reach to destinations such as Japan, China and South Korea, but those medium-haul routes would have been operated by the 787s on order, and reports suggest that order may be cancelled.
Additionally, the Thai affiliate has recently cut back frequencies on international service from Bangkok to Jakarta and Kuala Lumpur and is focussing more on domestic routes, largely as a result of civil interest and political turmoil in Thailand, which has resulted in load factors on the routes barely hitting the 50s mark. More and more of those domestic routes will be operated by 72-seat ATR 72-600s secured from Lion Air Group orders.
Inevitably the launch of Thai Lion Air provoked a reaction from Thai AirAsia, which immediately reduced its ticket prices and which has led to a fares war between the two. Interestingly the main marketing push of Thai Lion Air is not around individual ticket sales but rather about bundling air tickets with package tours, and that's potentially due to the fact that the other 51% of the airline is owned by Thai travel companies.
But even after including the fleet of its affiliates, the Lion Air Group comprises just 150 aircraft, of which a quarter are turboprops, operating to a handful of international destinations. However Lion Air does have plan to develop the airport at Batam — an Indonesian island just a 45-minute ferry ride from Singapore — as an international transit hub that will connect Indonesia with destinations to the west and east, from China to the Middle East and the Indian sub-continent. Lion Air is now constructing four hangars and extensive repair and maintenance facilities on the island.
In terms of finance the Lion Air Group has raised a number of US Export-Import Bank (Ex-Im) guaranteed bonds since 2012, but it's clear that with the massive scale of orders it has that it needs substantial amounts of new funding, and that probably means an IPO. The group is looking to carry out an IPO sometime in 2015, and initial discussions have already taken place with banks and advisory companies. If successful the IPO would raise as much as $1bn for much-needed investment for its ambitious expansion plans, and give it an opportunity to improve its capital base further over the next decade.
But while bankers will encourage Lion Air to float sooner rather than later, some analysts believe the group is not ready even to begin contemplating an IPO. The need to hire a huge number of experienced managers is paramount, one believes. In some ways Lion Air is surprisingly unprofessional — its website is many years out of date (its fleet page states that it "will take delivery of another 15 737-900ERs by December 2008") and — much more worrying for any potential investors in an IPO — it is still on the list of airlines banned from operating within the European Union airspace because of safety standards concerns.
While Lion Air doesn't operate to Europe, the ban means that European travel agents are required to notify potential passengers that the airline is blacklisted at the point and time of sale, which significantly impacts bookings out of Europe. Although that EU ban applies to most Indonesian airlines, the key exceptions are Lion Air's main rivals — Garuda Indonesia and local subsidiaries of Tiger Airways and AirAsia. Significantly, the Lion Air Group has also suffered a number of aviation incidents and crashes since it was launched, including 25 fatalities.
If Lion Air does come off this EU ban list, does become more professional, does hire more experienced aviation executives, does successfully carry out an IPO and does finance and build an 1,000 aircraft fleet (and there are a lot of ifs in that statement), then the group will still have to find enough markets and routes to place those aircraft profitably.
That won't be easy. Garuda has already responded to the growing threat of Lion Air by expanding the scope of its LCC, Citilink — which operates 30 A320s — and the launch of full-service Batik Air will inevitably provoke further reaction from the Indonesian flag carrier. But the bigger challenge to Lion Air's ambitions will come from AirAsia, both from Jakarta-based Indonesia AirAsia and from the larger AirAsia group. AirAsia has deep experience in the LCC model and even deeper pockets, and it will compete fiercely to prevent Lion Air from achieving it very ambitious targets.
Lion Air Group and Subsidiary Fleet
| | | | | | |
| --- | --- | --- | --- | --- | --- |
| Fleet (Orders) | Lion Air | Wings Air | Batik Air | Malindo Air | Thai Lion Air |
| 737-300 | 2 | | | | |
| 737-400 | 2 | | | | |
| 737-800 | 24 (18) | | | | |
| 737-900ER | 68 (80) | | 6 | 6 | 4 |
| 737-MAX 9 | (201) | | | | |
| 747-400 | 2 | | | | |
| 787 | (5) | | | | |
| A320-200 | (60) | | | | |
| A320neo | (109) | | | | |
| A321neo | (65) | | | | |
| DHC-8-300 | | 2 | | | |
| MD-82 | | 1 | | | |
| ATR 72 | | 27 (33) | | 6 | 1 |
| | 97 (538) | 30 (33) | 6 | 12 | 5 |