Gol and TAM: Domestic growth curtailed April 2012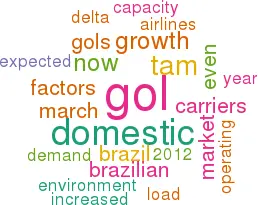 Even though Brazil's economic recovery has been unexpectedly sluggish this year, GDP growth in the 3% region should still result in domestic air travel demand expanding by close to 10% in 2012. Moreover, this year is seeing a healthy pricing environment in Brazil – a rare positive that reflects disciplined capacity addition by the main carriers.
Yet Gol and TAM, which enjoy a domestic duopoly with a 79.4% combined market share in March, are not making profits even on an operating basis. Gol, with its balance sheet issues, is potentially in deeper trouble and is now scrambling to scale back expansion, slash costs and raise capital.
The airlines are feeling the effects of multiple negative factors: sharply lower domestic travel demand resulting from higher fares, high fuel prices, increases in labour and other cost categories, and the Brazilian Real's continued depreciation against the US dollar (which has increased their dollar-denominated liabilities).
Gol and TAM have both sharply curtailed their growth plans this year. In the first quarter, their domestic ASKs increased by only 3.6% and 4.5%, respectively. In 2012 Gol and TAM now expect their capacity to decline by 2% and 7%, respectively.
This has resulted in a strong pricing and yield environment – something that usually benefits airlines. But the Brazilian market is highly price-sensitive. Domestic traffic growth has decelerated from 16% in 2011 to 7.3% in 1Q12, with March only seeing 1.3% growth. Gol's domestic RPKs declined by 10.1% and TAM's by 7.8% in March. Load factors plummeted, Gol's by as much as 4.5 points to 64.3%.
Gol is now expected to post operating losses for both the first and second quarters. While TAM has benefited from a more robust international segment, it too is expected to merely break even on an operating basis in 1Q.
Lower cash flow generation, negative currency developments and the late-2011 Webjet acquisition have weakened Gol's balance sheet. Although Gol is still believed to have adequate cash reserves (31% of annual revenues at year-end), its liquidity could deteriorate in the seasonally weak June quar
Gol's management is now focused on cost-cutting – not an easy task for an LCC that already has lean operations. A programme is under way that aims to reduce costs by R$35m (US$19m) in 2012, building to R$135m (US$71m) annually by 2014. The carrier has even announced some workforce reductions.
In December Gol secured a very useful US$100m investment from Delta, in return for a 3% stake, a board seat, an exclusive codesharing agreement and two 767s. In recent weeks there has been speculation in Brazil that Delta is in talks to raise its stake to 20% — the maximum foreign investment currently permitted in Brazilian airlines (though the limit may be increased to 49%). Gol has denied any such talks, but some analysts have argued that it would benefit from a greater contribution from Delta to management and strategic decisions.
In a major strategy shift, Gol announced recently that its Varig unit would re-enter the Brazil-US market, initially with service to Miami. One problem is that the 737's range limitations necessitate that the Sao Paulo-originating flights stop in Caracas, raising questions about profitability. The move reflects a desire to diversify revenues and may also be a response to the LAN/TAM merger, which is expected to close in June.
In light of the new demand environment in Brazil, some analysts are concerned about the capacity addition by the smaller carriers, which now have over 20% of the domestic market. Carriers like Azul, TRIP and Avianca Brazil continue to expand at a heady pace. As battle lines are drawn in response to LAN/TAM, AviancaTaca is talking of bringing US$4bn of aircraft to its Brazilian unit over the next few years. However, unlike Gol and TAM, so far at least the smaller carriers have not seen any deterioration in load factors. Azul's and Avianca Brazil's 79-80% load factors in March suggest that they continue to grow profitably.