AviancaTaca: Gearing for growth after successful merger April 2011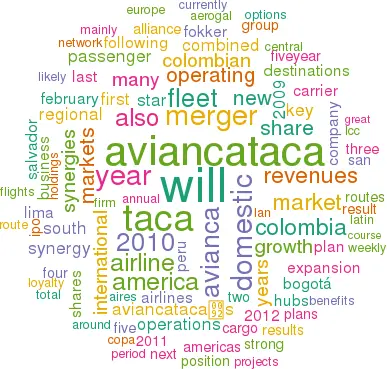 AviancaTaca Holdings, Latin America's fourth largest airline group in terms of revenues (after LAN, TAM and Gol), used the words "extreme success" to describe its $277.6m IPO on the Colombian stock exchange, which was more than five times oversubscribed when the bidding period closed on April 15. The airline sold 100m non–voting dividend preferred shares at 5,000 COP each, raising around $250m in net proceeds, which will be used to fund fleet and network expansion. The offering represented 11.1% of the company's total shares.
This was apparently the first IPO of a foreign private entity in Colombia. AviancaTaca is controlled by Synergy Group companies owned by German Efromovich, the Bolivian–born entrepreneur with dual Brazilian and Colombian citizenship (through there are no foreign ownership restrictions on airlines in Colombia).
As a nice touch, the company encouraged its customers to buy shares. Its website invited people to "become part of AviancaTaca", provided easy access to the IPO prospectus (albeit only in Spanish) and even offered credit arrangements via the lead underwriter. The minimum investment was 5m COP ($2,700).
As a result, AviancaTaca will have 50,000–plus new shareholders. The share allocations will be made by May 6, and the shares will start trading on the Bogotá bourse on May 11. Interestingly, employees and loyalty programme members will have priority in the allocation of shares (with amounts of up to $8,000 per person).
President Fabio Villegas noted: "I am not aware of any prior case where frequent travellers of an airline have had priority in obtaining shares. At AviancaTaca we wanted to recognise our clients' loyalty and are thrilled by the great response we received".
AviancaTaca's key selling points included strong earnings in the past two years, successful integration following the February 2010 merger, additional merger synergies to be realised in the next two years, benefits from Star alliance membership from 2012, a strong position in key regional markets and, above all, great growth prospects.
On the negative side, AviancaTaca faces growing LCC competition in many of its key markets. It is measurably smaller than LAN, TAM and Gol (let alone the likely future LAM/TAM combination) and has smaller hubs and many questionable markets.
In the next few years, AviancaTaca considers its key tasks to be the following: complete fleet and technology modernisation, strengthen its route network, enter Star alliance, capture full synergies from the merger, unify cultures and management systems, and diversify operations in terms of territories and business segments.
Solid past, 2010 merger
Avianca and TACA are both old–established operators with many achievements.
Tracing its roots back to 1919, Avianca is the oldest airline in the Americas and the second oldest in the world. The company lost its NYSE listing when it filed for Chapter 11 protection in 2003, but it emerged from bankruptcy the following year after it was taken over by Brazil's Synergy Group. It has been profitable ever since, thanks to a thorough revamp and investment in fleet and route expansion by its new owners.
Avianca took steps to prepare for an IPO in 2007 but had to shelve those plans when market conditions deteriorated. Nevertheless, a fleet modernisation programme was launched in 2008, when Synergy also acquired Colombian carrier Tampa Cargo. In 2009 Avianca tapped the Colombian capital markets to the tune of 500bn COP ($275m) with a bond issue to finance its fleet renewal. The airline is Colombia's flagship carrier, with a hub in Bogotá, a dominant position domestically and the number one position internationally.
Grupo TACA was an early pioneer of the multi–country, multi–airline strategy in Latin America. Originally formed in 1931 in Honduras, in the 1930s and 1940s TACA set up subsidiaries or acquired airlines all around Central America. In 1961 the Kriete family bought a controlling interest in TACA. In 1983 the headquarters were relocated to El Salvador. 1989 saw a major acquisition spree: Lacsa (Costa Rica), Aviateca (Guatemala), Nica (Nicaragua), Sahsa (Honduras) and several regional operators. In the late 1990s the group's airlines were unified under a common logo and TACA also expanded to South America by forming TACA Peru with its hub operation in Lima.
Having participated in a $4bn order for Airbus aircraft in 1998, in the post–2001 period TACA implemented a transformation plan focused on fleet renewal, cost cutting, revenue–boosting and diversification.
As a result, it was able to grow profitably and strengthen its position as the leading airline in Central America. TACA benefited from a strong, Harvard–educated management (personified by the Krietes and Federico Bloch, the legendary CEO who was murdered in 2004 in El Salvador) at a time when many airlines in the region had questionable managements.
TACA began expansion to the US in 2003. The airline operates through hubs in San Salvador, San Jose and Lima, serving destinations in 22 countries in the Americas and the Caribbean.
The Avianca/TACA merger, first announced in October 2009 and formalised in February 2010, was aimed at creating cost–reduction opportunities, strengthening the airlines' strategic position in the region and positioning them for growth. The merger brought together airlines that generate $3.1bn in annual revenues (2010), employ 14,000 people and currently serve over 100 destinations in 100 countries through four hubs, utilising around 150 aircraft (excluding regional carriers).
Mirroring the LAN approach, the merger created a holding company for 13 airlines from 10 countries. It combined the TACA consortium's TACA International and its holdings in Lacsa, TACA Peru, Aviateca, Sansa, La Costena, Aeroperlas and Islena (the latter five operate a combined total of 33 turboprops under the TACA Regional brand); Colombian carriers Avianca, Tampa Cargo and SAM; and Synergy Group's options to acquire Brazil's OceanAir and Ecuador's AeroGal, together with the latter's regional affiliate VIP (all of the options were exercised).
Since the merger closed OceanAir has been integrated into the holding company and rebranded as Avianca Brazil; the Sao Paulo–based carrier now focuses on the Brazilian domestic market with a 20–point network and, as of February, had captured a minute 2.6% market share. Colombian carrier SAM's operations were discontinued in October 2010. In November 2010 Synergy increased its stake in Ecuador's AeroGal from 80% to 99%; the Quitobased carrier operates an 18–strong fleet mainly to the Galapagos Islands and other domestic points but also to Bogotá, Lima and New York.
Ownership in AviancaTaca Holdings is primarily split between Synergy Aerospace Corp (the Colombia–based unit of Brazilbased Synergy Group, 67%) and Kingsland Holdings Limited (Grupo Taca's owners, 32%). However, it was portrayed as a merger of equals, with strategic decisions taken "by mutual agreement under a shared vision". The 11–member board includes six independent directors. The key figure behind this union was German Efromovich, who had long talked about creating a pan- Latin American airline group; he met a like–minded partner in ex–TACA CEO Roberto Kriete, who is now AviancaTaca's chairman.
Avianca and TACA were highly compatible: there was virtually no route overlap (only the Bogotá–San Salvador and Bogotá- Lima routes), both were traditional brands, had similar cultures focusing on customer service and had a history of profitability.
Nevertheless, initially many sceptics questioned how meaningful the benefits could be given the numerous small operators, the disparate networks and many secondary markets.
But the benefits have exceeded expectations.
The merger had produced $54m in synergies by year–end, compared to the original target of $35m for the first year.
Furthermore, the company continues to identify new synergies, so the original projection is likely to be exceeded.
The currently projected $220m–plus in total annual synergies are expected to come from the alignment and strengthening of the passenger networks ($115m), loyalty programmes ($29m), net revenue synergies ($25m), systems ($22m), supply contracts ($7m) and cargo and others ($22m). This year will see a combined loyalty programme ("LifeMiles", 4m–plus members). AviancaTaca is also working on a single brand (though operating certificates will remain separate to meet regulatory requirements). And, of course, systems integration – often the toughest part in airline mergers – is yet to come.
Strong profitability
While TACA historically did not make its results public, AviancaTaca provided a five–year record of combined earnings in the IPO presentation. Operating revenues grew from $1.6bn in 2005 to $2.9bn in 2008 and then dipped 9.7% in 2009 to $2.6bn. EBITDA (operating) margin was always at least 7% and as high as 12.8% in 2009. EBITDAR margin was 19.2% in 2009. In the five–year period, scheduled ASKs had a 7.2% compound annual growth rate and load factor hovered in the 72–76% range.
The first fully consolidated results were released for the 11–month February- December 2010 period: operating and net profits of $409m and $50m, respectively, on revenues of $3.1bn. The results include a $58m provision related to the return of Avianca's Fokker 100s (which are being replaced by A318s this year). Notably, load factor improved to 78.1% last year.
Remaining profitable through the 2008- 2009 industry challenges and achieving a 13% operating margin in both 2009 and 2010 were highly respectable achievements by most standards.
Last year's strong results were attributed to improved operational efficiencies and synergies from the merger. Those benefits more than offset the negative effects of increased competition in the Colombian domestic market, where fares and yields plummeted as a result of expansion by LCCs.
As of late March, the profit outlook for 2011 was promising, despite the higher fuel prices. First, the Colombian domestic pricing environment has become more rational as a result of LAN's takeover of Aires late last year. Second, there will be the additional merger synergies — $166mplus, divided roughly equally between 2011 and 2012. From next year AviancaTaca's results should also benefit from Star alliance membership.
AviancaTaca's business plan projects operating revenues growing at a 13.1% CAGR in the next five years, to reach $5.7bn in 2015. EBITDAR is forecast to more than double to $1.2bn (CAGR of 17.3%).
Fleet modernisation and streamlining
AviancaTaca has a combined fleet of around 150 aircraft, excluding the small turboprops operating under the TACA Regional brand. The combined entity is essentially maintaining the fleet renovation plans started independently by Avianca and TACA years ago.
In respect to medium–sized jets, Avianca is moving to an all–Airbus fleet, which will match TACA's. In other words, this year it will complete the process of replacing its 767s, MD–83s and Fokker 100s with A318s, A319s, A320s and A330s. TACA has also continued to take E190 deliveries, while Avianca will retain its Fokker 50s.
As a result, by the end of this year AviancaTaca will have reduced its jet fleet from nine types to four. Having previously operated A330s, A320s, 737s, 757s, 757s, MD–83s, E190s, Fokker 100s and Fokker 50s, the fleet will be streamlined on the A330, the A320–family, the E190 and the Fokker 50. (Tampa Cargo is likely to continue to operate its four 767Fs; it is not clear how long AeroGal will operate its single 757–200 and single 767–300ER).
Of course, Avianca will be operating one Boeing type — the 787–8, for which it has 12 firm orders for delivery in 2013–2018. At the end of last year, its A320–family firm orders totalled 39 (delivery in 2011–2014) plus 28 options, and its A330 firm orders totalled five (delivery in 2011–2012). The final two E190s currently on firm order are arriving this year, though the company holds 30 options for the type.
Network strategy and plans
AviancaTaca operates through four hubs: Bogotá, San Salvador, Lima and Costa Rica.
Following the merger, last year an effort was made to optimise connections through the first three of those hubs, which resulted in improved load factors and increased frequencies in key markets. In March 2011 the combine's operations from Bogotá (the main hub) consisted of 1,180 weekly flights to 19 domestic and 22 international destinations (including Europe); San Salvador had 250 weekly flights to 23 destinations in the Americas; Lima had 220 weekly flights to four domestic and 21 international points; and San Jose had 163 weekly flights to destinations in the Americas.
The combine has strong positions in its key markets. It is the largest carrier in Colombia's domestic and international markets, as well as in intra–Central America operations. According to AviancaTaca, it had a 53.4% share of Colombia's domestic passengers and 45.2% of international passengers to/from Colombia in 2010.
Within the Americas, the combined passenger network is also nicely balanced. As of February, AviancaTaca served 21 cities in Colombia, 27 in South America, 16 in North America, 13 in Central America/Caribbean (plus 28 by regional units) and two in Europe. Passenger revenues were split as follows: Domestic Colombia 25%, North America 24%, South America 26%, Central America/Caribbean 15% and Europe 10%.
The five–year business plan projects a brisk 14.6% compound annual growth rate for ASKs. The plan calls for further optimisation and consolidation of the three hubs, moving towards interchangeable fleets, adding incremental routes and destinations in North and South America, and strengthening presence in the Latin America–Europe market. The latter will become a focus when Avianca's 787 deliveries commence in 2014; the routes mentioned in recent years have included London and Frankfurt (currently only Madrid and Barcelona are served in Europe).
AviancaTaca will be relying heavily on its Star partners in the international arena. It is preparing for entry to that global alliance in the first half of 2012. In recent months it has begun code–sharing with Lufthansa and announced similar plans with United, Continental, COPA and COPA Colombia (COPA is also joining Star in 2012). Once in Star, AviancaTaca will terminate its current cooperation with Delta.
The Star alliance entry is well–timed, because a full US–Colombia open skies regime will take effect at the end of 2012, following agreement reached in November. This will mean even more LCC competition in a market that is perfectly suited to A320 and 737 operations from many different parts of the US. Three LCCs – Aires, Spirit and JetBlue – have already between them captured almost a third of the US–Colombia market.
AviancaTaca's planned cooperation with COPA Colombia (the number three domestically with a 15.2% passenger share in 2010) should in theory ease some of the competitive pressures in Colombia. Then again, Aires has grown aggressively (to capture a 21% passenger share in 2010) and will continue in that mode under LAN's ownership, and there seems to be a constant stream of new upstarts. The ones already operating include Satena (10.5% market share), Easyfly and Aerolinea de Antioquia (ADA). Those still in the works include VivaColombia (a new well–funded LCC spearheaded by Declan Ryan that plans to start flying in 2012) and La Nueva Aerolineas (an LCC venture led by ex- Avianca CEO Juan Emilio Posada that is targeting October 2011 launch). And then AeroOasis, which LAN started helping with the certification and start–up process last year (before it acquired Aires), is still believed to be trying to launch operations.
With a population of 46m, Colombia is a potentially very attractive market and, given the new entrants, is likely to see rapid growth for many years to come. For AviancaTaca, the main domestic opportunities appear to be in Peru and Ecuador – markets where the five–year business plan projects significant expansion.
TACA Peru has hitherto been mainly an international airline, with only one domestic route. But, after receiving authorisation, it will undertake major domestic expansion this year, mainly with E190s but also A320s. In February it added three domestic routes; two new routes are due to start in May, with more following in the second half of 2011. In Ecuador, another market with great potential, AviancaTaca foresees growth through the new AeroGal unit.
Because of the opportunities in Peru and Ecuador, as well in international operations within the Andean Pact, the five–year business plan projects some major shifts in the geographical distribution of AviancaTaca's revenues. Between 2010 and 2015, Upper South America's share (which includes Peru domestic) of passenger revenues is expected to increase from 12.8% to 26.2%, while Colombia domestic's share will decline from 25.1% to 17.2% and Lower South America's from 12.9% to 9.3%. The latter, of course, is where the future LANTAM combine will dominate; it certainly seems that AviancaTaca's strategy is to minimise confrontation by sticking to and building on its strengths in the northern part of South America.
AviancaTaca is also looking to further diversify in terms of business segments.
While total revenues are projected to increase from $3.1bn to $5.7bn in the next five years, the airline wants passenger revenues' share to fall from the current 85.5% to 81.6%. This will mainly mean stronger growth in air cargo, though also further developing ground freight, third–party services, FFP partnerships and other types of ancillary revenues.
AVIANCATACA BUSINESS PLAN PROJECTIONS
AVIANCATACA BUSINESS PLAN PROJECTIONS
Actual
2010*
2011
2012
2013
2014
2015
CAGR
Op. revenues (US$m)
3,100
3,508
4,143
4,712
5,225
5,742
13.1%
EBITDAR (US$m)
n/a
644
813
923
1,059
1,218
17.3%
Capacity (ASKs - m)
29,813
36,510
43,626
50,693
55,614
61,747
14.6%
AVIANCATACA'S FIRM ORDERBOOK
AVIANCATACA'S FIRM ORDERBOOK

| | | | | | | |
| --- | --- | --- | --- | --- | --- | --- |
| | 2011 | 2012 | 2013 | 2014 | Post-2015 | Total |
| E190 | 2 | | | | | 2 |
| A319 | | 7 | 3 | 4 | | 14 |
| A320 | 9 | 7 | 5 | 4 | | 25 |
| A330 | 2 | 3 | | | | 5 |
| 787 | | | 4 | | 8 | 12 |
| Total | 13 | 17 | 12 | 8 | 8 | 58 |