Latin America: Major IPO activity April 2011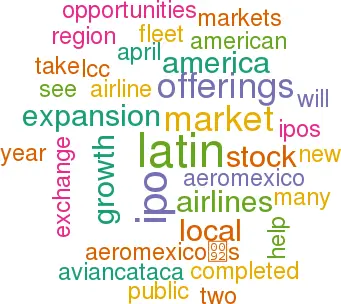 Market conditions are currently favourable for airline IPOs in Latin America. In mid–April two large privately held airline groups in the region — AviancaTaca and Aeromexico – completed initial public offerings in their local stock markets. In recent weeks Mexican LCC Interjet has indicated that it too is considering launching an IPO.
The offerings were aimed at raising funds for fleet and network expansion in a region that offers attractive growth opportunities. Thanks to strong economic recoveries, surging disposable incomes and swelling ranks of middle classes in many Latin American countries, the region has continued to see rapid growth of air travel. But the airlines went to the market at this point also because they wanted to take advantage of their special accomplishments or unique industry developments.
AviancaTaca, the holding company for Colombia's Avianca and El Salvador–based Grupo TACA which completed a hugely successful $250m IPO on the Bogota stock exchange on April 15, has a full year of successful merger integration behind it, is achieving strong earnings and has promising growth potential.
At the same time, competition is heating up in the Colombian domestic market as airlines owned by heavyweights such as LAN and COPA gear up for expansion and many new LCC hopefuls – including VivaColombia and La Nueva Aerolineas – prepare to enter the market later this year or in 2012. Having extra resources at its disposal will help AviancaTaca both defend its turf and diversify into new areas (see Briefing, page 7).
Aeromexico, in turn, which completed a $333m IPO and began trading on the Mexican stock exchange on April 14, is seeking to take advantage of the unique expansion opportunities resulting from Mexicana's demise. Those opportunities, coupled with Aeromexico's financial turnaround in 2010, created an excellent opportunity for Citigroup and its local arm Banamex to recoup part of their late–2007 investment. The proceeds of the offering will also help fund Aeromexico's planned $1.3bn–plus fleet expansion in the next two years (see Briefing, page 12).
Some of the smaller Latin American carriers may well be looking to go public on the momentum generated by the larger airline offerings. According to a report from Bloomberg News, Interjet's founder/chairman Miguel Aleman Velasco disclosed in an April 6 interview that the Mexico City–based LCC would decide within two weeks whether to launch an IPO. Citing favourable market conditions, Velasco estimated that the carrier could raise $200m from the sale of a 20% stake.Like Aeromexico, Interjet is keen to fill some of the gaps left by Mexicana. An IPO would help it fund its plan to double passenger numbers this year. The carrier, which was founded in 2005 and is controlled by ABC Aerolineas SA, operates a fleet of over 20 A320s and recently became the launch customer for the Sukhoi Superjet SSJ–100 regional jet in the Americas, ordering 15 aircraft for delivery from the second half of 2012.
While these IPOs have given the airlines listings only in Latin America, they are likely to have seen significant participation by both local and foreign investors. The crisis in Japan, which has created some uncertainty over near–term economic growth in Asia, may have prompted many US and European investors interested in emerging markets to take a closer look at Latin America offerings in the near term.
For these airlines the local IPOs are only the first step in the process of tapping the public equity markets for funds. The offerings will pave the way for Aeromexico's and AviancaTaca's future listings in the US, where currently four Latin American carriers – LAN, COPA, TAM and Gol – list their shares on the New York Stock Exchange (NYSE).
LUFTHANSA GROUP FLEET
LUFTHANSA GROUP FLEET
LH
LX
OS
BD
4U
CLH
EN
EWLH
Cargo
Group fleet
Orders
Options
A310
2
2
A319
30
7
7
11
30
85
14
A320
46
23
8
7
84
27
10
A321
44
7
6
7
64
22
A330
15
16
1
2
34
10
3
A340
51
13
2
66
A380
4
4
11
5
B737
63
11
14
88
B747
30
30
20
B767
6
6
B777
4
4
MD-11F
18
18
CRJ
24
3
40
10
77
7
BBAD C-Series
0
30
30
BBAD Q-Series
19
19
ATR
5
8
3
16
Avro RJ
20
16
36
Embraer
24
4
3
18
49
14
F70
9
9
F100
15
15
Cessna Citation
4
4
Total aircraft342
90
94
59
30
56
8
13
18
710
155
48