Gulf Air battles on; Qatar Airways still very ambitious; Air Arabia grows solidly April 2009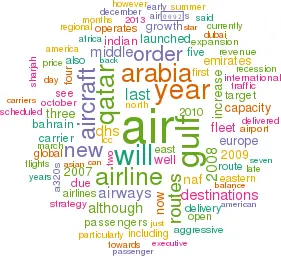 In the second part of a series of articles about Middle Eastern airlines, Aviation Strategy takes a look at the prospects for Gulf Air, Qatar Airways and the largest LCC in the region – Air Arabia. Bahrain–based Gulf Air was launched back in 1950 and was originally owned by five countries or emirate states. One–by–one, however, all but one have withdrawn to develop their own airlines – Dubai in 1985 (to start Emirates), Qatar in 2002 (to concentrate on Qatar Airways), Abu Dhabi in 2005 (to develop Etihad Airways) and Oman in May 2007 (in order to build Oman Air).
This now leaves the government of Bahrain with a 100% ownership stake of an airline that is continuing to make losses and which is now competing against aggressive rivals in the other Gulf states or emirates.
Gulf Air
In 2007 Gulf Air was losing a reported US$1m a day and various emergency measures were introduced, including a contraction of the fleet and route network as well as the redundancy of 1,500 positions (representing 25% of the workforce at that time). However, these measures could only be temporary and in July that year a new chief executive – Bjorn Naf – adopted a strategy of fleet renewal and growth. The previous route network was heavily biased towards regional routes (now under threat by Air Arabia – see below) but the new strategy emphasises long–haul travel. Bahrain (like Dubai for Emirates) is being developed as a connector between long–haul and regional flights, and approximately 75% of Gulf Air's traffic comes from connecting passengers.
Today Gulf Air operates to more than 40 destinations, although the network is still overly weighted towards Middle Eastern, Indian and Asian destinations, with just five routes to Europe and three to Africa – with North America available to Gulf Air customers only via a code–share with American.
Gulf Air had targeted 6m passengers carried in 2008, although Naf said late last year that the airline could slightly miss this target due to "unexpected" maintenance downtime for its aircraft. Although no figures have yet been released for 2008, Gulf Air hints that it recorded its highest ever revenue last year (and that in the 2008 summer season it achieved a 12% rise in yield and a 16% increase in unit revenue). However, it's unlikely that the airline will have come close to breaking even in 2008, and this delay in turning a profit is prompting unease about the airline's performance among some observers. In January a group of MPs in Bahrain demanded the sacking of Bjorn Naf and that he was replaced by a "new chief executive who has the qualifications and experience necessary for a commercial airline". The MPs also called for Bahrain nationals to replace senior foreign executives throughout the airline.
Naf, a Swedish national, was appointed in mid–2007 and replaced a previous incumbent — André Dosé — who lasted just three months in the position. Naf started what was a three year restructuring and expansion plan that aimed to eliminate what had previously been substantial losses and return the airline to break–even by 2010. But that target year has now been put back to 2011, and this is what is concerning some Bahraini members of parliament — particularly as Gulf Air officially became Bahrain's flag carrier in 2007 (after Oman withdrew its investment) and the Bahrain state is keen to improve its profile (and perhaps take advantage of the difficulties that Dubai is facing – see Aviation Strategy, March 2009).
Naf's situation hasn't been helped by the fact that last year Gulf Air didn't have any fuel hedging in place (although that policy has now, belatedly, been changed) with Naf admitting that the absence of hedging has proved costly for the airline.
Although Naf insists that "Gulf Air can't compete with Emirates – and we don't want to", he has taken the airline upmarket since his arrival, with a budget subsidiary called Gulf Traveller closed in 2007 and Gulf Air since marketing itself as a "five star airline". As part of this drive it will announce a new brand identity later this year, at the same time as unveiling a series of service developments, such as a new lounge at London Heathrow and new menus.
Naf's core strategy rests on completing a restructuring programme (including fleet renewal and operational "realignment") this year, before the airline gears up for sustained expansion afterwards. Gulf Air has a fleet of 30 aircraft (see table), and last summer ordered 16 787s, 20 A330–300s and 14 A320s, bringing its total order book up to 54 aircraft (and which are scheduled for delivery over the next 10 years).
The last of 20 767–300ERs was phased out last year and while waiting for new orders Gulf Air has had to lease aircraft, with two A319s and two A321s arriving late in 2008. This year Gulf Air is scheduled to receive 13 new or leased aircraft, most of which will replace existing aircraft. Five A320s and four A330s will arrive in 2009, as well as four 777–300ERs (the first arrived in March) leased on three–and–a-half year contracts from Jet Airways (the first six months will be on wet lease; the remaining period on dry lease). The 777s are replacing A340–300s that are all at least 12 years' old and which are being phased out due to high fuel costs per passenger. The first of the 20 A330s on order will be delivered in the second half of 2010, although this schedule may be brought forward. Gulf Air is unlikely to order any 747–8s or A380s in the medium–term, it is believed.
As these aircraft arrive Gulf Air is planning to increase its destinations by three or four a year, and although up to 100 cities are under consideration the priorities for expansion are Europe and selected Asian countries.
The routes to Europe are believed to have performed particularly well in 2008, and Spain and Italy are possible new markets as well as new routes to France and Germany (and in particular Munich). Eastern Europe is another market being considered, with Russia towards the top of the target list.
In Asia the key target market is the Indian sub–continent, including both Pakistan and India. Gulf Air currently operates to eight Indian and four Pakistani destinations, though India- Middle East business traffic flows have eased off in the current recession and Gulf Air is looking to sign code–sharing deals with Indian airlines to boost traffic flows.
In December Gulf Air expanded its code–sharing deal with American to include 40 beyond destinations in the US, reached via Gulf Air's "hubs" in Europe – London Heathrow (where Gulf Air offers three flights a day to/from Bahrain), Frankfurt (nine flights a day) and Paris CDG (nine).
Currently Gulf Air is not part of a global alliance, although Naf says that it would consider joining one if the circumstances were right. Gulf Air previously held talks with Star and oneworld, but nothing concrete emerged and instead it now code–shares with a variety of airlines, including bmi and Thai of Star as well as American of oneworld.
Whether Naf will be around to guide Gulf Air into a future alliance is open to some doubt,given the increasing scrutiny he appears to be under. Naf admits that there is growing pressure to break–even and this has not been made easier by the global recession, which has forced adjustments to Naf's plans. The focus this year has veered more towards cost cutting (particularly in areas of ground–handling and catering) with just two or three new routes being added and with most extra capacity going to increasing frequency on existing routes. Overall, Gulf Air is looking for an 8% increase in passengers carried in 2009. Qatar Airways is based in Doha and operates to more than 80 destinations in Europe, the Middle East, North America, Africa and the Asia/Pacific region. It was started as a regional carrier in 1994 but in 1997 was relaunched into an international carrier, with the Qatari government owning 50% of the airline and private shareholders the other 50%.
Qatar Airways
Qatar operates a fleet of 64 aircraft, but this will increase to 110 by 2013 thanks to a substantial order book of 137 aircraft. Fifty Boeing aircraft are on order, including 23 777s. A fifth 777–300ER was delivered in December and put into service on the route to Manila, while the first of eight 777–200LRs (which can operate routes of up to 17 hours duration) was received by Qatar in February. Thirty 787s are on order but, with their delivery being delayed repeatedly by Boeing, Qatar is negotiating with the manufacturer over confirmed dates for their receipt (as none is currently available, according to the airline), as well as over compensation for late delivery.
The biggest single order is for A350s; Qatar Airways became the launch customer for what was then the A350XWB in 2007, and the first A350–900 out of a total order of 40 is currently scheduled to be delivered in 2013. Twenty A350–800s and 20 A350–1000s are also on order, and five A380s will be delivered from 2012 onwards.
The A380s will arrive after Qatar Airways moves its base to the New Doha International Airport (NDIA) which started construction in 2004 and is now on target to open in 2010 (it was originally scheduled to open this year). With 40 gates, the airport will be able to handle up to 24m passengers a year in 2010, rising to 50m a year by 2015 as further facilities are built. Within the UAE this increase in capacity is beaten only by the new Al Maktoum International Airport (see table, left), and will no doubt contribute to the ongoing aggressive traffic growth in the Middle East region (see chart, above).
Qatar Airways had been considering an order for Bombardier CSeries aircraft, which are due to be available from 2013 onwards with a capacity of 110–130 seats. As many as 20 aircraft were under consideration by Qatar, according to Akbar Al Baker, the chief executive of the airline, although negotiations apparently were broken off in March after disagreements on price, it is believed.
Altogether the aircraft on order at Qatar are worth more than US$40bn at list prices, and the usual questions have to be asked – can the airline afford such a vast investment, and will it find viable routes to put all this capacity onto?
In an interview reported by Reuters, Ali Al Rais — a vice president at Qatar — said that the airline "wouldn't be telling the truth if I said we weren't having trouble financing ... planes". However, Qatar subsequently complained that the quote was "misleading" and said that the airline has a very sound financial backing – which it needs to have in order to be able to finance such a huge order book. In December the airline took out a US$500m loan from international banks to finance the purchase of three 777s, but whether future financing will be as easy remains to be seen. Interestingly Qatar has recently had to implement a new cost–cutting drive that includes the closing of first–class seating in its A340–600s that "are not being used efficiently",replacing them with 44 economy seats.
As to the capacity question, on average Qatar will receive one new aircraft each month for the next few years and its growth appears not to have been scaled back by the global recession. Indeed Qatar is hiring another 250 pilots for its expansion and in February held a recruitment day in Delhi in order to attract pilots that are being laid off by Indian airlines.
Qatar wants to increase its destinations served to between 120 and 150, and North America is a particular target for growth. A 17- hour Doha–Houston route (linking what has been termed the "energy capitals" of the world) was launched in March, although this was postponed from December last year thanks to the strike at Boeing, which delayed delivery of a 259–seat 777–200LR due in November that had been earmarked for the route. Houston will be Qatar's third US route, joining Washington DC and New York JFK. The latter was launched in October last year after Qatar switched its New York service from Newark "in response to passenger demand".
Qatar also wants to open routes to areas not yet covered – Australia and South America – in order to make Qatar truly into a global airline, though in doing so it will no doubt expose itself to aggressive competition from its fellow Middle Eastern long–haul carriers. Nevertheless, services to Sydney and Melbourne (using 777–200LRs) will begin in October, and also being launched this year will be two (so far undisclosed) routes to Europe, as well as routes to Amritsar and Goa.
Air Arabia
Last year Qatar made aggressive noises that it would start an LCC of its own within three months if any rival LCC was launched in Doha. Its aggressive message is likely to have been prompted by FlyDubai's order for 52 737–800s last summer, as well as from activity from other LCCs, such as NAS Air, Sama and Jazeera Airways and Air Arabia. Air Arabia is based at Sharjah airport and was launched by the Sharjah emirate in October 2003. Today it operates to 44 destinations in the Middle East, North Africa, Indian sub–continent, Eastern Europe and Asian regions with a fleet of 16 A320s.
In 2008 Air Arabia recorded a 61% increase in revenue, to Dhs 2.1bn (US$0.6bn) — see charts, right — based on a 33% rise in passengers carried to 3.6m. Net profit rose 36% to Dhs 510m (US$138m), and the airline has declared a 10% cash dividend to shareholders for 2008.
Although it didn't separate out ancillary items in its financials, Air Arabia is keen to increase ancillary revenue and in October last year offered insurance to passengers, an initiative that followed others such as fees for early check–in or pre–assigned seat selection. And during the summer of 2008 Air Arabia also announced it was building a 300–room budget hotel at Sharjah airport, which is due to open in January 2010.
Load factor reached 85% in 2008, and in that year Air Arabia launched seven new destinations, including Shiraz in Iran, Kiev in the Ukraine, Hyderabad and Nairobi. Demand was particularly strong last year in intra- Middle Eastern flights and on routes to India, Egypt and Syria.
Air Arabia has 48 A320s on order (34 were ordered in November 2007 and options for 10 more aircraft were exercised in October last year) for delivery from the middle of 2010 to 2016. With leased aircraft, the fleet will grow to 80 aircraft by 2018 and Adel Ali, CEO of Air Arabia, says that the airline's expansion will not be affected or slowed by the global recession whatsoever.
Passenger bookings in the first few months of the year have been very good, according to the airline, and the fleet will grow to 22 aircraft by the end of 2009, with four or five aircraft arriving each year after that. New routes in 2009 will include Athens and Goa (both starting in April), and — most importantly — this year Air Arabia will also be launching a new "hub" in Casablanca, Morocco. Air Arabia has been looking to open up a base outside Sharjah since early 2007 and later that year signed an agreement to manage Regional Air Lines, a Casablanca–based airline that has 10 aircraft and operates to a handful of destinations in the Iberian peninsula and Morocco.
With investment provided by the Bahrainbased Ithmaar Bank, Air Arabia is now setting up a LCC called Air Arabia Maroc (due to launch in May) that will operate both domestic and international routes, initially with two or three A320s but then growing into a fleet of 25 within five years. It will exploit what Air Arabia believes is untapped demand for routes to southern Europe and north Africa, with passengers connecting through Casablanca to up to 50 destinations by 2014.
Air Arabia will hope the venture is more successful than an earlier foray overseas, when in January 2008 it launched flyyeti.com, an LCC that was set up in partnership with Yeti Airlines, a domestic Nepalese airline. Air Arabia provided aircraft and crew for the Kathmandu–based airline, which promptly shut down not long afterwards, in July.
But Air Arabia is strong financially. It IPOed on the Dubai stock exchange in 2007, with 55% of equity floating (with a 50% over–subscription) and following this IPO Air Arabia ring–fenced a fund of more than US$400m for "acquisitions". The shares listed at Dhs 1.07 and steadily rose to a high of Dhs 2.22 in early 2008 before beginning a steady fall all the way to Dhs 0.95 at the start of 2009 (see chart, left). In early April the shares were trading as at Dhs 0.95, giving the airline a market cap of Dhs 4.4bn (US$1.2bn).
While the 44 aircraft on order have a list price of Dhs 13bn (US$3.5n) — with 20% of the purchase price payable over the next five years and the balance due on delivery — Air Arabia has a strong balance sheet, with no debt and the ability to sustain dividends for the foreseeable future. In late February Dubai–based HC Securities issued a buy note for the airline and a target price of Dhs 1.28 for the shares, saying that it expected "Air Arabia to post passenger traffic growth of 17% in 2009, but a tamer increase in revenue of 9% as we expect yields to fall on lower fares". It added that "the carrier will not need any debt before 2013. Any financing needs before that can be provided internally, supported by its large cash balance of Dhs 1.8bn and investments of Dhs 1.5 bn".
---
Having covered the strategies of the four Middle East super–connectors (Emirates and Etihad in the previous issue, Gulf Air and Qatar Airways above), these graphs and tables below, generated from RDC's Captstat's product, illustrate the relative positions of the carriers.
Most evident is the fact that the massive capacity growth, both by the carriers themselves and at their hub airports, has come to a sudden halt in 2009. Emirates remains the dominant carrier though Qatar and Etihad combined are now roughly 70% of the size of Emirates. Gulf Air's apparent growth reflects its retrenchment at Bahrain. Air Arabia, with a completely different operating model, is shown for comparison.
In terms of capacity distribution, Emirates is by far the carrier with the greatest global reach, and the dominant carrier to/from the major European hubs, while at the other extreme Gulf Air's capacity is concentrated in the Middle East and the Indian subcontinent.
FLEETS
FLEETS
Gulf Air
Qatar Airways
Air Arabia
fleet
orders (options)
fleet
orders (options)
fleet
orders (options)
777-200LR
2
6
777-200LRF
2
777-300ER
5
12
787-8
16 (8)
30
A300-600F
3
A319
2
2
1
A320
11
18
11
1 (6)
16
48 (5)
A321
2
8
A330-200
6
16
(9)
A330-300
20
13
A340-300
9
A340-600
4
(8)
A350-800
20
A350-900
40
A350-1000
20
A380-800
5
Total
30
54 (8)
64
137 (23)
16
48 (5)
AIRPORT DEVELOPMENT IN THE UAE
AIRPORT DEVELOPMENT IN THE UAE
New airport/terminal
Extra capacity Replaces
(Pax per year)
Abu Dhabi International Airport
Terminal Three
5m in 2009
N/A
New Doha International Airport
24m in 2010;
Doha Int. Airport
50m by 2015
(12m capacity)
Abu Dhabi International Airport
"Midfield" Terminal
20m in 2012
N/A
Dubai International Airport expansion
15m in 2012
N/A
Al Maktoum International Airport
120m in 2017
N/A
EMIRATES' TOP 20 DESTINATIONS, 2009 EST.
EMIRATES' TOP 20 DESTINATIONS, 2009 EST.

| | | | |
| --- | --- | --- | --- |
| City | '000s of seats | City | '000s of seats |
| Landon-LHR | '696.1 | Colombo | 311.8 |
| Singapore | 457.5 | Newyork | 296.3 |
| Mumbai | 452.7 | Bahrain | 288.5 |
| Karachi | 412.1 | Manchester | 276.4 |
| Johannesburg | 410 | Paris | 272.7 |
| Doha | 385.3 | Tehran | 259.1 |
| Auckland | 371.4 | Dhaka | 254.6 |
| Kuwait | 364.3 | Dehli | 253.7 |
| Bangkok | 362.8 | Melbourine | 238.1 |
| London-LGW | 348.2 | Sydney | 232.6 |
QATAR AIRWAYS' TOP 20 DESTINATIONS, 2009 EST.
QATAR AIRWAYS' TOP 20 DESTINATIONS, 2009 EST.
EMIRATES' TOP 20 DESTINATIONS, 2009 EST.
City
'000s of seats
City
'000s of seats
Dubai
415.9
Frakturt
104.1
London
296.9
Kathmandu
94.8
Bahrain
292.9
Newyork
91.5
Abu Dehbi
272.7
Washington
91.5
Kuwait
179.2
Mumbai
90.2
Bnagkok
166.0
Kuala Lampur
89.0
Manila
158.8
Jakarta
86.5
Paris
114.4
Singapore
86.5
Muscat
112.5
Beirut
86.0
Colombo
110.2
Khartcum
85.8
ETIHAD'S TOP 20 DESTINATIONS, 2009 EST.
ETIHAD'S TOP 20 DESTINATIONS, 2009 EST.

| | | | |
| --- | --- | --- | --- |
| City | '000s of seats | City | '000s of seats |
| Landon | 226.9 | Jeddah | 101.7 |
| Bangkok | 206.4 | Paris | 101.3 |
| Bahrain | 161.0 | Kuwait | 99.6 |
| Doha Airport | 157.4 | Jakarta | 97.5 |
| Dammam | 132.5 | Cairo | 85.9 |
| Muscat | 123.9 | Damacus | 80.4 |
| Riyadah | 117.6 | Karachi | 76.9 |
| Sydney | 114.6 | Johennesburg | 71.6 |
| Marila | 103.2 | Dublim | 71.5 |
| Frankfrut | 102.2 | Manchester | 71.5 |