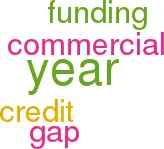 As the economic outlook continues to deteriorate into the worst post–WW2 recession, airlines in most regions and industry sectors are retrenching, cutting capacity by 5–10% this year. This leaves the tricky problem of the volumes of aircraft to be delivered this year.
For the remainder of 2009 over 800 commercial jets are officially scheduled for delivery, about 4% of the global fleet. As the table below indicates, the manufacturers are quite heavily exposed to the Chinese carriers and in the widebody sector to Emirates. Of the carriers listed, only Ryanair (plus perhaps easyJet and Air Asia) is fully committed to growing throughout the recession.
Financiers have identified a funding gap, variously estimated at $10bn to over $20bn, between funding requirements this year and available commercial lending. This is the result of the general contraction of credit and the relative attractiveness of other industries or of refinancing existing airline clients rather than new deliveries.
The gap will be filled in various ways, the most obvious being the cancellation or deferral of orders, especially as the risk premium now being demanded by the commercial banks significantly outweighs any benefits that might have come from the cut–backs in interest rates. Both Boeing and Airbus appear remarkably sanguine about the robustness of their customers, but cancellations exceeded new orders by 32 to 28 in the first quarter of this year, and both manufacturers are negotiating on 2010/11 postponements.
Guarantees from the export credit agencies are also being stretched to the limit, which might imply resorting to manufacturer–supplied credit. But both Airbus and Boeing state that they will only provide about $1bn each of financing this year, which may prove inadequate.
2009 JET AIRCRAFT DELIVERIES
2009 JET AIRCRAFT DELIVERIES

| | | | |
| --- | --- | --- | --- |
| Customer | Widebody | Narrowbody | Total |
| CASGC | | 48 | 48 |
| China Southern Airlines | 6 | 25 | 31 |
| Delta Air Lines | 6 | 20 | 26 |
| American Airlines | | 23 | 23 |
| CASC | | 21 | 21 |
| GECAS | 3 | 16 | 19 |
| Ryanair | | 19 | 19 |
| easyJet | | 18 | 18 |
| ILFC | 3 | 15 | 18 |
| US Airways | 4 | 14 | 18 |
| Continental Airlines | | 14 | 14 |
| SALE | | 14 | 14 |
| Gol Transportes Aereos | | 13 | 13 |
| Indian Airlines | | 13 | 13 |
| QANTAS | 4 | 9 | 13 |
| AirAsia | | 12 | 12 |
| Emirates | 12 | | 12 |
| Lufthansa | 2 | 10 | 12 |
| TAM Linhas Aereas | | 12 | 12 |
| Air Berlin | | 11 | 11 |
| Other | 144 | 316 | 460 |
| TOTAL | 184 | 643 | 827 |