Iberia back in play in 2008? April 2008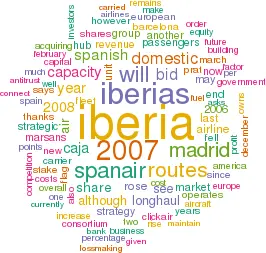 Iberia surprised analysts with better–than expected 2007 results, but it still faces the same fundamental problem of intensifying competition from LCCs in Europe and from Marsans and others on long–haul.
The key question remains: can Iberia survive as an independent airline, or will it inevitably be acquired by a larger carrier at some point in the not–too–distant future? Last year Iberia reported its twelfth consecutive year of profit (see chart, opposite), and while revenue increased by just 2.5%, operating profit rose to €284m (compared with €122m in 2006) while net profit reached €328m (€57m in 2006).
The net figure was well ahead of consensus analyst forecasts of €267m, and was due to a better performance on long–haul (and in particular to an increased share in business passengers), tight cost control and a hefty €196m boost from asset sales, of which half came from the sale of part of Iberia's stake in reservations company Amadeus.
The 2007 results show the positive effects of Iberia's latest strategic plan, which runs from 2006–2008 (see Aviation Strategy, December 2006). This so–called "Director Plan" is designed with four pillars: network restructuring, revenue improvement, better productivity and cost–cutting, and it's the first part of this that is most crucial to Iberia's future. The airline is furiously cutting back on loss–making point–to point domestic routes and putting in large capacity rises on its higher margin longhaul routes, and particularly on Madrid-Latin America routes. Until the appearance of a potential diversion at Spanair/ Barcelona (see below), Iberia has had a clear focus on building up the Madrid hub, and at Terminal 4 at Barajas airport Iberia's long–haul flights connect in with services to 35 domestic and 40 European destinations.
In 2007 Iberia carried 26.9m passengers — a 3.4% drop compared with 2006, thanks largely to the cuts in Iberia's domestic network, although overall load factor rose 1.8 percentage points, to 81.6%, with RPK growth of 3.3% ahead of the 1% ASK increase. Overall unit revenues rose 1.5% in 2007, but this was affected by dollar depreciation and the increase in Iberia's average stage length. Excluding currency effects, unit revenue would have been 3.1% higher in 2007.
However, these overall figures don't tell the real story, because Iberia has distinct strategies in the three main sectors it competes in — and in each of these markets, the challenges to Iberia will only intensify over the next few years.
Long-haul strength
In 2007 more than 45% of all Iberia's passenger revenues were generated on long–haul routes — a substantial increase on the 35% figure in 2006 — and passengers carried in this sector rose 8.1% in 2007, to 4.2m. A 6.8% rise in long–haul ASKs in 2007 was beaten by an 8.7% rise in RPKs, and load factor rose by 1.6 percentage points, to 87.2%. However, Manolo Lopez Colmenarejo, Iberia's commercial director, says it is "very difficult to maintain and sustain at this level", since Iberia's long–haul traffic in early 2007 was boosted considerably by the collapse of Air Madrid in 2006, after which many passengers switched to the flag carrier. But other competitors have increased capacity out of Madrid since then, with a particular challenge coming from the Marsans group (see Aviation Strategy, December 2007).
Iberia's long–haul capacity will rise 2.6% in 2008, and Iberia is increasing frequencies on routes to Boston and Washington Dulles from June (it also operates to Miami, New York and Chicago).
Last year Iberia carried 0.8m passengers to the US — 21% up on the figure for 2006 — and posted a load factor of 85%. Last summer Iberia was one of five oneworld partners (excluding BA) that applied jointly for antitrust immunity from US regulators on transatlantic routes from this April, which would enable the airlines to coordinate schedules and fares and compete better with Star and SkyTeam carriers.
However, it is the Latin America market that remains most crucial to the fortunes of Iberia, and Iberia's share of this sector rose 0.9 percentage points to 19.9% in 2007 (see chart), with Iberia's share of business class traffic on the Europe–Latin America market rising 3.6 percentage points in 2007, to 22.6%.
But with rivals such as Air Comet also increasing their ASKs out of Madrid, the key question will be what will happen to unit revenue in 2008? In 2007 long–haul unit revenue rose by 6.4%, thanks to a much better mix of business to leisure passengers, and the progression of unit revenue through this year will be a crucial indicator of how Iberia is faring in general.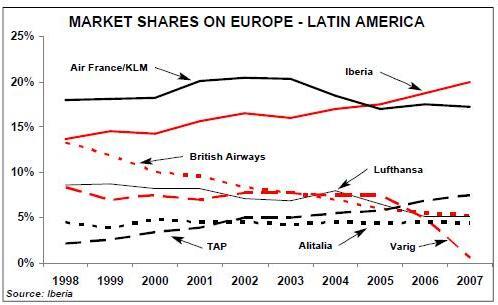 European weakness
On European routes, RPKs fell by 1.8% in 2007, ahead of a 1.2% fall in ASK — although capacity on European routes out of Madrid rose by a substantial 17.6% in 2007, reflecting Iberia's shift in strategy towards building up the Madrid hub at the expense of virtually everything else. Last year there was a "softening of demand", according to Fernando Conte, Iberia's chairman, who adds that in 2007 "we faced a very competitive environment in Europe".
That competition is at its most threatening from Ryanair and easyJet, the former of which has five operational bases in Spain (Reus, Alicante, Valencia, Girona and Madrid, with 16 routes out of the capital), and the latter of which opened a base at Madrid last year and operates 24 routes out of Barajas.
Overall market capacity (by all airlines) out of Spain to Europe grew 8.4% last year, and by a substantial 21% out of Madrid, so it's not surprising that Iberia's unit revenue on European routes fell 4.1% in 2007 (and is heading only one way in 2008).
In 2008 Iberia's European capacity will rise by 4%, again driven out of Madrid, where capacity will rise by 15%. Most of this increase is coming from new routes and capacity into eastern Europe and on extra frequencies into business destinations such as Milan and Brussels, which Iberia hopes will differentiate itself against the LCCs. Whether this strategy will be enough to stave off the threat of Ryanair and easyJet remains to be seen, but in any case Iberia needs to maintain a strong network of European routes to connect in with long–haul routes at Madrid.
Domestic confusion
Iberia's domestic network was previously the weakest part of the Iberia empire, but under the current strategic plan loss–making point–to–point routes have been culled in favour of feeder services into Madrid, and in 2007, while domestic ASKs fell by 13%, load factor rose 3.1 percentage points to 75.9% as RPKs fell by only 9.3%, and — most critically — Iberia's domestic unit revenue rose by a healthy 6% in 2007.
But despite Iberia's reduction in capacity, overall domestic ASKs in Spain (among all carriers) rose by almost 10% in 2007, which is the fourth consecutive year of growth of at least 8%. Though there are signs this overall capacity growth is slowing (and Iberia will cull another 15.1% from its domestic capacity this year, which will complete its domestic restructuring) domestic competition is intense.
While Ryanair and easyJet both now offer domestic services and are looking to expand routes further, they each have less than a 1% share of domestic passengers and the main competition to Iberia comes from Air Europa and Spanair.
Nevertheless, in shutting down routes that do not connect into Barajas, Iberia appeared to have a sensible and sustainable domestic strategy — until this February that is, when in a surprise move the flag carrier did a strategic U–turn by formally launching a bid for Spanair, in partnership with private aviation group Gestair (which specialises in executive travel and aircraft maintenance).
The Spanair bid
SAS has been trying to offload its loss–making Spanish operation since last year, but Iberia's interest in Spanair shows strategic confusion, as it would simply increase Iberia's exposure to a domestic sector that it had been withdrawing from in favour of a shift of resources to long–haul.
One analyst calls the bid "a strange decision", while reports suggest that British Airways (which now owns 13.2% of Iberia) is unhappy about the move, which came shortly after the Marsans group withdrew its interest in Spanair.
Marsans said that it did not want to get involved in a bidding war with Iberia and reportedly felt that it was "a bit betrayed" by SAS's decision not to cut a deal with Marsans, although Marsan's withdrawal may indicate it has bigger targets — such as Iberia itself (see Aviation Strategy, December 2007).
The amount of Iberia's bid for Spanair is unknown, but sources suggest it is significantly lower than the €800m figure that some reports initially suggested. Indeed ABN Amro says that SAS would be "fortunate indeed if it can get a positive sum of money for Spanair", because after reporting a profit in 2006, Spanair made an operating loss of €32m in 2007 thanks to the fare wars that have broken out in the domestic market and which show no sign of stopping. Spanair employs 3,600 and operates a fleet of 60 aircraft, although more than half of them are older MD–80s, with Banesto stating that "Spanair needs a major restructuring both on routes and costs".
The only positive rationale that Iberia could have for acquiring Spanair is to secure cost savings between Spanair and Iberia and knock capacity out of the Spanish market. The Iberia group (including Air Nostrum) has an estimated 45% share of the domestic market, and Spanair is in second place with 25%. Much more importantly, however, by acquiring Spanair Iberia would prevent another airline acquiring Spanair's routes and slots, particularly out of Barcelona.
Unsurprisingly, Iberia's bid for Spanair is attracting significant criticism within Spain, and that criticism is led by Catalonia, with everyone from the regional association of travel agencies to the Catalan government voicing concern that Iberia is likely to turn Barcelona's El Prat into a low cost airport, with Iberia transferring passengers to Madrid where they will connect onto long–haul flights.
The regional government says it would refer a successful Iberia bid for Spanair to the antitrust regulator as Iberia/Spanair would dominate El Prat, with an estimated 70% of domestic capacity to/from the airport. And an Iberia/Spanair link–up would make a mockery of the new T–Sur terminal, which will open in 2009, and was planned to be used by both Iberia and Spanair as competitors rather than allies.
Catalonia's businesses and government have long been keen to see El Prat turned into a true international hub, and they have legitimate concerns that Iberia's acquisition of Spanair would prevent this from happening. In order to placate opposition, Iberia now claims that if it acquires Spanair it will turn El Prat into a hub operation, but this claim does not have much credibility as it would be a complete reversal of Iberia's current strategy, which has been to cut international flights from Barcelona and build up the Madrid hub.
Much more likely to happen is for Iberia to take a minority stake in Spanair in order to avoid antitrust scrutiny, with Gestair taking the majority of shares. Iberia is also believed to be willing to sell its 20% stake in LCC Clickair if the regulator requires this as a condition for acquiring Spanair, and at least this gives Iberia an excuse to exit from Clickair. The LCC — in which Iberia owns 20% of equity and 80% of its "economic rights" — was launched in October 2006 and has taken over many of Iberia's routes out of Barcelona, effectively allowing Iberia to abandon Barcelona as a hub. Clickair currently operates a fleet of 25 A320s, but one unconfirmed analyst estimate is that Clickair lost as much as €100m in 2007 — although this is disputed by the airline. The other Clickair shareholders — who each own 20% — are Nefinsa (which owns Air Nostrum), Quercus Equity, Iberostar (which owns tour operator Iberworld) and the engineering group ACS. Clickair is reportedly in merger negotiations with Vueling, the loss–making LCC that operates 23 A320s out of El Prat to a variety of European destinations.
Another factor in Iberia's strategy for Barcelona is the attitude of Iberia's largest shareholder — Caja Madrid. Caja is believed to want to strengthen Iberia's routes out of El Prat, which would prevent a rival such as Marsans building up El Prat as a hub in partnership with Catalonian business and political interests. This may be the underlying reason behind the Spanair bid, though the true rationale may only become apparent in the months and years after Iberia acquires Spanair — if it is successful in doing so. A consortium comprising a Portuguese investment fund and Madrid–based Gadair (which operates a single 757) unveiled a provisional bid for Spanair in late March, and SAS says it expects to complete the sale of Spanair in the second quarter of 2008.
Iberia's bid for Spanair makes a little more sense given the pressure now building on Iberia's most important domestic route: the shuttle service between Barcelona and Madrid. Since February this year Iberia has faced competition from the new high–speed "bullet" train service, which has reduced the journey time between the two cities by a third, to two and a half hours. With rail fares considerably cheaper than going by air, the rail operator expects to double the number of people using the route from 3m to 6m in 2008, which would largely be at the expense of air passengers, who totalled 4.8m between the two cities in 2007, of which Iberia carried 2.7m — and with its main competitor being Spanair.
Iberia says it will maintain its schedules (with four flights an hour at peak times), although it will use smaller capacity aircraft, resulting in a 20% reduction in Iberia's capacity. If Iberia acquires Spanair, then more capacity can be taken out relatively painlessly — though again, this will infuriate Catalonian interests.
Cost success
Unit costs fell 1.5% in 2007, thanks to the Director Plan's cost cutting and the depreciation of the dollar. Staff numbers fell by 1,500 in 2007, and as a result productivity is continuing to rise (see graph). However, labour costs only fell1% in 2007 thanks to higher salaries, including a pay round agreed with unions representing 18,000 ground workers in July, who secured a salary increase of 2%.
However, this deal only lasted until the end of 2007, so the whole process is starting again this year. A similar deal was agreed with 4,200 cabin crew in March last year, and there now appears to be an end in sight to the long–running saga between Iberia and pilot union Sepla.
The two sides have been negotiating on and off for an astonishing three years following the end of the previous agreement on pay and conditions in 2004, but there are indications that a deal may be agreed sometime this summer.
Iberia's fuel costs fell 2.7% in 2007, again helped by dollar depreciation against the Euro, as well as a more efficient fleet and Iberia's hedging policy. As of the end of February, Iberia had hedged 47% of its 2008 fuel requirements at around $80 per barrel, but this will still not reduce the need for further and deeper cost cuts at the airline in order to combat fuel prices that are now above $100 per barrel.
Following a fleet overhaul, Iberia currently operates a fleet of 143 aircraft (see table, below), with an average age of under eight years. The airline is moving quickly to a fleet of three aircraft families (A340s, MD–87/88s and A320s), although the A340–300s will start being replaced by A350s or 787s not later than 2011, with an order worth €2bn expected to be placed in the second–half of 2008.
Back in play?
Iberia forecasts that unit costs (excluding fuel) will fall again in 2008, thanks to fleet savings and a full year's impact of a reduction in labour costs due to the redundancies made over last couple of years — but set against this is the statement from Conte that he expects Iberia's revenue growth to slow in 2008, due largely to the slowdown in the Spanish economy.
Some analysts go further and believe that Iberia's earning will peak in 2007, given higher fuel prices and weakening demand. Currently Iberia's financial position is relatively strong — as at the end of 2007 it had long–term debt of €1.8bn and cash and cash equivalents of €2.1bn — but any reduction in 2008 earnings compared with 2007 will surely signal the start of yet another round of merger speculation and substantive bids for Spain's flag carrier.
Although Conte says that "we made very good progress in 2007" and that another strategic plan — covering the period 2008–2011 — will be unveiled in the early autumn, this will be immaterial if the market sees financial results heading downhill.
Iberia's share price has fallen substantially since April 2007 (see chart, below), when last year's bid frenzy was at its peak, although with BA's renewed interest (see below) the shares have started to pick up again, and as of late March 2008 the shares were trading at around €2.76, valuing the airline at €2.6bn. If quarterly results through 2008 are disappointing, then further price weakness may encourage bigger flag carriers to try for Iberia yet again.At the top of the queue of prospective bidders must surely be British Airways.
BA abandoned its joint bid with US buy–out firm the Texas Pacific Group in November 2007, after the consortium had provisionally offered €3.60 per share back in March of that year, which valued Iberia at €3.4bn.
A formal bid by the consortium (which also included three Spanish private equity companies: Vista Capital, Inversiones Ibersuizas and Quercus Equity, which owns 20% of Clickair) was supposed to be made by the end of 2007, but a condition of this bid was that it was done on "consensus and friendly terms". But it soon became apparent to BA that this wasn't going to be the case, thanks to another shareholder: Spanish bank Caja Madrid.
In early December Caja Madrid increased its stake in Iberia from 9.58% to 22.99% by spending a total of €470m (at €3.60 per share) to buy a 6.99% stake from Banco Bilbao Vizcaya Argentaria (BBVA) and 6.42% from Logista, a Spanish distribution company for a tobacco group. Once these two Spanish shareholders decided to sell their Iberia stakes, Caja Madrid exercised its pre–emption rights, which effectively sank the BA/TPG bid.
Clearly Caja's aim was to keep Iberia in the hands of Spanish investors and out of the hands of the BA/TPG consortium, and it was clear to the latter that Caja Madrid's purchase of the shares on offer was anything but friendly. But there were deeper reasons for Caja's actions, since the bank is controlled by Madrid's right–wing regional government, which was apparently unimpressed with the plans put forward by BA/TPG for Iberia, as well as the style of its management team, according to one source. There has been some distrust in Spain from unions and politicians about the long–term intentions of BA/TPG, centring on whether those parties are more interested in making a medium–term return on their investment rather than having a true long–term strategic interest in building up the strength of Iberia.
Caja therefore moved quickly to buy out the two major Spanish shareholders once their stakes came into play. Whatever the motivations of Caja at the end of 2007, the outcome was that relations between Caja and BA sank to non–existent levels at the turn of the year, with Caja reportedly meeting with other interested parties through December in order to secure other Spanish investors.
But while Iberia had effectively been on the market since February 2007, no other serious investors surfaced until a consortium of Spanish investors led by private equity company Gala Capital came together in November. The consortium included Juan Jose Hidalgo, chairman of Globalia (which owns Air Europa), as well as regional bank BBK and investment funds Omega Capital and Inver–avante. Its indicative offer was worth between €3.60-€3.90 per share, valuing Iberia at a maximum of €3.8bn, but in December Iberia refused a request from Gala Capital to look at the airline's books, saying that it wanted to maintain "a framework of stability and certainty" in the absence of any definitive offers from potential bidders.
BA back in the frame
Going into 2008, it seemed that BA had abandoned all hope of acquiring Iberia, and some analysts tipped BA to sell its shares, given that BA reportedly was upset at having to follow the rules of an existing shareholder agreement, in which key investors in Iberia are obliged to vote with the majority view on any issue — a situation which means that BA has to vote along with Caja's wishes, which in effect gives the Spanish bank control of the airline.
However, in just a few months the situation has changed completely, and BA now appears to be re–engaging with Caja Madrid. The spur appears to have been a statement from Caja Madrid in January that BA needed to deepen its commercial ties and become an attractive partner for Iberia or else the Spanish flag carrier would seek a strategic partnership elsewhere. Indeed Miguel Blesa, chairman of Caja Madrid, explicitly mentioned Air France/KLM and Lufthansa as potential strategic candidates, saying that: "If BA offers something significant to the future of the company ... it would appear a perfect agreement. If not, we will look for other alliances."
BA's board reacted quickly to this threat and the airline now says it wants to "strengthen its relationship" with Caja Madrid. More concretely, in February BA took advantage of the fall in Iberia's share prices by buying another 2.3m shares (0.2% of the total), thus bringing its stake to 10.1%. But BA didn't stop there, and in March bought another 28.7m shares at €2.34 each, increasing its stake to 13.2% — and also announced it may make further purchases, with Martin Broughton, BA chairman, publicly stating that the airline definitely remains interested in acquiring Iberia.
Strategically, Iberia is a good match for BA, with little overlap in the two networks as BA is strong on routes to North America and Iberia is dominant in the Latin America–Europe market. BA and Iberia currently code–share on more than 40 routes and have a profit share partnership on London–Madrid routes, but there is more potential to exploit, particularly given the challenge that BA now faces from other airlines across the north Atlantic.
From Iberia's point of view, a merger with BA also makes sense, not least because it should secure Iberia's future both strategically and financially. While Iberia appears to be fending off the challenge from LCCs for the time being, a new threat is emerging from Air France/KLM's acquisition of Alitalia. The Rome hub will become a real rival to both Iberia's routes from Madrid to Europe and on long–haul down to Latin America. In 2007, while Iberia had a 19.9% market share on Europe–Latin America routes, Air France/KLM had an estimated 17.3% share, and if Alitalia's 4.4% share is added then Iberia slips into second place.
There had been speculation that Air France/KLM would join the Gala Capital bid in 2007, and although an Air France/KLM bid for Iberia looks impossible once/if Alitalia is acquired because of antitrust concerns, other threatening options remain (from BA's perspective), such as a bid from Lufthansa.
At the end of March Blesa cranked up the pressure on BA by saying the UK airline had until the end of June to sign any "commercial agreements" with Iberia, with other reports out of Spain suggesting that Caja Madrid is looking closely at the possibility of a tie–up with Lufthansa.
Although BA is not exactly being bounced into making a play for Iberia, there are as many defensive reasons (i.e. to prevent a rival buying Iberia) for BA to acquire Iberia as positive reasons. When BA may make a formal bid for Iberia remains to be seen, although TPG has stated previously that it might make a new bid for Iberia after the outcome of the Spanish general election, which was held on March 9th and which was won again by Zapatero's socialist party. Unlike in Italy (where a new right–wing Italian government may well interfere with Air France/KLM's takeover of Alitalia), the Spanish government is unlikely to intervene in the future of Iberia, although many politicians would prefer to see Spanish ownership of the flag carrier.
But the biggest challenge to BA may come not from Lufthansa, nor from any Spanish politician, but from the Marsans group, which has ambitious and aggressive plans of its own, and will be Iberia's biggest threat over the next few years. What is certain is that if BA does make a fresh attempt to acquire Iberia this year, then 2008 will be a critical period for Spain's flag carrier.
IBERIA FLEET
IBERIA FLEET

| | | | |
| --- | --- | --- | --- |
| | Fleet | Orders | Options |
| A319 | 21 | 3 | |
| A320 | 47 | 13 | 63 |
| A321 | 19 | | |
| A340-300 | 20 | | |
| A340-600 | 12 | 3 | 4 |
| 757-200 | 1 | | |
| MD-87 | 11 | | |
| MD-88 | 12 | | |
| Total | 143 | 19 | 67 |