Ryanair on the Atlantic April 2007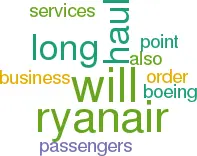 Transatlantic open skies appears to have acted as a catalyst for startling change in the long haul sector. Ryanair's announcement that it will enter the long haul business, in approximately four years time, with an upcoming order for 50 787s or maybe A350s, represents potentially a big shake–up in the Europe–US market. It is an indication that Ryanair had serious operational ambitions when it built up its stake in Aer Lingus, now frustrated by the EC's competition concerns. It may also be a recognition of the limits to growth in the intra–European LCC market.
For the European network carriers, Ryanair on the long haul horizon must be a worry despite their initial dismissive reactions. Lufthansa and Air France have been willing to absorb very heavy losses on their intra–European operations, as LCCs have captured point–to–point traffic and undermined yield, in order to assure feed to their intercontinental hubs. Now they face the prospect of an LCC attacking their point–to–point long haul business, and not just economy passengers, as Ryanair also plans to offer a premium cabin.
There are, however, a series of questions about how Ryanair will make its long haul airline work, how it will establish its cost advantage, and when it will be able to start up.
The key may be the 787 price that Boeing will be able to provide to one of its most favoured customers. But Boeing isn't under any particular pressure to discount, having a firm orderbook of about 550 units and delivery slots booked up until 2011/12. Maybe Ryanair, which is one of five airlines consulting with Boeing on the 737 replacement programme, has already started to negotiate (speculation surrounds a 30–unit order for an "undisclosed" purchaser revealed in mid April). The alternative is a deal with Airbus on the A350.
Ryanair will transfer its economies of simplicity to the long haul sector, selling only point to point tickets and only through the internet. Marketing will be high–profile but low cost; the €10 headline fares have already generated great publicity. The carrier will continue to eschew interlining and connecting services, though at its main bases, Stansted in particular, it should pick up a significant volume of self–connecting business passengers flying into STN from obscure points on the Ryanair network, flying out on the long–hauls (without, of course, any hope of compensation if they miss their connection). Presumably coordinated coach services will transport passengers to city centres, a source of ancillary income to add to on board sales, car hire agreements and hotel booking commissions.
Ryanair could potentially launch transatlantic services from Frankfurt Hahn, Marseilles and probably Bergamo, though Paris Beauvais, Rome Ciampino and Girona are runway restricted. It will be interesting to observe customer reaction — fares are of course the main selling point but long haul non–connecting travellers might also be attracted to the lower stress levels offered by some relatively uncongested, simple lay–out airports compared to the majors' hubs.