Etihad: Abu Dhabi's A380 new entrant April 2006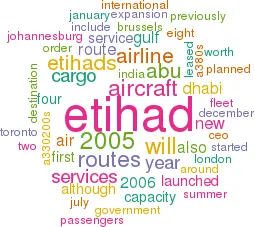 Etihad Airways was created by the government of Abu Dhabi (one of the seven emirates that makes up the United Arab Emirates), in July 2003 with a capital base of $136m, and launched its first regional services in November of that year, initially with two A330–200s dry leased from Brazilian airline TAM, and with a staff of 150.
Since then Etihad (union in Arabic) has grown steadily, with almost one new destination every month, and today it employs around 1,000 and operates to 27 destinations out of Abu Dhabi — eight in the Middle East, eight in the Indian subcontinent, seven in Europe (Brussels, Frankfurt, Geneva, London Gatwick, London Heathrow, Manchester and Munich), and long–haul services to Toronto, Bangkok, Manila and Johannesburg. Etihad's strategy is to link Abu Dhabi with key commercial centres around the world, with a target market of business travellers and full–fare leisure passengers.
Yet with a handful of aircraft, initially Etihad had been regarded as nothing more or less than an interesting regional start–up — until in 2004 it placed the biggest ever order for a new airline, for 24 widebody aircraft worth approximately $7bn. In July of that year Etihad ordered four A380s, four A340–500s (to give ultra–long range capability) and four A340–600s. The A340- 500s are scheduled for delivery from April 2006 and the A340–600s from 2007, with the first A380 scheduled to arrive in January 2008. At the same time, Etihad also ordered 12 A330–200s, with eight of these to be leased from Abu Dhabi–based Oasis International Leasing, with delivery in January 2006–May 2007, in a deal worth around $1bn. Two other A330–200s were received on 14- year leases last year from CIT. The Airbus orders were followed up in December 2004 by an order for five 777–300ERs, worth $1.1bn at list prices, which began arriving in January this year. That order was partly financed by a $450m loan from HSBC and local banks.
With these arrivals and with other leased aircraft, the fleet will expand to 20 aircraft in 2006 and to at least 50 in 2009, by which time the airline is targeting a network of between 60 and 70 destinations. Although the Etihad fleet will include a wide range of types by the end of the decade, the airline is apparently unworried about this, and says that the A330–200 will remain the core of the fleet. In the short–term, Etihad is aiming to carry 3.5m passengers in 2006, and the seriousness of its ambitions was underlined when it announced a $100m global advertising campaign in August 2005.
Etihad has already started expanding its longhaul routes — a service to Frankfurt was launched in June 2005; in November a three–times–a-week route was launched to Toronto via Brussels (code–sharing with SN Brussels Airlines, although operated by Etihad), in December a two–times–a-week service was started to Johannesburg and in February 2006 a Manila operation was launched as well as three routes to Pakistan.
The Toronto route is the airline's first transatlantic service, and routes are planned to the US from the summer of 2006 onwards, (starting with New York JFK, to be followed by Los Angeles).
A US route was originally targeted by the end of 2005, but the airline decided to go for a Canadian route first. In the spring and summer services will begin from Abu Dhabi to Casablanca, Dhaka and Paris CDG, while other routes under consideration are to Scandinavia and Singapore. India is the second most important destination for Etihad after the UK, and further routes are planned, potentially to include Kochi, Chennai, Bangalore, Hyderabad, Thiruvananthapuram and Kolkata.
Etihad's expansion is closely aligned to Abu Dhabi International airport, which is undergoing a $7bn development that will expand capacity to 20m passengers a year by 2010. This will include facilities for A380s; although Etihad has not specified which capacity version it requires for its A380s, the aircraft will be used on routes to London and Mumbai, most probably on other Asian services (such as to Bangkok, which it regards as its most important destination in Asia) and possibly on the new route to Johannesburg.
Sheikh Ahmed bin Saif Al Nahyan, previously CEO and president of Gulf Air, became chairman and CEO of Etihad on launch, but the expansion is being headed by Robert Strodel, previously managing director at Lufthansa Cargo India, who was promoted to Etihad's CEO from Head of Cargo in July 2005.
The Etihad group (which does not release any meaningful financial results) also comprises Etihad Holidays and Etihad Crystal Cargo, the latter of which utilises capacity of Etihad's A330s and also acquired two A300–600Fs and an A310–300F in 2005. It operates on 10 cargo routes across the globe, including a twice–a-week service to Milan Malpensa and three routes to India. With the extra capacity, Etihad Crystal Cargo increased its cargo carry fivefold in 2005, and it has plans to add another four aircraft. In December 2005 Etihad started negotiations to acquire a 33.7% stake in Luxembourg–based Cargolux, which will cost in the region of $130m. Etihad is also reported to be negotiating with Gulf Air to buy its stake in the Gulf Aircraft Maintenance Company (GAMCO), which services Etihad's aircraft.
But passenger services remain at the heart of Etihad's expansion plans, and as it grows with A330s and A340s, Etihad has been looking for up to 40 additional pilots. In the summer of 2005 it made an agreement with Swiss International Air Lines to offer pilots the option of transferring across to the Middle Eastern airline as part of the Swiss carrier's restructuring efforts — although it is believed that few personnel accepted that offer.
Given Etihad's planned growth, it was little surprise when in September 2005 the UAE government announced that over a six–month period it would withdraw from its joint ownership of Gulf Air with the Kingdom of Bahrain and the Sultanate of Oman. The government of Qatar had previously also been a joint owner in Gulf Air, but it withdrew in May 2002 after the launch of its own airline, Qatar Airways.
EUROPEAN LCC SHARE PRICES
EUROPEAN LCC SHARE PRICES

| | | | |
| --- | --- | --- | --- |
| | Air Berlin | Ryanair | easyJet |
| May-11 | 11.25 | 6.81 | 3.58 |
| May-25 | 9.93 | 6.53 | 3.41 |
| Change | -11.7% | -4.1% | -4.7% |