NetJets: that elusive profitability April 2006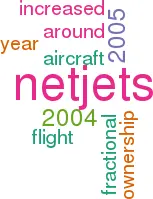 NetJets, the fully owned subsidiary of Berkshire Hathaway, continues to grow rapidly in terms of fleet and customers, but profitability is proving elusive. As the owner and seasoned NetJets user, Warren Buffett, puts it: "I said last year that this business would earn money in 2005 — and I was dead wrong".
Flight Services, the division of Berkshire Hathaway that is made up of Flight Safety (aviation training) and NetJets made an operating profit of $120m in 2005, down from $191m in 2004 on revenues of $3.7bn, up from $3.2bn in 2004.
While FlightSafety's operating profit earnings increased by around 10% compared to 2004, to $200m, NetJets incurred a pre–tax loss of around $80m, compared to pre–tax income of $10m in 2004.
However, the poor financial performance appears to have resulted not from a lack of demand for fractional ownership but from supply difficulties. NetJets attribute the result to an acute shortage of available aircraft due to increases in owner demand outpacing increases in capacity.
So, NetJets had to subcontract additional aircraft capacity through charter services, and the costs associated with subcontracted flights were not fully recoverable from clients and caused an incremental cost of around $85m in 2005. NetJets also recorded a special charge of $20m in the fourth quarter of 2005 for "prior periods' compensation" related to a new labour contract with its pilots and flight attendants. Also interest expense was up $23m.
The European division, while still just 20% of the size of the US, is expanding. As of March 2006, the European fleet has increased to 89 aircraft. Customer contracts increased in Europe by 37% year on year and excellent growth and reduced losses were claimed in Europe. NetJets still looks like a good investment, with the fractional ownership concept selling outside the US. However, a worry for Warren Buffett (if he does worry about such things) is the encroachment on the fractional ownership sector from VLJs (Very Light Jets) on the one side and specialist premium–class specialist airlines, like MaxJet, EOS and, soon to be launched, SilverJet, on the other.
NETJETS' FLEETS AND ORDERS
NETJETS' FLEETS
AND ORDERS
Type
USA
Europe
125
50 (18)
22
1900
1
737-BBJ
3
IAI 1126
19
Beechjet
19 (31)
10 (14)

Citation
254
38
Falcon
34
14
Gulf IV
38
1
Gulf V
9
3
Totals
426 (49)
89 (14)
Source: ACAS, as end March 2006