Iberia: the challenge of the LCCs April 2005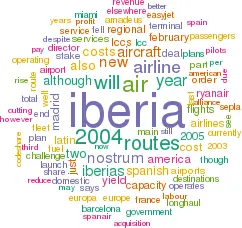 Although Iberia has recorded nine consecutive years of net profit, it is only since part privatisation in 1999 that the Spanish flag carrier has faced the harsh realities of full market competition. In the last five years it has survived challenge after challenge (see Aviation Strategy, November 2003), but today faces its greatest ever threat — the LCCs.
Thanks to the Gulf war and SARS, in 2003 Iberia's operating profit fell by 36% to €161m and net profit decreased by 9% to €146m. But the airline bounced back well in 2004, and in late February it revealed an operating profit of €203m for 2004, 25% up on 2003, and a net profit of €220m, 52% higher than a year before, despite operating revenue increasing by just 4%, to €4.8bn.
Scheduled passengers carried grew by 4.2% to 26.6m in 2004, and RPK growth of 9.1% slightly outstripped an ASK increase of 8.8%, resulting in a 0.2 percentage rise in load factor to 75.2%, its highest ever annual level.
Despite the good results for 2004, some analysts are unsure whether investors should continue to put their money into the airline. One of their main concerns is costs.
Through the 1990s and 2000s Iberia has battled to reduce its cost base through a series of major cost cutting initiatives that it calls "Director Plans". The third Director Plan, covering the period 2003–2005, aims to reduce 2005 "base case" costs by between €350m-€400m, with labour cost savings accounting for up to €75m of this, commercial costs €110m, better asset utilisation €45m, on board service costs €50m and other costs €120m.
Iberia says its improved result in 2004 is partly due to the success — so far — of the Director Plan (and partly to the depreciation of the dollar against the euro), and that the airline is on target to reach the €350m- €400m target savings by the end of 2005.
It's true that cost–cutting in many areas is going well, such as in the unbundling of service on short–and medium–haul routes into a new "pay–as–you–go" business model, including the scrapping of free in–flight meals. However, in other areas cost cutting has been less successful. On labour, the only progress has been an extension of an existing voluntary redundancy scheme called ERE with ground staff unions in December 2004.
This allows up to 2,500 voluntary redundancies (out of 18,500 total ground staff), two–year career breaks and early retirement from the age of 50 through to the end of 2007.
Overall, only just over 40% of the targeted savings in labour costs had been achieved by the end of 2004 — two–thirds of the way through the third Director Plan. The main reason for this sluggishness is pay and conditions for pilots and cabin crew, which were last renegotiated back in 2002. Much therefore depends on the agreement of new collective deals with pilot and cabin crew unions in 2005. The initial signs are not great.
A tentative collective deal was agreed with representatives of SEPLA — the union that represents 2,000 pilots at Iberia — at the end of 2004, but this was overwhelmingly rejected by the SEPLA members in a ballot in November, and instead they elected new union officials with a mandate to renegotiate a better deal (although SEPLA also invited the Spanish arbitration body to step in and resolve differences between the two sides).
The pilots' key concern is job losses, and their stance appears to be hardening following the unveiling of Iberia's plans for a low cost operation (see below).
Talks with SEPLA are scheduled to restart this Spring, as are negotiations with unions in other labour areas. Iberia's management insists deals will be struck, and instead prefers to emphasis that cost cutting elsewhere has gone well, particularly in the area of its fleet.
Fleet changes
IBERIA GROUP'S FLEET
Fleet
Order
Options
Iberia
A318
15
A319
6
A320
58
9
49*
A321
10
6
A340
26
5
7
747
5
757
13
MD-87
24
MD-88
14
Total
156
35
56
Iberia Regional/Air Nostrum
ATR72
7
Dash-8 Q300
14
CRJ200ER
32
19
33
Total
53
19
33
Fleet Total
209
54
89
The Iberia Group operates a fleet of more than 200 aircraft, (see table), and strenuous effort has been made to reduce costs through better utilisation (hours per aircraft per day grew 3.9% in 2004), wet leasing (which represents around 9% of total capacity) and replacement of older models.
In February Iberia announced an order for 15 A318s, nine A320s and six A321s, along with options for 49 further aircraft. The list price of the order is €3.4bn, but the airline is believed to have negotiated a substantial discount on this from Airbus, which also offered a very competitive maintenance deal. The airline also benefited from the strong value of the euro against the dollar.
The aircraft will be delivered over 2006- 2011 and will replace older A320s, 757s, MD–87s and MD–88s. Some analysts question the order of so many A318s, which have the highest unit cost of the A320 family, but Iberia points out they will replace MD–87s on low density routes as well on high density routes off–peak. If demand on Iberia's network increases ahead of current forecasts, then some or all of the 49 options will be turned into firm orders.
The new aircraft will be 20% cheaper in terms of fuel than the aircraft they are replacing, Iberia estimates, and they will have up to a 23% advantage in maintenance costs. 70% of the Iberia's current fleet is held on operating lease and Iberia says the proportion will be maintained for the new order, which the airline claims will help the aircraft achieve the same or better costs per seat than the LCCs.
The announcement was bad news for Boeing, which had hoped for at least part of the short–haul order, but it is still in the running for a possible Iberia order of mediumhaul 300–seat aircraft. The choice here is expected to be between the A330, A350 or Boeing's 787.
On long haul, Iberia has received seven aircraft of an order for 12 A340–600s, with the remaining aircraft scheduled for delivery in 2005. These are replacing Iberia's ageing 747–200s. The new A340–600s no longer have a first–class section, instead having a "business–first" section that is essentially a business cabin with a few extra features.
LCC priorities
While the new short–haul aircraft will help to cut unit costs domestically and across Europe, they are surely only a partial response to the challenge of the low cost carriers. While more than 20 LCCs operate to/from Spain, it is the largest two that are causing the most problems for the Spanish flag carrier.
easyJet currently operates 53 routes to 10 Spanish destinations, 20 of which have been launched since the start of 2004.
Ominously for Iberia, easyJet is analysing the launch of a Spanish hub for domestic flights sometime this year, which easyJet COO Ed Winter says is a "maximum priority" thanks to anticipated growth in the Spanish market. Likely candidates for a domestic hub operation are Madrid, Barcelona or Malaga — any of which would be a substantial threat to Iberia and its regional operation, Air Nostrum.
Ryanair has been operating to Spain since 2002 and currently offers 50 routes to 12 airports. It is adding a route between London Stansted and Santiago de Compostela in April, and this is causing controversy because the Galician regional government admits that (via a local tourist body) it is paying Ryanair €3.8m over four years to support its marketing for the service — on a route that will compete against Iberia's Santiago–London Heathrow operation.
The issue of LCCs receiving aid though Spain's regional airports and/or governments infuriates Iberia. It claims that secondary Spanish airports offer LCCs a subsidy of up to €17 per seat, and that as very few Spanish airports are profitable, these subsidies — which erode traffic on Iberia routes — are not justified.
Iberia claims Ryanair also receives an annual subsidy of €1.2m at Santander airport and €6.2m a year at Gerona airport. Unless incentives from secondary airports to the LCCs are stopped, Iberia says it is prepared to close routes out of Barcelona, Andalucia and Galicia, among other places. Along with BA and Air France, Iberia has asked the European Commission to lay down regulations on airport subsidies to LCCs, which are expected shortly.
Yet Iberia itself is receiving a huge subsidy through development at Madrid Barajas, where the airline will take full advantage of the new fourth terminal, which is finally due to open in 2006 after almost a two year delay, which forced Iberia to delay delivery of aircraft. The 64–gate terminal, (scheduled to open in February 2006) and two new runways (due to open this summer), will double capacity at the airport from 35m passengers a year to 70m.
AENA, the Spanish airport authority, is handing more than 90% of capacity at the new terminal to Iberia and its fellow oneworld airlines — a decision that Spanair, a subsidiary of SAS and Spain's second largest airline, is appealing against both to AENA and the EU. The Star airlines will instead use terminal one and part of terminal two, while SkyTeam will operate out of terminal two and terminal three.
Spanair is upset because originally — in June 2004 — AENA declared that Star alliance carriers would share the new terminal.
But Iberia appealed, and in November AENA reversed its decision, giving the majority of the new capacity to Iberia and its allies. From Iberia's point of view, it is vital it has most of the capacity at terminal four as that will enable easy transfer between domestic/European flights and its routes to Latin America, and it expects traffic to Latin America to rise considerably as a result (see below). Iberia also argues that AENA uses fees paid by large airlines at major airports to fund regional airports.
But while Iberia is getting flustered over incentives to LCCs, Ryanair is examining the launch of operations at up to eight further Spanish airports over the next couple of years, with at least 20 new routes, as part of general expansion plans for Europe.
Interestingly, it hasn't all gone Ryanair's way in Spain — ground handlers at Girona airport recently won a 11% pay rise from the LCC after threatening strike action against "intolerable" working conditions, according to the International Transport Workers' Federation (ITF).
Air Nostrum
Nevertheless, the encroachment of easyJet and Ryanair is a severe challenge to Iberia, and in particular to its regional subsidiary, Air Nostrum.
Valencia–based Air Nostrum became an Iberia franchise and its regional carrier in 1997, and today operates a fleet of seven ATR 72s, 14 Dash–8 Q300s and 32 CRJ- 200ERS. It has 19 further CRJs200s on order, worth around €400m and scheduled for delivery from mid–2005 to 2008, as well as options for 33 further of the type. The firm order was placed in July 2004, but Air Nostrum is likely to change half of them to 78–seat CRJ700s or 86–seat CRJ900s, subject to changing the scope of the franchise agreement with Iberia.
Iberia's current deal with Air Nostrum allows the regional carrier to operate aircraft only with a capacity of less than 70 seats. Those franchise terms are likely to be altered this year in order to allow Air Nostrum to take over some of Iberia routes currently served by 109–seat MD–87s, most of them routes between secondary cities and from those airports to Barcelona and Madrid. If the plan goes ahead, Air Nostrum would then acquire aircraft in the 90–110 seat capacity range.
But Air Nostrum is under increasing pressure from LCCs. In February the airline said it was abandoning its London Gatwick–Asturias service, only launched in late 2004, following easyJet's announcement it would launch services from Asturias in March. Air Nostrum also operates from Asturias to seven domestic destinations as well as Paris and Brussels, and had been planning major passenger growth through 2005. Iberia too is considering the future of its services out of the airport.
At present, Air Nostrum says it is pressing ahead with expansion plans elsewhere. The airline may acquire selected routes operated by Spanish regional carrier Lagun Air, which collapsed at the start of 2005. Lagun operated out of Leon in northern Spain, and Air Nostrum is believed to be looking at the busiest routes, to Barcelona and Madrid. Starting from February this year, Air Nostrum is also launching six routes out of Santander airport, to Valencia, Seville, Malaga, Alicante, Palma de Mallorca and Las Palmas.
Bearing in mind Iberia's complaints against Ryanair, the regional government in Santander insists that no subsidies are being given to Air Nostrum, although it will provide "promotional" support. Ryanair also operates out of the airport (though not on any of the Air Nostrum routes), although the LCC does have plans to expand operations later in 2005.
Despite these plans, the long–term future of Air Nostrum is uncertain. Iberia has traditionally used Air Nostrum as a low–risk tester of demand for new routes though lower capacity aircraft, and as many of Air Nostrum's routes serve low–density secondary routes, the airline has benefited from credit lines from the European Investment Bank to finance leases on new aircraft.
But as well as increasing competition from easyJet and Ryanair, Air Nostrum also faces a rising challenge from Air Europa, which Iberia unsuccessfully tried to buy in 2001, and from Spanair (in which SAS owns 95%).
From February Spanair has been expanding its fleet by eight aircraft, which will "penalise yield" in Spain, Iberia says. Iberia responded through a 50% reduction on the prices of virtually all domestic flights taken between mid- January to mid–March and booked online.
This offer was also available on just two long–haul flights — to Santo Domingo in the Dominican Republic and Caracas in Venezuela. Air Europa and Spanair have also been cutting fares deeply, and domestic and intra–European fare wars look set to be the norm for some time to come.
Iberia Express
But perhaps the greatest challenge to Air Nostrum comes from Iberia itself, and its plans to set up a LCC. In October 2004 Iberia revealed it was talking with SEPLA about the launch of a LCC, to be called Iberia Express.
SEPLA sources indicate the union is very concerned about Iberia's plan, particularly if it is used to erode the pay and conditions of staff at the main airline. The talks on the LCC are being held alongside negotiations on a new collective agreement with pilots at the main airline, which are due to restart soon, and the success of the LCC negotiations is inextricably linked to the main collective talks.
Iberia Express would operate A319, A320 and A321 aircraft transferred from the main airline with — reportedly — a mixture of new pilots and retired Iberia captains (the retirement age for mainline Iberia captains is 60, although national regulations allow them to fly until 65). First officers for the LCC would be hired from outside Iberia.
Bernado Obrador, the new head of SEPLA's Iberia branch, says that the unions ready "to study any option" as part of the collective pay and conditions talks, although the union will reject any attempt to reduce salaries, and any effort to boost productivity significantly is bound to fail as pilots are working at the limit of their allowed hours anyway. Employee productivity rose by 7.7% in 2004 (see < a href="#graph251" class="ref-below">chart), although this is a Group–wide number.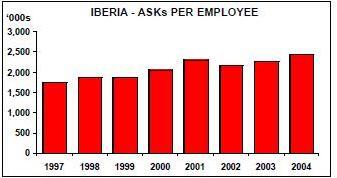 Even if a deal can be thrashed out with SEPLA, there must be some doubt as to how low cost Iberia's LCC will be. For example, it is envisaged that Iberia Express's ground services will be shared with the (higher cost) main airline.
And if the Iberia Express concept is successful, there can't be many routes that could be served by 90- 110 seat aircraft operated by Air Nostrum and not by 126–seat A319s flown by Iberia Express — which would mean the end for Air Nostrum. It may be unduly pessimistic, but Iberia could end up with the worst of both worlds — an LCC whose unit costs are not as low as competitors', yet an airline that provokes industrial unrest among staff at Air Nostrum and the main airline.
But at least Iberia's management is trying to do something given the relentless erosion of yields, which dropped by a worrying 6.3% in 2004 thanks to increasing competition from the LCCs. Iberia estimates yield erosion cost €175m in 2004, so while unit operating costs fell 5% in the year thanks to the Director Plan, Iberia appears to be caught in a relentless spiral of having to cut more and more costs as yield continues to fall. Iberia argues that yield erosion is slowing — overall yield fell 8.7% in the first half of 2004, but by "just" 3.6% in the fourth quarter.
This was largely due to better revenue management on domestic routes — which focuses on improving yield rather than maximising revenue, even at the cost of a short–term reduction in load factors — where yield actually rose 3.6% in the fourth quarter (with long–haul declining by just 0.1%).
In the longer term, however, Iberia will face stiff competition on the key Madrid- Barcelona route through the launch of AVE, a high–speed train service, on the full route between the cities in 2007.
And despite the domestic improvement, yield on European routes — where easyJet and Ryanair compete — still fell by a worrying 7.4% in the last quarter of 2004. Another challenge to Iberia in Europe comes from the cancellation in 2004 of the four–year–old code–share partnership with Air France on regional routes. Iberia is attempting to fill the gap in its network by expanding Air Nostrum services to France, including services to Bordeaux, and Nice. Air Nostrum benefited from the collapse of Air Littoral in February 2004, gaining more than 100 slots out of the 4,400 slots freed up at Paris Orly. However, for its part Air France is expanding its code–sharing with Air Europa on routes from France to Barcelona and Madrid, and SkyTeam would like to expand that relationship into Air Europa associate membership of the alliance.
Elsewhere, Iberia launched a daily Madrid–Moscow Domodedovo route in March this year, as well as a three–times–a week service between Madrid and Beirut, both using A319s. The former is Iberia's third attempt to enter the Russian market since the break–up of the Soviet Union, and Iberia is targeting 150,000 passengers a year on a route that currently carries 250,000 a year between Aeroflot and a number of charter carriers.
In February 2005 — the latest reported month — passengers carried fell by 5.1%, with most of the reduction coming on domestic flights, where passengers carried fell 5.6%. February yields did improve year on- year domestically, although again yield elsewhere fell, and overall Group yield was flat year–on–year.
Fernando Conte, Iberia's chairman, says of the yield erosion: "We don't expect the declines to be reversed; the rate of decline is what will change." That sounds very much like Iberia has little option but to continue with cost–cutting, with an inevitable fourth Director Plan for 2006 and beyond. But — labour aside — how much room is there for further cost cutting? Iberia claims its unit costs are already below the industry average, though behind those of British Airways and the two main LCCs, Ryanair and easyJet.
One area where there must be greater–scope for savings in distribution a — in 2004 internet sales generated €207m, or just 4.3% of total revenue, and an increase of only 23% on 2003. As part of the third Director Plan, in January Iberia cut commission to travel agents from 2% to 1.5%, and will reduce the rate further to 1% from July. Rivals Air Europa and Spanair also cut their rates by 0.5% at the start of the year, though their commission rate is still higher than Iberia, at 2.5% and 2% respectively.
Other than further cost cutting in distribution, labour and a few other areas, Iberia will have to push on with further "non–core" asset sales. In December 2003 Iberia sold its 51% stake in Viva Tours to Spanish tour operator Iberojet for €18m, and its 70% stake in catering subsidiary Iberswiss for €24m, and in March this year sold its 66% stake in Sistemas Automatizados Agencias de Viajes (Savia), the Spanish and Portuguese national subsidiary of Amadeus, to the Amadeus parent company for €82m. This is the final part of the process by which global distribution company Amadeus has bought full control of subsidiaries across Europe, prior to an expected de–listing and sale of 60% of the overall business to BC Partners and Cinven, UK–based private equity firms with which Amadeus is currently holding talks. The deal could be worth as much as €4.3bn, although it is unclear as to by how much Iberia and the other shareholders in Amadeus — Lufthansa and Air France — will adjust their stakes relative to each other. If Iberia reduced its share in Amadeus from 18.2% to 11%, it would raise several hundred million euros. Iberia still has a 4.1% stake in Opodo, the internet booking site in which Amadeus took a majority stake in 2004.
Part of the money raised by the Amadeus deal will be used by Iberia for pay for its short- and medium–haul fleet renewal, some is expected to be used for a special dividend that ABN Amro forecasts to around the €0.30 per share mark, and the rest will go to fund acquisitions.
Acquisitions
Alongside the disposal process, Iberia is also looking to acquire strategic airline stakes, primarily in Latin America, its main operational focus outside Europe.
One possibility is Mexicana.
Iberia began code–sharing with the airline in April 2004, and speculation over a possible acquisition increased after Iberia expanded its partnership with Mexicana in February through the addition of further code–shares.
That same month Iberia confirmed that it was "looking at the process in Mexico with a lot of interest", referring to the privatisation effort by the Mexican government. State holding company Cintra originally envisaged selling Mexicana in a package with a regional airline. However, it now appears that all government's airlines will be sold separately, and Mexicana is firmly in Iberia's sights.
It is not clear whether Iberia is looking to acquire a majority or minority stake in the airline, and this depends partly on the lifting of foreign ownership restrictions by the government. Mexicana operates 65 aircraft to more than 50 destinations in North and South America, and is not aligned to a global alliance after leaving Star in early 2004 — although oneworld would love to add it as a member.
At the end of March it was also reported that Iberia was in tentative negotiations to acquire a stake in Uruguayan airline Pluna, which is 49% owned by the state and 49% by Varig. Apparently Iberia is interested in buying both of these stakes, although the first action a new owner would have to carry out is renew Pluna's ageing fleet.
Other key Latin American markets for Iberia are Argentina, and Brazil, though acquisitions here appear unlikely in the short–term.
Iberia also looked at potential acquisitions in Europe through 2004, but this has been downgraded as an acquisition region due to concern about EU and national government regulations on cross–border acquisitions. Iberia had also been linked with a potential acquisition of TAP Air Portugal, which the Portuguese government plans to privatise at some point over the next two or three years, but that now appears out of the question. A code–share deal between the two airlines was ended in November 2004 following TAP's announcement that it would join the Star alliance in March 2005.
Wherever it invests, it is hoped that Iberia doesn't repeat the pattern of its disastrous acquisition policy in Latin America in the 1990s. Iberia insists that the mistakes made then — what it calls "political investments" — will not be repeated now, and that new acquisitions will be based on sound financial and operational analysis.
Long-haul
Long–haul accounted for more than 50% of total capacity in 2004, although it contributed just a third of all revenue.
(In contrast, domestic capacity was less than a quarter of total capacity, yet contributed more than a third of all revenue in 2004.). In 2004 international traffic rose by 11.3%, again just above a rise in ASKs, with load factor rising 0.7 percentage points to 76.3%.
Most of Iberia's long–haul routes are to Latin America, where it has just completed out a major operational realignment after having to find an alternative to its Miami hub, where until last year many of its routes out of Madrid connected with intra–continental services operated by a fleet of A320 family aircraft that were based in the US.
Iberia was concerned that stricter security at US airports — particularly the requirement for transit visas for all connecting passengers — was persuading passengers to avoid connections at Miami. Although Iberia preferred to stay at Miami, all through last year the airline looked for alternative connecting points, including Cancun in Mexico, Santo Domingo in the Dominican Republic and San Jose in Costa Rica. However, an alternative hub faced the problem that it would have less point–to–point traffic than Madrid–Miami, while not having the same liberal traffic rights into other central and South American countries that Iberia enjoyed out of Miami.
Nevertheless, in October 2004 Iberia restructured its Latin America operations through the introduction of direct flights to Central America — to Panama, Guatemala and Costa Rica, where mini–hubs have been set up with onward services to Mexico Honduras, El Salvador and Nicaragua — and extra capacity on routes to South America.
The Miami hub (where four A319s were based on routes to seven Central American destinations) has been downgraded. A twice a day service to Miami has been cut back to a daily service, although Miami will still be used as a gateway to the US via oneworld partner American.
To provide further links with the rest of the continent, in October a code–share deal was signed with the TACA Group, which has hubs in Peru, El Salvador and Costa Rica and operates to more than 100 destinations in Central and South America. Elsewhere in Latin America, an improved bilateral between Span and Peru was signed in 2004, allowing Iberia up to eight frequencies a week on Madrid–Lima, although two frequencies were given to a new airline called Air Madrid. In September 2004 a code–share pact was launched with Colombian airline Avianca, building on an existing maintenance deal.
Iberia's expects its operational reshuffle in Latin America to maintain its share of the total market, which has been steadily rising (see chart) despite a renewed effort by Air France on services to the region, and the launch of routes from Air Europa (which now operates from Madrid to 10 Latin American destinations) and Air Madrid (which serves seven Latin America destinations from Madrid).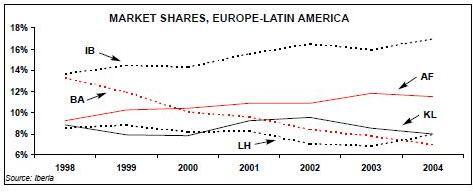 Elsewhere on long–haul, a long–term target is China, which rival Air Europa wants to launch services to as soon as possible. At present Iberia code–shares with CathayPacific on flights to Hong Kong via Amsterdam — a deal agreed after the first–ever bilateral was signed between Spain and Hong Kong in early 2004 — and it believes that there is not enough demand for direct Spain–China operations at present.
In 2004 extra services were added on several longhaul routes, including New York, Buenos Aires, Santiago, San Juan and Santo Domingo, while a new route was launched to Lagos, and Madrid–Montevideo was converted into a non–stop route.
The future
Will the launch of a LCC and continued cost–cutting be good enough for Iberia, given that yield is continuing to fall? Some analysts are unsure. ABN Amro, for example, has a hold recommendation on Iberia (as opposed to a buy for BA and Air France/KLM).
Iberia remains upbeat, and is raising its 2004 dividend to €0.05 per share compared with €0.03 in 2003, to an amount that represents 21% of profit for the year — although this is still short of the 25% share of profits that the airline says is its long–term goal.
Management also points out that adjusted net debt (which includes the capitalisation of operating leases) fell by 7.9% to €1.7bn at the end of 2004 compared with a year before, despite the fleet investment, so that overall its financial position is healthy.
That may be so, but another looming problem is fuel prices. Fuel costs rose 17% in 2004, though hedging offset most of this and Iberia also levied between 5–15% fuel surcharges on all flights last year, which added €140m to the revenue line.
In February this year Iberia director general Enrique Donair said that Iberia was working an the assumption that the average price of a barrel of crude oil would be $44 in 2004 — a price that if realised would make "Iberia — along with Ryanair — the only company to make money this year", as Iberia has hedged 90% of its fuel needs for the first half of 2005 and 30% of needs for the second half. However, Spanish sources suggest that even with this hedging, Iberia's fuel costs are expected by rise by around €0.25bn in 2005 — a figure that would be higher than total net profits for Iberia last year. But even if fuel cost and eroding yield do knock a hole in Iberia's 2005 results, the airline has a potential white knight to come to its rescue — British Airways.
BA currently holds a 9% stake in Iberia, bought back in 2000, and speculation about a full takeover has mounted as the relationship between the two gets closer. After the European Commission finally gave six years' antitrust immunity to the Iberia/BA alliance in December 2003, the two airlines moved quickly to tighten their partnership, which began with code–sharing in 1999.
Further code–shares were added on European and long–haul flights, including BA partner airlines Comair and GB Airways, while marketing and commercial strategies have been aligned globally.
From January this year Iberia and BA began sharing costs and revenues on their flights between Barcelona, London and Madrid as part of merged operations on these routes (to be completed by April) and this model may be extended elsewhere.
The two airlines currently code–share on almost 60 routes, and are working on co–ordinating timetables so that connections on flights to Latin America out of Madrid and to Asia out of London are co–ordinated with feeder flights from the other airline.
In terms of network, the airlines fit well together in that Iberia has no routes to Asia, whereas BA has 11 routes, while BA has just 14 routes to Latin America (mostly to the Caribbean), whereas Iberia has 17. A merger between the two may make sound strategic sense.
This year the Spanish government plans to sell its last remaining stake in Iberia — the 5.35% share held by SEPI, the state holding company — now that lock–in period is ending, and British Airways is believed to be interested in acquiring it. A five year lock–in after Iberia's flotation for other key shareholders — BBVA, Logistica and El Corte Ingles, who between them own 17% (see chart on right) — has also just ended, although it is not thought these companies are looking to sell their stakes.
Iberia argues that a merger with BA is out of the question given regulatory restrictions in Europe, which prohibit BA from acquiring a majority stake in the Spanish airline. A KLM/Air France style link–up, with the two airlines run separately, would be a solution, but both Iberia and BA are thought not to be interested in that. Iberia argues that anyway, the current close relationship between the two airlines is sufficient for the moment.
Yet an analysis of a merger with Iberia is believed to be high on the list of priorities for new BA chief executive Willie Walsh when he takes up his position in May, though it is true any move would be dependent on the easing of ownership rules in Europe, which is itself dependent on a wider liberalisation agreement between the EU and the US. But from Iberia's point of view, with the challenge of rising fuel costs, cut–throat competition from LCCs and uncertainty on negotiations with unions, the prospect of a friendly acquisition must look very tempting indeed.
IBERIA SHAREHOLDING
IBERIA SHAREHOLDING

| | |
| --- | --- |
| | % |
| Free float | 54.6 |
| Caja Madrid | 10 |
| BA | 9 |
| Banco Bilbao (BBVA) | 7.3 |
| Logistica | 6.7 |
| SEPI | 5.4 |
| El Corte Ingles | 3 |
| Ahorro Corporacion | 3 |
| American Airlines | 1 |
| Total | 100 |