French airport privatisation April 2005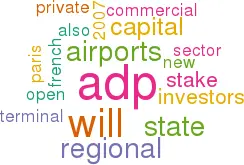 The French national assembly voted in March to privatise (or in French terminology, open the capital of) Aéroports de Paris (AdP) to private sector investors. The State will, however, keep a majority stake in the new limited company. This should provide some comfort to the powerful trade unions which had opposed the move.
Also, the 8,200 direct employees will retain their civil service status.
Regional airports, which are currently owned by the State and operated by local Chambres de Commerce (CdC), quasi–state entities in France, will also be privatised, with the CdCs retaining a minority stake, along with regional governments.
A third part of the legislation sets the framework for airport charges, which should guarantee enough income to cover running costs and capital expenditure.
AdP
There was a certain sense of urgency as AdP faces large capital investment programme and was constrained in its ability to raise funds.
As a public establishment, AdP could only raise money by borrowing, and it had clearly reached the limit of what the market would allow. And since the coffers of the State are pretty empty, the only alternative left was privatisation.
As part of the deal, ownership of the land and buildings was transferred from the State to AdP, with the exception of infrastructures which are used for public services, such as ATC, runways, and customs and police offices. The jewels in the AdP crown are of course the three commercial airports Charles–de–Gaulle, Orly and Le Bourget.
AdP also owns ten small airports in the greater Paris region, as well the only Paris heliport. In addition to greater access to capital markets, AdP's new statutes finally allow the company to make commercial forays outside France.
Under the old regime, there was always a shadow over the wholly–owned subsidiary AdP Management's ventures in a string of countries, including Belgium, Cambodia, Cameroon, Guinea, Madagascar and Mexico.
The State's auditors had raised an eyebrow or two.
For a short while, AdP will have a sole owner, the State. When it starts looking later on this year for private sector investors, AdP will have to convince the market that it is run along commercial principles. The remaining majority stake of the State and civil service status for employees could slow the appetite of investors toward what really is a very valuable property.
The need for capital injection could not be plainer. At the end of 2003, net debt was € 2.15bn, an increase of 47% in two years.
This represented 150% of equity and 5.5 times cash flow. And AdP is coming up to a major investment phase, requiring some €.5bn by 2007.
AdP currently faces expenditure for the building of temporary structures to replace the collapsed passenger terminal 2E which will have to be completely rebuilt. Another terminal, S3, which is to have a capacity of 9m passengers, is scheduled to open in 2007, and yet another terminal, this one for regional flights, 2G, is to open in 2008 with a capacity of 3m passengers. All this comes on top of significant expenditures on upgrading existing passenger facilities.
Regional airports
The ten or so largest state–owned regional airports will be handed over to their regional authorities before January 2007.
It is fully expected that the CdCs will want an equity stake in the new companies which should primarily seek private sector investors. The list of regional airports which will be privatised has not been published but it is likely to comprise the following: (see table, below).
| | | |
| --- | --- | --- |
| Airport | Region | Pax 2004 |
| Nice | Côte d'Azur | 9.1m |
| Lyon | Satolas | 5.9m |
| Marseille | Provence | 5.4m |
| Toulouse | Blagnac | 5.3m |
| Bordeaux | Mérignac | 2.8m |
| Strasbourg | Entzheim | 2.1m |
| Nantes | Atlantique | 1.9m |
| Montpellier | Mediterranée | 1.6m |
| Pointe à Pitre | Le Raizet | 1.8m |
| Fort de France | Lamentin | 1.5m |
| Saint Denis | Gillot | 1.5m |
| Cayenne | Rochambeau | 0.4m |
| | | |