Virgin Express/SN Brussels: a clash of business models April 2004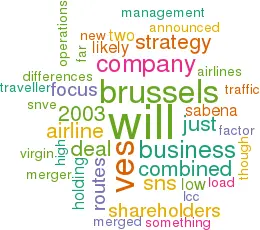 In mid–March, SN Brussels Airlines and Virgin Express announced they intended to merge, though remaining separate legal entities. Will the merged entity prove a solid successor to Sabena — or will a clash of business models prove irreconcilable?
It's clear from the two companies' nonbinding LoI that the detail of just how operations will be combined have yet to be worked out, but the intention is that each will retain its livery, with SN operating a full–service product on long–haul routes to Africa and a few key business routes in Europe, and VE providing low–cost operations in Europe.
Credit Suisse First Boston and consulting firm Arthur D. Little advised the airlines on the deal, in which a holding company for VE and SN would be owned 29.9% by VEX plc, part of the Virgin empire (and quoted on NASDAQ and Euronext Brussels), and 70.1% by the current shareholders of SN (Fortis, Tractebel, KMC, Dexia, BBL, UCB, Brussels Airport, the Walloon region and the Brussels region). However, this holding company wouldn't control all of SN — 8% would continue to be owned by SIC (Sabena Interservice Centre) — the former financial subsidiary of Sabena. The tentative deal also includes a put option for VEX to sell its 29.9% stake in the new holding company anytime in 2005 and 2006 for €64m, and a call option for SN Brussels' shareholders to buy VEX's stake for €100m during the same time period.
The combined airline
Merger talks between SN and VN were first held in 2002. The negotiations failed allegedly due to a fierce disagreement on valuation, with VE reported to want 50% of the merged company.
The disagreement was such as that an existing code–share between the two (under which each airline bought seats from the other one) was terminated in March 2003. At the time VE argued that the ending of the agreement would be beneficial for the airline, and that its flights would be more productive.
Fresh talks started in September 2003 at the instigation of an investment bank, and just a few weeks before the proposed deal was announced, David Hoare, VE's executive chairman, claimed that in the event there was a merger between SN and VE, "Richard Branson will be by far the largest ultimate shareholder in the new company".
Quite clearly this is not to be the case.
This dramatic switch in value capture from VE to SN's shareholders is probably the function of their relative performance in 2003, combined with the fact that for strategic reasons Branson may be keen to free himself from VE, even if the returns are not as great as he once wanted.
But there may be another reason for the relative weighting for the deal towards SN's shareholders — the fact that SN's business model is much more likely to be adopted by the combined airline that VE's.It's will be difficult, if not impossible, for the combined SN/VE to adopt the bizarre strategy of being both a full–service, point–to point carrier and a low cost, low fare airline — as its LoI statement claims.
Though VE wants to develop smaller, regional routes feeding traffic into Brussels, SN and VE's customer bases are not compatible.
Something will have to give, and the odds are that SN's strategy will win through in the end — partly because a business focus at Brussels airport appears more likely to succeed than a LCC strategy, and partly because SN's shareholders will be in a majority in the new holding company.
If this is the case, just how will VE's current management take to a change in strategy? It was only in January 2004 that VE announced it was terminating a code–share with VLM on Brussels–London City in March due to incompatible differences in focus. VE said that: "It is difficult to match our strategies. They are developing the market as a niche carrier focused on the corporate traveller, whereas we concentrate on budget traveller."
And when VE's third quarter 2003 results were released, David Hoare condemned SN for adding extra capacity into the Belgian market, a country with a population of just 10m. He added: "On a number of routes out of Brussels, initially to Spain and now to Italy, prices have fallen below even VE's very low costs. We do not believe this situation can last for long, assuming of course that carriers are not receiving any illegal state subsidies. Sustainable profits will only be generated when capacity is brought into line with profitable demand."
It will be interesting to see just how many of VE's management are still with the combined airline a few months after the deal goes though. There's little doubt that differences between the two airlines as they currently operate are enormous, and something (or someone) will have to give. As well as the obvious difference in customer focus and operational strategy, SN places a large emphasis on code–sharing, whereas VE does not. VE code–shares with just Air Luxor and Malmo Aviation — the former deal being signed in April 2003 and entailing Air Luxor buying block–space on VE's Brussels–Faro and Brussels–Lisbon routes.
That's not to say that that the merger won't uncover some benefits. VE and SN overlap on services from Brussels to nine destinations — Barcelona, Geneva, Gothenburg, Lisbon, Athens, Copenhagen, Rome, Madrid and Stockholm — and consolidation is inevitable. SN is likely also to learn from aspects of VE's operations, such as distribution — in 2003 VE's internet bookings were worth €78m.
But how far can a low cost mentality be adopted at SN/VE without losing a focus on business traffic? In the past, SN has claimed its emphasis is not on high load factor, which has always been far lower than VE's, as SN says logically that revenue and profit are more important than high load factor.
But VE's LCC strategy calls for high load factor and revenue per seat dilution, something that will be anathema to SN's management.
In the end, the differences between the two strategies are likely to be too great, and a decision will have to be made as to what focus SN/VE will have: being full service and attracting business traffic versus being a LCC and chasing the budget traveller.
If that decision isn't made, then strategic schizophrenia could condemn the merged company to a fate similar to that of Sabena.