SN Brussels: Sabena's almost successful successor April 2004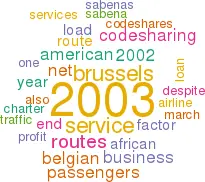 SN emerged in late 2001 from the remnants of Belgian flag carrier Sabena and its low–cost regional subsidiary Delta Air Transport, which operated short–haul routes with RJs and BAe–146s.
Today SN operates to 54 European and 14 African destinations, 22 in the US (through code–sharing with American) and employs 2,000 staff. SN is owned by a number of Belgian companies, and its strategy is to replicate Sabena's route structure without the high cost base of its predecessor.
In March it reported its first net profit: €0.6m for 2003 (compared with a €36.4m net loss in 2002), based on revenues of €534m (30% up on 2002). Revenue growth was due largely to new routes, including 13 in Europe, one in Africa and the launch of transatlantic flights. In May 2003, SN signed an agreement with American for code–sharing on American's daily Brussels–Chicago service and 21 beyond destinations in the US.
Despite the American connection, through traffic is just 20% of SN's total traffic (compared with as much as 60% at one point at Sabena).
This is a deliberate policy — SN is a point–to–point operator, dedicated to serving the needs of European business travellers. Indeed, in 2003 SN was Europe's second most punctual airline, according to AEA statistics.
In 2003 SN flew 3m passengers (11% up on 2002), with load factor rising 7.5 percentage points to 57.3%. SN flew 2.6m passengers in Europe last year, 6% up on 2002 and with a load factor of 52.6%, and 331,000 on African routes (+80%), with a load factor of 64.4%.
But the 2003 net profit and rising passenger figures do not tell the whole story, as SN has had considerable help along the way.
The Belgian government gave state aid of €125m at start–up — loans that SN has to repay over 2004–05 (the original loan has been replaced by a €125m loan from government finance arm FIM — but this still has to be repaid). This loan was originally earmarked for Sabena, but the EC allowed it to be transferred to SN. In 2002, SIC wrote–off€50m in debt, IATA cancelled Sabena's €16m debt to it, and SN made €59m from slot sales and exchanges with BA and Virgin Atlantic at London Heathrow.
And 2003 started off badly for SN thanks to the Gulf War and the end of a partnership with Virgin Express. As a result, in March 2003 net equity fell to below half the value of the share capital, which under Belgian law forced shareholders to partly convert existing loans into equity. Following poor 1Q 2003 results, SN declared a cost–cutting target of €20m in 2003. SN renegotiated contracts with suppliers and leased out one of its A319s for summer charter work.
In July SN axed its Brussels–Milan Linate route as part of general cost–cutting, though curiously it also cited the fact that Linate was primarily a business traffic destination, while its Brussels–Milan Malpensa service was suited to both leisure and business travellers.
Following the setbacks of early 2003, SN fought back well in the rest of the year, expanding routes and code–shares significantly.
SN is big believer in code–shares — it currently has 15 such agreements, which it considers a vital way of attracting business passengers and their revenues.
For example, in January 2003, SN started a joint selling agreement with Lufthansa, in which each airline can sell tickets for each other's routes, as well as providing connections to Lufthansa's routes out of Brussels.
In March 2003, SN began code–sharing with Alitalia from Brussels to Rome, Milan Malpensa, Turin, Venice and Bologna (the Rome code–share replacing a similar code–share with VE), and in 3Q 2003 SN began code–sharing with Cyprus Airways on the latter's services from Brussels to Larnaca and Paphos, and with Hellas Jet on its Brussels- Athens service. In April 2003, the EC allowed SN and British Airways to enter into a code–sharing alliance. Later in the year SN took over the Brussels–London Gatwick route from BA after the latter pulled out of the route. But despite its BA and American code–shares, SN has not joined oneworld — SN CEO Peter Davies said in June 2003 that he had yet to see the benefits of joining an alliance.
In mid–2003 SN also considered an acquisition of loss–making charter specialist Sobelair, appointing a management consultant to examine the possibility.
A deal never materialised, probably due to concerns over Sobelair's higher cost base, including staff salaries and aircraft leasing rates.
Despite this, SN's frantic pace is continuing.
In December 2003, SN replaced its Brussels–Paris service by a high–speed train service between Paris Nord and Zaventem airport. It takes just 1hr 50mins, and is a direct competitor to Air France's TGV connection between Brussels city and Paris CDG. SN also expects this service to increase its catchment area for African flights
This year services have already been launched to Istanbul, Moscow and St.
Petersburg, and SN is introducing "first–class style" catering for business class passengers from spring. In May a daily Brussels- New York JFK service will begin, operated by American and using 767–300s.
In terms of its fleet, by mid–year SN will make a decision on whether to find replacements for its five BAe 146s and 26 RJ85/100s. If it does renew the fleet, the choice is between the Emb 170/195, the CRJ700/900, A318s and 737–600s. For its long–haul African services, SN uses wet–lease A330–300s, under contract to the end of October 2004. Indeed in October 2003, SN considered exercising an option to acquire its wet–lease supplier Birdy Airlines, but decided against doing so at that time. But SN can still exercise an option to buy Birdy — which was set up by Belgian entrepreneurs George Gutelman and Victor Hasson — any time until the end of its contract.
SN is now is a relatively healthy financial position. At the end of 2003, SN had more than €138m in cash and cash equivalents, and in 2004 the airline is targeting a net profit of €2.5m, based on increased scheduled load factor and extra charter passengers in the summer.