Air Asia: "The first low fare airline in Asia" April 2002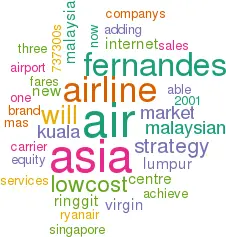 Apart from Virgin Blue in Australia, Asia has yet to produce a genuine low–cost carrier. This is about to change in Malaysia, where Air Asia has been transformed by its CEO, Tony Fernandes, and now uses the tag–line quoted in the title above
. Air Asia was originally set up in November 1996 by conglomerate DRBHicom. It was purchased in December 2001 by Tune Air, a consortium of five investors, headed by Fernandes, for a nominal sum of one Ringgit and the assumption of 50% of the company's net liabilities. Fernandes, an accountant and a former vice president of Warner Music, wanted to start an airline from scratch, but was informed by the Malaysian authorities that he would instead be required to acquire one of Malaysia's existing carriers.
The new low–cost strategy has led to an increase in frequencies and a 60% cut in headline fares on its five domestic services from Kuala Lumpur. Air Asia's highest fares are 20% below those offered by MAS, and these fares account for only 10% of its total seat sales.
A hybrid strategy
Fernandes describes Air Asia as a hybrid. He conducted extensive market research before setting the strategy of the airline, flying with low–cost carriers in Europe and the US. The compromise he has sought for the Malaysian domestic market is to look to take the operational efficiencies of Ryanair, the employee relations of Southwest, the easyJet Internet strategy, and the branding virtues of Virgin Blue and Virgin Express.
The airline operates out of Kuala Lumpur's old Subang airport, a 30–minute drive from the centre of Kuala Lumpur. The new airport at Sepang is over an hour's drive away from the business centre of Kuala Lumpur, and Air Asia has applied to the Malaysian government to remain at Subang.
A decision is expected before the summer. In terms of operations, Air Asia checks its passengers in manually and performs its own ground handling. On what Fernandes sees as an improvement on the Ryanair model, the pilots at the airline do their own load sheets. The three148–seat 737–300s are able to achieve average turnaround times of 22 minutes.
Air Asia employs a typical low–cost airline flat management structure, and employee feedback is encouraged through informal get–to gethers. Some 5% of the company's equity has been set–aside for the employees. The carrier is installing the OpenRes reservation system, which will enable it to adopt the Internet as a sales tool. At present 80% of tickets are sold through travel agents and 20% through the airline's call centre. The short–term aim is to achieve a 50/50 split between commission bearing travel agency sales and direct sales via the Internet and the call centre. The airline will use airasia.com as its brand.
Fernandes sees the brand adding value in the way Virgin has been able to use its brand to sell a wider range of goods than just airline tickets. The sale of caps, watches and T–shirts are all on the future agenda. The Internet site will in time allow bookings to be also taken for hotels and car hire.
The airline carries passengers from three main groupings, the VFR market (Malaysia has a large migratory workforce), small/medium enterprises, and the leisure market, both local and foreign. The economic background is somewhat encouraging: fourth quarter 2001 GDP fell by 0.5%, which compares to a 7.0% fall in neighbouring Singapore. GDP growth for 2001 as a whole was 0.4%, and economists expect that 2002 will see an improving positive growth.
Air Asia is seeking to raise Ringgit 60m (US$16m) in new equity to fund further expansion, with foreign and local investors being offered 25–30% of the company's equity. Before the corporate restructuring, Air Asia was losing an average of US$ 1.5m per month. The re–styled airline in the past three months has been able to achieve impressive results, with pre–tax profit margins above 10%.
Cost philosophy
Tony Fernandes enlisted the support of Conor McCarthy, the former Chief Operating Officer of Ryanair, to conduct the makeover. The airline follows strict adherence to other low–cost airline philosophies, thus no cargo is carried, there is no free food or drinks, no FFP and no aircraft lounges. The low–cost philosophy has been achieved without pay cuts; indeed Fernandes says that salaries have risen since he took over.
Cost savings have instead been achieved through productivity gains, changes in working practices and improved business practice. MAS charged Air Asia Ringgit 3,000 per turnaround, Air Asia are now conducting their own turnarounds for Ringgit 450. In total, Fernandes estimates that Air Asia's costs have fallen by 40–50% since he took over control.
Air Asia has announced that it will be adding three 737–300s on operating lease this year, taking its fleet to six, and has options on six more 737–300s in 2003.
The network strategy has a priority towards frequency rather than adding new destinations. Fernandes believes that there are potentially 18 airports within Malaysia that could support low–cost services.
International services are not on the agenda for now, but Malaysia has an "open skies" agreement with Thailand, and a similar agreement may in future be made with Indonesia.
One possibility for Air Asia is to serve the lucrative and dense Kuala Lumpur- Singapore market by flying to Senai Johor Airport, which lies across the strait from Singapore on the Malaysian mainland.
Whether the carrier will succeed will depend partly on the Malaysian government, and how it decides to allow competition to develop between MAS (see Aviation Strategy, March 2002) and Air Asia.
Fernandes will need to prove himself an astute politician as well as a businessman.