Fairchild Dornier's insolvency: an RJ duopoly now? April 2002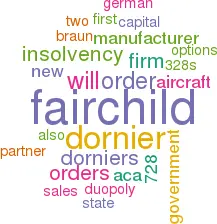 On March 21 2002 Fairchild Dornier officially launched its new 70–seat RJ, the 728. In his speech the manufacturer's chairman, Chuck Pieper, said "a partner is critical, it's crucial and the sense of immediacy is real". Less than a month later the Bavarian and US–based manufacturer has filed for insolvency.
After running out of cash after March's wages had been paid, Fairchild Dornier has been compelled under German law to put itself into the hands of the administrators. Its immediate future rests with HypoVereinsbank AG, Bayerische Landesbank and Kreditanstalt fur Wiederaufbau, who have agreed that they will provide the embattled manufacturer an immediate bridge loan of $20m. This is expected to be part of a total loan of $90m that will be backed partly by the German government and the local state government of Bavaria. Eberhard Braun, the interim administrator, is desperately looking for a strategic, long–term partner to invest in Fairchild Dornier's ambitious 728 and 928 family plans.
Two years ago, Clayton Dubilier & Rice, the US venture capital group, invested $300m to acquire a leading 71% stake, and Allianz Capital Partners (the equity capital arm of insurer Allianz AG) added $100m to bring the stake in Fairchild Dornier to 93% in an LBO in April 2000. The group received funds totalling $1.2bn, including the $400m of equity, as part of the financial rescue package.
Fairchild Dornier had recently negotiated a new financial package of $870m with its investors and banks, with German federal and state guarantees for up to $370m. However, payment was withheld as it was decided that Fairchild Dornier's plans were not viable without an industry partner. Developing the 728 has placed Fairchild Dornier in $670m of debt, according to executive vice president Thomas Brandt. The 728JET had won 113 firm orders — including four for the 90–seat version — and 160 options. First deliveries were scheduled for late next year for Lufthansa CityLine, which committed to 60 firm plus 60 options of the aircraft. This compares with 167 and 55 orders for 70 and 90–seat versions of Bombardier's CRJ jet series; 30 of the 70- seat CRJ–700s have already been delivered. Lufthansa CityLine itself has ordered 20 of the CRJ–700s, the first of which was delivered in May 2001. Embraer's new 70–seat aircraft, the Emb170, flew for the first time on February 19. Embraer has 82 firm orders for the Emb170, with 128 options.
Fairchild Dornier also had a backlog of 59 firm orders for the 32–seat 328, but 21 aircraft destined for Hainan Airlines have been put on ice by the Chinese government after it decided to cancel RJ import licences and impose higher tariffs. The manufacturer also had to cancel its 428JET project.
In recent developments the insolvency managers, Schultze & Braun, have announced that Fairchild Dornier are shutting down 328JET wing production at its US manufacturing plant in San Antonio, Texas, which employs around 700 staff. Severe cutbacks are also expected at Herndon, Virginia, where the company's sales and marketing, corporate communications, government relations, sales engineering and sales finance departments are based. No decision has been made yet about job reductions at Fairchild Dornier's headquarters in Oberpfaffenhofen in Bavaria, where national labour law makes redundancies much more difficult than in the US.
Fairchild Dornier's total order book is claimed to be worth $11.7bn at the moment, half of which are firm orders, and CEO Lou Harrington remains optimistic about a new strategic investor: "We have a very competitive product in the 728, in which we and our partners have already invested two years and $1 billion…we have an excellent order book"
ACA's commitment
In this order book 65 328JETS were ordered for Atlantic Coast Airlines (ACA). Thirty aircraft are still outstanding, and due to Fairchild's state of insolvency, ACA's chairman Kerry Skein flew into Munich to discuss the fate of the remaining 30 328s. Under the terms of the order contract the manufacturer is in breach of contract as a result of its insolvency filing. Fairchild Dornier has told ACA that they will complete the order even if they fail to find a partner/buyer.
Although administrator Eberhard Braun could not sign a guarantee for ACA, strong political will in Germany is more than likely to keep the 328JET line active, allowing completion of the order. ACA's CFO Richard Surratt says the airline is not sure what to do yet, ACA has an existing fleet of 30 328s, and senior management have begun discussions with two other RJ manufacturers to explore possible alternatives to taking delivery of the outstanding 328s.
Embraer and Bombardier, who between them have the lion's share of the regional jet market, must be quietly satisfied with Fairchild's predicament. The exit of Fairchild Dornier, following the bankruptcy of Fokker and the withdrawal of BAE Systems from the RJ sector, will leave a manufacturing duopoly. Then the challenge will be to avoid the mistakes Boeing made when it found itself in a duopoly with Airbus.
70 AND 90 SEAT REGIONAL JET ORDERBOOK
70 AND 90 SEAT REGIONAL JET ORDERBOOK
Fairchild Dornier
Embraer
Bombardier
70-seat RJ
confirmed
113+160options
82+128options
167+133options
unconfirmed
8
37
45
Total
281
247
345
90-seat RJ
confirmed
-
30+77options
55+60options
unconfirmed
4
25
54
Total
4
132
169
Note: Bombardier have 33 CRJ700 in use, orders include CRJ700,CRJ900
Dornier orders include 728-ENVOY, 728-100, 928JET
Embraer orders include: Emb170, Emb 195
Source: ACAS