US regionals: well positioned for the downturn? April 2001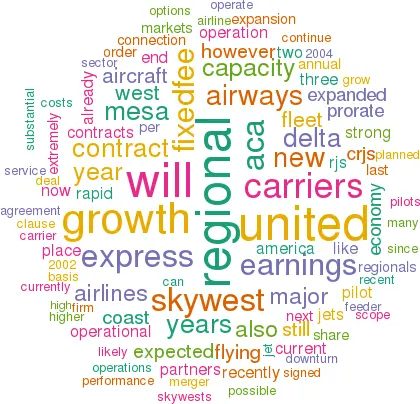 As the earnings outlook for the US major airlines has deteriorated, there has again been a surge of interest from investors in regional airline stocks, which have proved recession–resistant in the past. Carriers like Atlantic Coast (ACA), SkyWest and Mesa have recently placed substantial new regional jet orders, and their shares look undervalued in light of the strong capacity and profit growth potential. Will the regional airline sector live up to the expectations?
In many ways, US regional airlines seem better positioned for an economic downturn than ever before. First, the earlier fears that scope clause restrictions in major carriers' pilot contracts might hinder RJ expansion have proved unfounded. Many of the regionals now look set to continue to grow extremely rapidly for the foreseeable future.
Rapid capacity growth
Second, the increasingly prevalent fixed–fee type financial arrangements between the major carriers and their regional partners effectively protect the smaller airlines from the effects of a softening economy. Also, as Embraer's CEO Mauricio Botelho argued in a recent conference call, regional airlines may even benefit from an economic downturn now that their RJ fleets have expanded. Because of their comfort and good passenger perception, regional jets have changed the way markets are developed. The major carriers will have more incentive to transfer recession–impacted, lower–density short haul routes to their feeder partners, because there is little risk of losing traffic and valuable market share when downsizing from large jets to RJs (rather than turboprops). The regional sector has grown extremely rapidly since the mid–1990s as the process of utilising regional jets has gathered pace. The US RJ fleet expanded from just 35 aircraft five years ago to 569 in 2000, which led to annual capacity growth as high as 20- 30% for some operators. However, until recently carriers like ACA and SkyWest were in limbo in respect of longer–term plans, unable to get authorisation from their partners to firm up conditional RJ orders. The nagging concern was whether the major carriers' pilot unions would permit continuation of rapid RJ deployment.
A major breakthrough came in October 2000, when United's pilots ratified a new labour contract that gave them the wage increases they wanted. They agreed to relax substantially the RJ scope clause provisions in their contract. The number of RJs allowed in United Express service went up from 65 to 102 immediately, and the total is expected to reach 390 by the end of 2002.
As a result, ACA, United's partner at Chicago and Dulles, secured an expanded 10–year United Express agreement. It was able to firm up a long–delayed conditional order for 30 Bombardier CRJs and place a new order for 32 Fairchild Dornier 328JETs.
SkyWest, in turn, placed a $1.4bn CRJ order in January for United Express operation in Denver and West Coast markets. Further RJ orders from those carriers are clearly on the horizon, just waiting for United to sort out its hub priorities after its possible acquisition of US Airways.
The rest of the regional sector is also likely to benefit from the United pilot deal, because other major carriers will eventually have to match United's pilots' wages and/or accelerate RJ expansion for competitive reasons. In that respect, the United pilot deal was really a watershed development.
Delta, which currently has no RJ limits but is under pressure from its pilots to introduce such limits, is now likely to end up with a relatively liberal scope clause or none at all. Of course, both ACA and SkyWest already have firm arrangements in place to grow their Delta Connection RJ fleets to 50 and 46 aircraft respectively in three or four years' time.
In March America West, which has no RJ scope clause limits, announced that its regional jet operations would expand from the current 22 to 77 aircraft by 2005, with options for further growth to 129 aircraft. The additional RJs will help defend the Phoenix hub against Southwest and strengthen the Las Vegas and Columbus hubs.
Consequently, Mesa secured a tentative new long–term contract to operate up to 83 additional RJs for America West Express at Phoenix and Las Vegas, while Chautauqua (already a US Airways Express and TWA Express RJ operator) was signed up as a new regional partner at Columbus. Mesa immediately signed an LoI to buy up to $1.2bn worth of Bombardier's new 70–90 seat jets, becoming the launch customer for the CRJ–900.
All of this has ensured continuation (or in some cases resumption) of extremely strong capacity growth for the independent regionals until the middle of the decade — and longer if the options are exercised. ACA now expects its RJ fleet to triple to 158 by the end of 2003, which will mean 35% average annual ASM growth. After last year's pause, SkyWest's ASM growth will return to double–digits this year and will average around 37% in 2002–2004, as it increases its RJ fleet from the current 16 to 130 by the end of 2004. The expanded America West contract will enable Mesa to grow its capacity by at least 20% annually over the next few years.
Stable earnings growth, but new risks
In its latest annual forecast, the FAA predicts that the aggregate US regional jet fleet will surge from last year's 569 to 2,190 aircraft in 2012, when it would represent more than one third of the size of the large passenger jet aircraft fleet. However, longer–term expansion of that magnitude may not be possible because of ATC and airport capacity constraints. Just about all the new or expanded contracts signed between the majors and their feeders in recent years have been on a fixed–fee or fee–per–departure (rather than pro–rate or revenue sharing) basis. This has had a major impact on the economics of the regional airlines' operations.
Under the new arrangements, the majors pay a flat fee per flight (in other words, buy the capacity from the regional), plus typically an incentive payment per passenger if specific operational performance and service standards are exceeded. The basic fee covers all costs and allows for an operating margin. This means that the regional makes the same amount of money regardless of what the fares are and how many passengers are on board — obviously useful in an economic downturn or a weak fare environment. Also, fixed–fee contracts eliminate risk from fuel price fluctuations or operational problems experienced by the major carriers. When fuel prices surged last year and United was plagued by operational problems, ACA and SkyWest were unaffected.
The new contracts make extremely high (20%-plus) profit margins a thing of the past, but they remove risk and ensure a stable and predictable earnings stream, both on a seasonal and year–over–year basis. Analysts say that operating margins of up to 15%, or even 18% in some cases, are still possible under fixed–fee flying.
However, earnings stability is not guaranteed as fixed–fee remuneration poses its own risks and challenges. The key requirement is that the planned flying must take place, because earnings growth will be highly dependent on capacity growth. Also, the new contracts make it imperative to maintain good operational performance and service standards.
The three most obvious things that can reduce ASM production are weather disruptions, labour actions (at the regional airline) and poor execution of ambitious growth plans. By far the biggest challenge is to make sure that the infrastructure and employees will be in place to support rapid expansion.
In recent months several carriers have demonstrated some of the downside of fixed–fee flying — and also that regional airlines can still be adversely affected by a weakening economy. As a result, SkyWest's, Mesa's and Mesaba's earnings this year will not be quite as strong as expected earlier.
All of those carriers have suffered from an unusually high number of weather–related cancellations. SkyWest and Mesaba have also seen their flight crew and training expenses soar, as they have obviously had to continue to prepare for growth despite a softening economy. At least in SkyWest's case, pilot costs have exceeded the annual maximum reimbursed through its fixed–fee contracts. However, such issues are only temporary under fixed–fee flying — higher crew costs will be allowed for in the subsequent fiscal year's reimbursement plan.
But SkyWest has also felt the effects of a softening economy in its pro–rate Delta Connection markets, which account for 30% of its revenues. And, according to UBS Warburg analyst Jamie Baker, Mesa has reported deteriorating fundamentals in its pro–rate US Airways Express turboprop markets, which still generate a substantial 40% of its total revenue.
While airlines like Mesa and SkyWest will continue to be affected by the economy because they still have pro–rate flying, their earnings growth will still be much higher than that of the major carriers. SkyWest is currently expected to return to strong earnings growth when its growth accelerates in the latter part of this year.
Structural stability at last?
1999 was a turbulent (albeit still profitable) year for the US regional sector as Delta swallowed Comair and Atlantic Southeast (the two most profitable regionals), AMR purchased Business Express and integrated it with American Eagle, and Continental acquired a stake in Gulfstream International. There was much speculation that the major–regional consolidation trend would continue.
However, except for Northwest's probable acquisition of Mesaba, that seems to have been the extent of it. ACA, SkyWest and Mesa were able to retain their independence because they had already forged strong feeder relationships with multiple partners, because they embraced the fixed–fee contract concept and because they maintained or improved operational and service standards.
The proposed UAL/US Airways merger now presents an opportunity to reverse some of the earlier process, because United does not want US Airways' three wholly–owned regional subsidiaries. United believes that it could not operate the carriers profitably under its much higher wage levels (as required by its flight attendants' contract), and owning feeder partners is not consistent with its strategy.
The main beneficiary is likely to be ACA, which recently signed a conditional agreement with United that gives it the right of first refusal for any two of the three carriers — Allegheny, Piedmont and PSA Airlines. It is also possible that airlines like Mesa will get a piece of that pie.
At this point there are no commitments. If the UAL/US Airways merger closes, ACA and United will negotiate the purchase price and other details over an 18–month period, during which ACA can pull out without penalties. All of its costs would be reimbursed, and the carriers would be operated as separate subsidiaries during the transition period.
James Parker, analyst with Raymond James & Associates, believes that since the airlines would sign fixed–fee type United Express agreements, the acquisition would enhance ACA's already very favourable earnings outlook. However, this view is not shared by everyone on Wall Street as there are the usual concerns about a potentially increased debt burden and the disruptive effects of mergers. Some analysts have lowered ACA's stock recommendations, and its credit ratings look likely to be downgraded if the acquisitions take place.
Late last year Northwest offered to buy the remaining 72% of Mesaba that it does not already own for $13 per share — a move that had been expected for years as all of the small carrier's operation is under a code–share agreement with Northwest. The talks have been plagued by disputes about contract payments and appear to be at a standstill, but the outcome seems inevitable.
Atlantic Coast
Atlantic Coast is probably the best–positioned of the publicly traded regionals for several reasons. First, it has highly successful feeder relationships with both United and Delta (about a 78%/22% revenue split).
Second, 100% of its operations are now on a fixed–fee basis. Third, it has the largest RJ fleet and the largest RJ orderbook. Fourth, it is strong on the East Coast and present at the key hubs (Chicago and Washington Dulles), making it ideally positioned to benefit from the planned UAL/US Airways merger.
The company is realigning the fleets of its two units, ACA and ACJet (the new Delta Connection operation at LaGuardia) and blending their managements to enhance efficiency.
ACJet's operation, which will grow to 30 aircraft by year–end, will focus exclusively on the 328JET. The United Express operation will utilise both CRJs and, from early next year, 328JETs, which the company suggests would be ideal for many US Airways Express routes. The aim is to become an all–jet operator by the end of 2004.
There appear to be no labour issues. ACA and ACJet pilots recently ratified a new 4.5–year contract that offers industry–leading pay rates.
Earnings outlook is extremely favourable, given the rapid planned capacity growth and 100% fixed–fee remuneration. The consensus estimate is that earnings will rise by 49% this year, to $1.07 per share, and by 23% in 2002.
After being the fastest–growing large regional carrier in recent years (36% annually in 1997–2000), ACA has shown that it can handle rapid expansion. However, integration of the US Airways feeders would pose considerable challenges. The purchase, initially valued at $200m, would also weaken an already highly leveraged balance sheet.
SkyWest
At September 30, 2000, the company had debt of $75m, operating leases with a net present value of $500m and a planned capital spending of around $800m through 2003. Like ACA, SkyWest benefits from being linked to two of the strongest majors, Delta and United, both of which have been happy with its performance. It operates as Delta Connection in Salt Lake City and as United Express on the West Coast.
However, unlike ACA, SkyWest still earns 30% of its revenues in a pro–rate arrangement with Delta, which makes it more exposed to the economy and fuel prices. But all of the growth going forward is on a fixed–fee basis, and the share of pro–rate flying is expected to decline to 10% by 2004.
SkyWest is behind its counterparts in RJ utilisation (only 16), but there is substantial growth ahead for both United and Delta. The airline has 114 CRJs on firm order for delivery over the next four years, plus 119 options for post–1994 delivery. In 2004 it expects to operate 84 CRJs for United and 46 CRJs for Delta. The plan is to reduce the Brasilia fleet from 96 to 65 aircraft over the four–year period.
This rapid move into regional jets was facilitated by a mid–January order for 64 CRJs plus 64 options for United Express operation in Denver and the West Coast markets, where currently only two RJs are utilised. This and a recently expanded Delta Connection contract will enable SkyWest to resume rapid capacity growth this year.
Mesa
The pilot training and other issues are expected to be only temporary, and SkyWest's longer–term prospects remain healthy. Although its per–share earnings are estimated to have declined by about 6% in the fiscal year ended March 31, the current year's earnings are anticipated to increase by 30%. Mesa has come a long way since its bitter breakup with United three years ago. It has recovered financially, restored operational performance and won back the confidence of its code–share partners. After steadily expanding its longstanding relationships with America West in Phoenix and US Airways along the East Coast and in the Midwest, the carrier recently received confirmation that United would honour its US Airways Express contract.
Mesa and United reached agreement to drop all outstanding litigation and to extend the current US Airways contract by two years to 2010, subject to the merger taking place. Although the deal merely confirmed Mesa's current allocation of 36 RJs, analysts believe that the carrier, with its substantial RJ orderbook, is well–positioned to gain more growth opportunities with United.
Under the expanded America West contract, Mesa will operate 43 additional regional jets (currently 22), including three CJ- 200s, 20 CRJ–700s and 20 CRJ–900s. The 700 and 900 series deliveries will begin in early 2002 and 2003 respectively. The deal, which also provides for a higher profit margin in turboprop flying, facilitates continuation of 20%-plus annual capacity growth until the middle of the decade.
The intention has been to dedicate all Embraer ERJs to US Airways (or United) Express and all CRJs to America West by early next year. The turboprop fleet is expected to decline further from 118 to 52 aircraft or less by the end of 2002.
Since 40% of Mesa's revenues still come from pro–rate operations, the carrier is more exposed to a weakening economy than other regional carriers. Nevertheless, its per share earnings are expected to increase by 24% in the current fiscal year (to September 30) and by 37% next year. Like SkyWest, Mesa is steadily expanding the proportion of fixed–fee flying as its RJ fleet grows and more turboprops are retired.