US Airways - is anybody interested? April 2000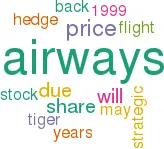 News that its biggest shareholder, Tiger Management, is liquidating the bulk of its investments could not have come at a worse time for US Airways, which is trying to win back customers and rebuild investor confidence after narrowly avoiding a shutdown on March 25 due to threatened job action by flight attendants.
Tiger's owner Julian Robertson decided to close down his hedge funds after suffering losses of 19% in 1999 in what he called "an irrational market where earnings and price considerations take a back seat to mouse clicks and momentum". But, in order not to disrupt the market and to get a better price, the five largest holdings, including 16.5m shares in US Airways, will be sold more gradually.
Tiger bought its initial 22.4% stake in US Airways for $450m in 1996 and has stuck with it through bad times, despite warning last August that the stake may be sold. Since May 1999 the share price has plummeted by 55%, valuing Tiger's current 24% holding substantially below the purchase price.
The low share price will make many potential investors take a closer look at US Airways. But is there enough upside potential to attract a purchaser?
Short term prospects are not promising. Despite the fact that there was no strike or shutdown, the scale of the disruption caused by the flight attendant dispute led to extensive frequent–flyer offerings and fare sales, which will depress yields. There are also concerns about excessive capacity growth. US Airways is expected to report a net loss of around $1.15 per share for the quarter ended March 31, compared to profit of 49 cents per share a year earlier.
In the longer term, US Airways continues to be under pressure due to intensified competition in its key markets. Its unit costs remain punitively high. It also has substantial capital expenditure commitments due to fleet renewal over the next few years.
The key question is: can US Airways get back on track to executing the impressive strategic plan initiated a couple of years ago? The management's record in that respect has so far been rather weak, but recent strategic changes with MetroJet and the tentative flight attendant contract are moves in the right direction. If the contract is ratified, as is expected (vote ballots are due to be counted on May 1), US Airways will have secured new deals with all of its unions.
Tiger Management's preferred strategy would be to secure a takeover, and selling to another hedge fund would obviously be the easiest solution. However, given its own experience with the stock, it is hard to imagine other hedge funds being seriously interested.
In theory at least, US Airways could buy the stock itself — after all, it has been repurchasing its stock in the past two years ($800m–plus in 1999 alone) and continues to have healthy cash reserves. But it was actually "punished" for that strategy in January, when its credit ratings were downgraded by S&P, which criticised the company's "very aggressive financial policy" during a period of financial losses.
A strategic investor would be another possibility, but the problem is that an equity link between US Airways and its marketing partner American would probably be frowned on by the regulators. Foreign carriers might attracted by US Airways' strong East Coast franchise, but former partner BA is completely out of the picture.