Greek new entrants - well capitalised, but too many? April 1999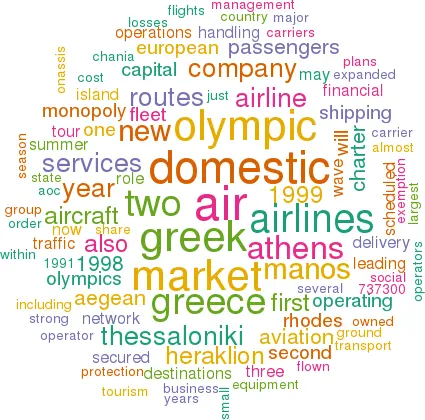 Until the middle of last year there was one corner of the EU that remained unaffected by the Euro–liberalisation process — the Greek island market. In negotiations prior to the implementation of the Third Package in January 1993, the Greek authorities managed to secure an exemption for this region from the market access provisions of the EC's regulation. Now, the situation is changing dramatically as numerous serious challengers enter the market.
This EC exemption meant that Olympic Airways and its turboprop subsidiary Olympic Aviation were able to maintain a near–monopoly on services within the country both on island and mainland routes. There was a minor modification to the Greek regulatory regime in 1991 whereby Greek charter airlines were permitted to offer some domestic scheduled–type services.
The logic behind the exemption was that Olympic had to play a social role in connecting far–flung island communities to the capital in order to assure basic services and communications. The archipelagic structure of the country and the mountainous terrain make air transport the preferred mode for most trips to/from Athens or the second city Thessaloniki (or Salonika).
The Onassis legacy
There was also a legalistic basis for the domestic monopoly, dating back to the set–up of Olympic back in 1956. The airline was founded by Aristotle Onassis, who merged several small carriers and entered into a detailed contractual relationship with the state. This contract stated that Olympic would have a monopoly on services to, from and within Greece in return for operating in the public interest, in particular through providing essential service to remote communities (many of which are only a few kilometres from the Turkish coast).
This perception of the domestic role of the national carrier was reinforced after Onassis sold Olympic to the state in 1974 following the death of his son and heir Alexandros (who had just been appointed president of Olympic Aviation) in an airplane accident. While this may all appear anachronistic in a deregulated aviation environment, Greece is a legalistic society (more lawyers per capita than in the US), and there are also the political considerations. While Olympic undoubtedly does play some social role, it is also very useful for flying politicians to their home bases and transporting voters around the country at election times.
Moreover, it is simply not true that Olympic needed protection in order to maintain its social obligations. From an objective perspective, its domestic network would appear to have been its most profitable division in recent years, while losses were piled up on prestigious long–hauls to Australia and the US. In addition the monopoly the airline held on domestic ground handling operations reinforced even further its dominance, and was a major profit contributor.
The Greek domestic market comprises about 4m passengers a year (compared with the total Greek population of 11m). Of this total just under 3m passengers are carried by Olympic's 737s on the trunk routes while just over 1m are flown by Olympic Aviation's turboprops on the thinner routes to the islands (almost 10m passengers a year are flown to the main island destinations — Rhodes, Heraklion and Corfu by northern European charters, a market in which Olympic does not compete). As well as tourism and VFR there is a business and governmental element in the domestic market. Although the routes are seasonal, year–round load factors are typically in the high 70s or low 80s.
The first and second waves
Following the part liberalisation of the Greek airline industry in 1991 a number of carriers appeared — but most subsequently disappeared during 1994–1996.
Southeast European Airlines operated one A320 as a Virgin franchisee on London–Athens, but eventually Virgin itself took over the operation of the route. Venus Airlines (which at its peak had a fleet of two 757s, two 727s and three MD83) flirted with bankruptcy, but re–emerged in 1998 as Princess Airlines, backed by French tour operator Vacances Heliades, the primary user of a single 737–300. Cretan Airlines (two A320s) and Apollo Airlines (three A300s) had brief commercial existences, but there were two survivors — Cronus and Air Greece. In addition, a number of older established operators continued to grow in the specialised areas of regional charter services, air taxi and express freight (e.g. Avionic, KAL Aviation, Interjet and Aviator).
As for Olympic, the protection afforded by the domestic monopoly has not helped solve its fundamental problems. It has had to return to the EC with new restructuring plans in order to get the final portions of its 1994 state aid package. Several management changes, inadequate yield management, labour unrest, a deteriorating product and an ageing fleet consisting of no less than eight different aircraft types has led to declining market share and serious losses in 1997 and 1998.
The strain of moving to the new Athens airport at Spata in early 2001 and the abolition of the lucrative ground handling monopoly this year has left the government with no other alternative than to appoint Salomon Smith Barney to select a strategic manager for the airline, with a turnaround mandate leading to partial privatisation within a two year horizon. Nobody in Athens is betting on who accepts this chalice, though BA's Speedwing, AMR, Lufthansa Consult, KLM, Air France and United are rumoured to be the leading candidates.
The ending of official domestic protection, in conjunction with favourable developments in the performance of the Greek economy (now set to qualify for EMU entry at the end of 1999), and the boost in tourism projected for the years leading to the 2004 Olympic Games in Athens, have led powerful players to enter the market, either by investing in the surviving operators or by starting up.
Macedonian Airlines
Macedonian was the tiny charter subsidiary of Olympic. Now it has another role as a sort of virtual airline supplying cockpit crews for Olympic's domestic service at about half the normal cost of Olympic's pilots. Reports suggest that up to 65% of Olympic's domestic operations in the 1999 summer season will be flown with Macedonian crews.
Cronus Airlines
Cronus was launched in 1995 as a single aircraft (737–300) charter carrier targeting the Greek immigrant traffic between Germany and Northern Greece. Financed by construction entrepreneur Manetas, it expanded into scheduled operations and built up a network centred on the German routes but also including London, Paris and domestic destinations (Thessaloniki, Heraklion and Rhodes).
Though the airline achieved 1998 loads of 550,000 passengers, its low yield policy was not matched with the cost structure required. It also made various financial errors, and quickly produced accumulated losses in the Dr3–5bn range ($10–17m) against projected 1998 revenues of Dr15bn. In December 1998, majority control was secured by the Laskaridis family (with interests ranging from a holding in the Thessaloniki Hyatt Casino to operating the largest owned and managed refrigerator ship fleet in the world). Expansion plans were announced, including two more aircraft (one 737–300 for delivery in May 1999 and one 737–800 for spring 2001) plus new routes to Rome, Milan, and Alexandroupolis and Mytilini, domestically.
Air Greece
Founded by a group of businessmen in the Cretan tourism business, Air Greece links Heraklion, Athens, Thessaloniki, Chania and Rhodes with a fleet of three ATR–72s on operating leases from Air Liberte. The airline has secured a leading position in the Heraklion market, enjoying strong loyalty from its passengers despite competing against Olympic's jet equipment on higher frequencies.
Tentative 1998 results project 350,000 passengers carried and profits of Dr500m ($2m) on revenues of Dr6.5bn. Heraklion–based Minoan Shipping Lines — a Dr30bn a year company traded on the Athens Stock Exchange — has recently invested Dr1.1bn ($4m) and, through a share capital increase, secured 51% of Air Greece. Minoan controls the Piraeus–Heraklion shipping market and is quietly expanding in the lucrative Greece–Italy market (aided by the elimination of land transport alternatives because of the conflicts in the former Yugoslavian republics), and has recognised the marketing synergies of operating in both transportation modes to and from Heraklion. Immediate plans call for the lease of two Fokker 100s, again from Air Liberte and expansion of the network to Mytilini, Corfu, Stuttgart, Dusseldorf and Bari (in Italy).
Aegean Aviation
Aegean started as banner–towing company in the early 1980s. Owned by the Simigdalas family, this small operation emerged as the first company to secure an AOC after the 1991 liberalisation. It started air taxi flights with small piston equipment as Aegean Aviation. Three years later, Aegean was purchased by the Vasilakis Group (Hertz franchise, Saab and Seat dealerships), and the fleet was upgraded to two Learjets.
In January 1999, Aegean announced a Dr7bn ($23m) share capital increase and the participation of new minority shareholders. These include D. Ioannou of J&P, a major construction company, the Leventis Group of 3E (the Coca Cola bottling company for Greece and several Balkan countries), shipowner Konstantakopoulos, and Piraeus Ventures, a venture capital firm jointly owned by Zilkha Inc. and Piraeus Bank. The airline has purchased two Avro RJ100s for delivery in April and May 1999, plus two options for delivery next year.
The plan for the summer 1999 season calls for 168 "business class" standard flights per week between Athens, Thessaloniki, Heraklion, Chania and Rhodes. Interestingly, Aegean is — together with Lufthansa and KLM subsidiaries — participating in Goldair Handling, a strong contender in the liberalised ground handling tenders taking place later this spring for the Athens, Thessaloniki, Heraklion and Rhodes Airports.
Cosmos Airlines
Capitalised at Dr9bn ($30m), this start–up belongs to T. Liakounakos, whose activities include the representation of international defence and aerospace companies in Greece (including Boeing Defense Systems), the Axxon financial services company and the "Kerthos" daily financial newspaper.
Cosmos is taking delivery in May of two new 149–seat 737–700s through operating leases from Bavaria Leasing, to be followed by a third aircraft in October, together with two 717–200s. The marketing plan calls for scheduled flights to destinations in France, Holland, Belgium, Italy and Germany. As Cosmos has not applied for an AOC yet, it will probably have to attach its aircraft to an existing European AOC holder or buy out one of the smaller licensed Greek operators.
Air Manos
Controlled by Manos, Greece's oldest and largest tour operator, Air Manos has been widely advertising an April 5th 1999 launch date for its domestic services. Manos is an integrated travel organisation, with outbound traffic, inbound traffic (Manos UK is the tenth largest British tour operator to Greece, with about 180,000 tourists annually), and a franchised distribution system (Manos Centers) with 40 sales points in Greece. It has also expanded into hotels.
Industry sources report that a strong minority position in Air Manos is to be acquired by ANEK Shipping Lines, a Dr20bn ($67m) a year publicly traded, Crete–based commercial shipping company that controls the Piraeus–Chania market, has secured a significant slice of the Greece–Italy shipping traffic and has recently expanded into the northeast Aegean maritime market through the purchase of 20% of the Maritime Company of Lesvos.
During its first phase, Air Manos will start operations with wet leased aircraft, a 106–seat BAC 1–11 from European Air Charter and a 39- seat Shorts 360 from Greek niche carrier Avionic Air Services. A second 1–11 and a second 360 are scheduled for the peak summer months. Air Manos intents to operate a network from the start, with the jets concentrating on trunk routes between Athens, Thessaloniki and (surprise) Chania, and the turboprops connecting both Athens and Thessaloniki with the regional destinations of Mykonos, Santorini, Samos, Hios, Syros and Agrinion.
Outlook
In the approaching summer season, overcapacity will certainly be the main characteristic in the Greek domestic air transport market. The new competitors will discover in the lean winter months which of them have found winning formulas.
Meanwhile, it is interesting to note how different this second wave of airlines is from the first. Almost all of the first wave of Greek airlines were charter carriers, mainly carrying tourists to Greece on IT holidays operated by major European tour operators, whereas now almost all competitors are targeting pretty much the same domestic scheduled routes. Most of the first wave airlines selected less expensive Chapter 2 equipment, whereas the current new entrants are opting for high capital cost new aircraft.
The first wave airlines were generally under–capitalised but today's newcomers are backed by powerful local industrial and financial concerns. There is also clear evidence that the calibre of management is greatly improved, and that lessons have been learnt from previous mistakes.
GREEK AIRLINES' FLEET PLANS
GREEK AIRLINES' FLEET PLANS
Current
Orders
Delivery/retirement schedule/notes
fleet
(options)
Air Greece
ATR 72
3
0
F.100
0
2
To be leased
Air Manos
BAC 1-11
0
2
To be leased in 1999
Shorts 360
0
2
To be leased in 1999
Aegean Aviation
Avro RJ100
0
2 (2)
For delivery in 1999
Cosmos Airlines
717-200
0
2
737-700
0
3
To be leased in 1999
Cronus Airlines
737-300
2
1
Delivery in 1999
737-400
1
0
737-800
0
1 (1)
Delivery in 2001
Olympic Airways
727-200
4
0
737-200
11
0
737-300
1
0
737-400
13
0
737-800
0
8
Delivery in 2000
747-200
4
0
To be sold in 1999
A300
4
0
A340
2
2
Delivery in 1999
TOTAL
39
10
Olympic Aviation
ATR 42
4
0
ATR 72
7
0
Do-228
6
0