New Air: the mega new entrant April 1999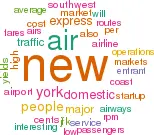 In its February 1999 application to start service from officially congested New York JFK airport, New Air Corporation described itself as a "mega new entrant". Can this oxymoron be justified?
New Air (the name is a bit like NewCo, and will end up as something else) plans to offer scheduled service between New York JFK and major and secondary cities, mostly along the east coast. It will offer nonstop, high quality, low fare service from a high–density rule (HDR) airport, the first time this has been attempted by a new entrant. (Slots should be available to new entrants under the 1994 FAA Authorization Act, which modified the restrictions on operations at the four HDR airports between 15.00 and 20.00.) New Air's fleet will comprise new generation 737–700s or possibly A320s.
The New Air proposal highlights an apparent anomaly in the US market. Some 20 years after deregulation, the New York metropolitan area (with a population of more than 18m people and three major airports) does not have access to a true low cost carrier. New Air points out that between 1980 and 1997, fares (inflation–adjusted) in US short markets with low–fare competition fell by 41%, but in New York markets fares have risen slightly.
New York air traffic has also diverged from the national trend: domestic O&D passengers to/from New York remained completely static during 1986–97 while the total number of US domestic passengers increased by 56%.
Memories of People Express
Back in the mid–1980s New York was served by the pioneer of low–fare travel in the deregulated market — People Express, which at its peak was one of the largest domestic airlines in the US. Unfortunately, People Express expanded too rapidly, could not combat the incumbents' new yield management techniques, made some foolish purchases and finally disappeared into the Continental conglomerate.
Amazingly, traffic volumes on the routes that used to be served by People Express (from Newark airport) have never recovered from the carrier's demise. Indeed, as the table below shows, 1997 daily passengers had declined by more than 30% on average compared with 1985 or 1986, when People Express was at its peak. Even on the city–pairs where traffic has increased — such as Orlando and Atlanta — New Air argues that demographic trends have far outstripped the actual growth in air travel.
Moreover, some of the yields look extremely high — 68 cents per RPM on New York–Boston and 59 cents per RPM on New York–Washington, for example. For comparison, US domestic yields average about 14 cents; US Airways, the highest cost Major, reported average yields of 18.5 cents per RPM last year.
By looking at the yields, the historical traffic pattern and the state of the competition, New Air has come up with its own estimates of how much the various markets would be stimulated following its entry.
On the main routes the stimulation factor is forecast to range from 1.2 to 2.3 — i.e. the traffic would grow by between 20% and 130% as a direct result of New Air's low fares. In total New Air proposes to enter 44 routes over the next three years — some of which currently have no direct air service.
Chances for success
So how realistic is New Air's assessment? The People Express evidence suggests that there should be demand for a new New York–based Southwest–type service. But JFK is an unpopular airport, with difficult ground access and a reputation for long delays.
There is also the likelihood of competitive response from the major domestic operators there — American and Delta. It might make sense for TWA to sell its (unprofitable) slots and gates to New Air and retrench at St. Louis, but so far the airline shows no sign of being interesting in this type of deal.
Then, Southwest itself is starting up operations at Islip, about 40 miles to the north of JFK. But New Air claims that that Southwest is going for a different catchment zone — Long Island as opposed to New York City.
Impressive backing for New Air
What is really impressive about the New Air project is its funding and its management. According to its filing with the DoT, New Air has start–up capital of $128m. While earlier reports suggested that the airline was looking for up to $200m in funds, this amount is still ten times the typical capitalisation of a start–up.
The backers include George Soros, who has previously dabbled in airline through investing in Hainan Airlines in China — and for whom the sums involved are presumably peanuts — and Chase Manhattan Bank.
The chief executive of New Air is David Neeleman, who has a very interesting track record. He was president of Morris Air, a successful west coast start–up, which was bought out by Southwest in the early 1990s — partly for its innovative low–cost reservations system.
Neeleman was also involved with WestJet, which is causing a major disruption to the Canadian domestic market, and has been advising Go, British Airways' subsidiary, on reservation systems.
Significantly, former Southwest executives have been recruited for this venture. And there is also an interesting link to Virgin. Richard Branson has been in discussions with the founders of New Air (which could become Virgin America) but nothing is likely to materialise until there is a relaxation in the US's ownership laws.
Good ideas do not always evolve into good operations in the airline business. But New Air should be closely observed by aviation analysts and strategists. As the industry moves into a down cycle — albeit a shallow one — the emergence of New Air in the high yield/high cost US east coast market potentially poses a real and severe threat to high cost carriers such as US Airways.
NEW AIR'S PROPOSED MAIN MARKETS FROM JFK
NEW AIR'S PROPOSED MAIN MARKETS FROM JFK
People
1997
Estimated
Express
stimulation
traffic
1997

yield
factor after
(daily pax.
Change
(Cents/
New Air
1985 or 1986)
traffic
RPM)
entry
Boston
5,300
3,400
-36%
68
1.4
Chicago
4,100
3,300
-20%
30
1.6
Orlando
2,000
3,080
54%
13
1.2
Washington DC
4,400
3,050
-31%
59
1.4
Atlanta
1,860
2,770
49%
23
1.7
Ft. Lauderdale
2,720
2,350
-14%
13
1.3
Dallas
1,780
1,610
-10%
19
1.5
Tampa
1,550
1,400
-10%
15
1.3
Denver
1,650
1,130
-32%
13
1.2
Houston
1,630
1,000
-39%
20
1.7
Columbus
1,300
570
-56%
40
2.3
PROXIMITY OF 10 LARGEST US METROPOLITAN AREAS TO AIRPORTS WITH LOW FARE AIRLINES
PROXIMITY OF 10 LARGEST
US METROPOLITAN AREAS
TO AIRPORTS WITH
LOW FARE AIRLINES
Major
low-fare
Population
operation
Area
within
(millions)
50 miles
1.
New York City
18.0
None
2.
Los Angeles
15.6
Los Angeles,
Burbank,
3.
Chicago
Ontario
8.0
Midway
4.
Washington DC
7.2
Baltimore
5.
San Francisco
6.7
Oakland
6.
Philadelphia
5.9
Trenton-Mercer
7.
Boston
5.8
Providence,
8.
Detroit
Manchester
5.4
Detroit
9.
Dallas Fort Worth
4.7
Love Field
10.
Houston
4.3
Houston