Brussels: business as usual? April 1999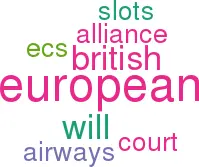 The resignation en masse of the European Commission has been taken phlegmatically at DG4 and DG7. Neil Kinnock and Karel van Miert, officially ex–commissioners despite not being blamed by the European parliament's report, are observed to be going about their daily business.
Nevertheless, this dramatic development has come at a difficult time for European aviation policy (but when isn't it?). The DGs now lack proper leadership, maybe for the rest of the year, and at the end of 1999 van Miert is likely to disappear completely from the EC while Kinnock hopes to be reinstated in something grander than Transport. Two major issues are dangling.
The first issue is that no final decisions have been made on any of the transatlantic alliances. And, the UK High Court has just arrived at a decision which would appear to contradict the EC's alliance competition policy: in a judgement in a case concerning an exchange of slots plus a compensatory payment between British Airways and KLM uk, the court in effect ruled that the sale and purchase of slots was a perfectly legal activity. The BA/AA alliance, of course, foundered on the EC's insistence that British Airways could not sell the 267 slots it had been asked to dispose of.
BA and AA cannot immediately resume their full alliance negotiations as bilateral talks between the two countries are bogged down. The US continues to reiterate the principles associated with its model open skies agreement and complain about slot constraints at both Heathrow and Gatwick. The UK continues to push discussion of Fly America, cabotage, and foreign ownership — items which are, according to the US, beyond discussion because they will require legislative mandate.
The question now becomes: will the new EC use the European Court to overrule the British decision, or will it accept the commercial reality of the situation and consider the possibility that slot trading might lead to more efficient allocation of scarce resources at congested airports?
The second issue concerns the deterioration of EU/US relations following the proposed European regulation that will ban the importation of hush–kitted Chapter 2 aircraft into the EU, even though they comply with Chapter 3 noise standards. This removes a major market for hushed and cargo–converted 727s from the US. It appears that the Council of Ministers has no choice but to pass the regulation for the technical reason that the European parliament made no amendments to the EC's proposal.
The US house of representatives is retaliating by writing a bill that would remove Concorde's waiver to operate at noise levels higher than US maximum standards — in effect banning the aircraft from US operations. Needless to say, this would be a serious blow for British Airways and Air France.
The hush–kitting argument threatens to develop into another banana war between the US and the EU — one that a fully active EC would be expected to defuse.