Transcontinental competition: the battle for Boston April 1998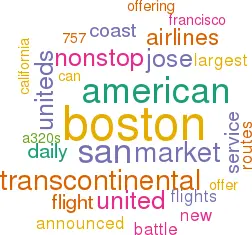 For anyone who assumes that the US domestic market has reached stability, with airlines now concentrating on pushing up load factors and improving yield, there is a salutary lesson in observing what is happening on key transcontinental routes.
Transcontinental (coast to coast) routes are among the most lucrative in the US, and in an attempt to win control of them leading airlines have again become embroiled in battles for market share — with short term commercial logic being sacrificed for longer term strategic gain.
Most major US airlines offer services that can be defined as transcontinental, but American and United offer the most nonstop flights between the largest cities on each coast. Both airlines have developed points of strength on each coast and on particular routes.
San Francisco is United's transcontinental anchor, as it is also the airline's largest transpacific gateway. United also maintains a strong position in Los Angeles, but has never been able to take the lead away from American in the largest transcontinental market — between LA and New York Kennedy.
Now, however, the transcontinental battle appears to be shifting onto the Boston to California routes. American and United each offer multiple daily nonstop flights between Boston and Los Angeles, but until recently United was the only airline offering nonstop service from Boston to San Francisco, and American was the only carrier offering nonstop service, twice daily, between Boston and San Jose (Silicon Valley).
Then in October 1997 American announced that it would enter the Boston to San Francisco market with three daily 757 nonstop flights. Almost immediately, United announced that it would begin flying between San Jose and Boston with A320s which, United claimed, would give it "the strongest coast–to–coast service between Boston and the San Francisco/San Jose bay area". United's new flight leaves from San Jose at 9:30pm and arrives at Boston early the next morning. The rationale for choosing a night flight was almost certainly to utilise an otherwise idle aircraft and hence minimise start–up costs on this route.
American responded to United's move by adding one more daily 757 flight from San Jose to Boston. American's new flight is timed to leave San Jose for Boston at the same exact time as United's flight at 9:30 pm, so removing United's one advantage in this market. Again, the investment cost would have been minimal, as the aircraft would otherwise have been idle overnight.
A battle to oblivion?
But can the Boston–San Jose market of just 250 local passengers each day, each way, and little flow traffic feed possibly support 3½ daily nonstop flights?
United, refusing to let American have the last word, announced in early January that it would "strengthen its position as the industry's largest carrier from Boston to California and other west coast destinations" by offering the only nonstop service between Boston and San Diego (operated with A320s).
American has not yet announced any additional service from Boston to California. United's ability to respond with the A319 and A320s gives them a short–term advantage versus American, which has to use the larger and move expensive 757. However, soon American will begin receiving new generation 737–800s, allowing it to respond more efficiently in long–haul, low demand markets.
It is clear that the battle for Boston is not yet over, and American and United's fast–paced skirmish for this transcontinental market indicates the importance that the major airlines still attach to market share in key markets. In the US scheduling actions can send powerful messages to competitors — and elicit powerful responses.